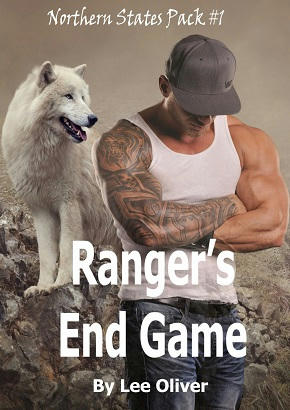 Title: Ranger's End Game
Series: Northern States Pack #1
Author: Lee Oliver
Genre: Paranormal, Fantasy 
Length: Novella (100 Pages)
Publisher: Lee Oliver (February 3, 2017)
Heat Level: Low
Heart Rating: ♥♥♥♥♥ 5 Hearts
Blurb: Aiden Chalmers doesn't want much out of life. The inheritance from his grandmother would be nice. After all, he was supposed to get that on his twenty-fifth birthday and that was three months ago. But his father, Alpha Chalmers of the Northern States has insisted he won't release the money until Aiden has completed a week long training camp. The youngest of six brothers and having suffered a hard upbringing, Aiden figures anything would be worth going through so he could be free of his father. It's only for a week.
Ranger doesn't like people and he especially doesn't like his latest assignment – training a bunch of wannabe alphas for some goodness only knows reason. As the top assassin for the shifter council, he's starting to think either someone wants him dead, or he's being punished for a transgression he knows nothing about. But matters take an even stranger turn, when on the very first day of training, he scents his mate.
Things were never going to be easy for Aiden and Ranger. If the training camp wasn't hard enough, a missing will, the full secret about Aiden's inheritance and the little matter of Ranger being hired to kill his mate by a council member all add to their problems. If Ranger can keep his mate alive for the week, then maybe they will have a chance at a long and happy future. But it's a big if.
ISBN: B01N380YDX
Product Link: https://www.amazon.com/dp/B01N380YDX
Reviewer: Lisa
Review: This story is the first book in this amazing series and it does hint about the next story, however it can be read as a standalone.  However in my opinion I would read it just like any other series.  
I have read many stories by this amazing author in her other pen name, Lisa Oliver.  Her stories have a way of getting to you, and the characters just make you want to cuddle up with them as well.  Now we know that paranormal's are not real life, but the way they are told you would think they were.  Each conflict that a character has, you will actually find in real life.  Such as our sexy little Aiden.   
Aiden's mother passed during his birth, leaving his father to raise him.  His grandmother when she died left him a trust fund, but his father won't give it to him until he passes one camp course.  What Aiden doesn't realize is something else is going on as well.  He also finds out that the one leading the camp is his mate.
Ranger is the strongest and deadliest of all assassins.  He doesn't know why he was to lead this training group but he is bound to find out.  What he doesn't expect is one of the young recruits to be his mate.  To top it off this is a camp to train future assassins, but none of the group know it.  You survive or you don't, but damn if there is something shady going on.  He has been asked to assassinate his own mate and you can guess who is behind it.
Now I had understood that this was not a spin off from any of Lee's other series, but I would like to know about Shadow's story.  It doesn't come off as fluid as many of her other stories does and seems a bit off.  The romance part is not as sensuous as one would expect and the sex scene is not what one would have expected.  It didn't develop like the way I would have liked.  Now other than those issues I had with it, let's just say I was not let down at all.  The guys are downright drool worthy and I loved the little twist this one had.  Ranger is one sexy assassin that can kill with well you know.  Aiden doesn't really come off as an alpha, and is a bit of a push-over, but I can see him in the future with his pack.  
The secondary characters are a hit with me, and I would like to know who has Cam's underwear in a twist, but will have to wait till the next story.  I do wish for a bit more into these guys past and how they got to where they are now though.  Overall this story was fun, suspenseful and I had a blast with it.  It had quite a bit of meat to it which was surprising for a one hundred page story. 
I have always loved Lisa (aka Lee)'s stories and will continue to be.  I can't wait to read the next book.  This one was a hit with me.