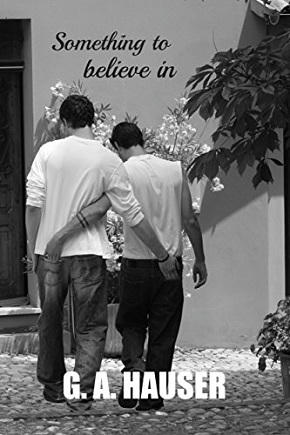 Title: Something to Believe In
Author: G.A. Hauser
Genre: Contemporary
Length: Novel (260pgs)
Publisher: G.A. Hauser (January 21, 2017)
Heat Level: Moderate
Heart Rating: ♥♥♥♥♥ 5 Hearts
Blurb: 2017: A new world.
No matter what your views are of love and life, things have changed.
In a climate of uncertainty where fear and intimidation became the norm, individuals dealt with their lives in their own way.
Thirty-five year old Liam Sinclair kept to himself, tried to avoid conflict and ridicule, but…wasn't happy with what felt like an angry country.
Innocent, young, temp, Milo D'Amico couldn't hide in plain sight. Since the hostilities of current politics had turned against the LGBT community, Milo had been attacked. 
It took him time to recover, but he was managing, working for a new job, with a new boss. 
In what had become a war between 'us' and 'them', first impressions were misleading.
Before his attack, Milo had been confident in his future, being out, turning twenty-one and filled with hope…until he came face to face with a closeted older man. The combination of Milo's potent sexual experience, and Liam's unexpected inexperience, created wild sparks in the bedroom, and a secret life at work.
Something to believe in…
Sometimes, all you have to have faith in, is love.
ISBN: B01MUDDZTH
Product Link: https://www.amazon.com/Something-Believe-G-Hauser-ebook/dp/B01MUDDZTH
Reviewer: Shorty 
Review: I cannot express how much this story touched me. Milo is an out and proud gay man until he is brutally beaten and left for dead. While recovering from his harrowing ordeal in a hospital he discovers he is no longer proud as he cowers at everything as result of what happened. It truly pissed me off to no end that people think they have the right to do bodily harm to someone simply because they do not agree with their sexuality.
Milo gets a new job working for Liam. For all outward appearances Liam is straight. But that is not true. Liam is in the closet and has no plans to come out. When he learns of what happened to Milo he grows closer to the man. 
This story is a wonderful tale of two men who fight the odds in an uncertain world and find comfort and shelter in the other's arms. It moved me beyond words. I felt my heart cry out for these two as the story unfolded. 
Fantastic read and highly recommended.