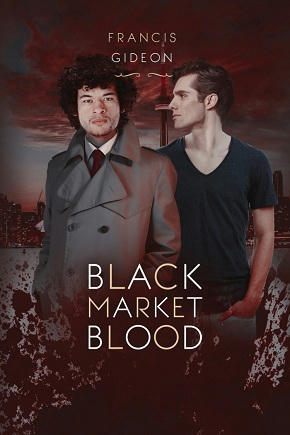 Title: Black Market Blood
Series: New Canadiana 02
Author: Francis Gideon
Genre: Other Paranormal, Urban Fantasy
Length: Novel (330pgs)
ISBN: 978-1-63533-226-1
Publisher: Dreamspinner Press (27th February 2017)
Heat Level: Low – Moderate
Heart Rating: ♥♥♥♥♥ 4 – 4 ½ Hearts
Reviewer: Pixie
Blurb: In a world where monsters are known to—and despised by—humanity, vampire Chaz Solomon hides in plain sight as a detective on the Toronto police force. But freedom from prejudice does nothing to alleviate his guilt over the lover he betrayed to gain his label of "normal." He spends his days living a lie and his nights in a brothel, seeking company and black-market blood.
When a serial killer preying on both vampires and sex workers leads Chaz and his department on a twisted chase through New Canadiana's supernatural underground, one of the brothel employees, Sully, becomes the only person Chaz can trust. There's much more to Sully than a pretty face, and he's slowly breaching the walls around Chaz's heart with his intelligence and kind nature.
But as the body count rises and conspiracies come to light, the past Chaz has been trying to escape comes rushing back. Sully might accept Chaz as a vampire, but will he forgive Chaz's other deceptions? And what will become of Chaz's life if his secret is revealed? Before he can worry about a future with Sully, he'll have to find the vengeful murderer threatening everything he cares about.
Purchase Link: https://www.dreamspinnerpress.com/books/black-market-blood-by-francis-gideon-8203-b
Review: This book is part of a series and is best read in order, although it could be read as a standalone.
Chaz Solomon is a vampire who hides in plain sight as Detective Chip MacDonald, he hides everything about himself so he can live a 'normal' life but that might just about crumble around him as a serial killer sets his sights on vampires and sex workers and his two worlds are about to clash.
Sully is a sex worker and is perfectly happy with his life, when 'Chip' comes into his life Sully is drawn into an investigation that is horrific and vile but Sully just can't say no to the appealing vampire.
This is a brilliant story that has us being pulled into a story that is interesting and with characters that are fascinating. Chaz has put his life to good use once he straightened himself out; he's hidden his true nature, become a different person and is now a detective. He still feels guilt over what he once did to his friend Nat but has done his best to put the past behind him, meeting a man who at first glance he mistakes for Nat he discovers that he wants more than just to exist, he wants to live.
We are drawn into a story that has mystery and suspense; we are drawn into the investigation as first Chaz and then Sully piece together the few clues leading them to a serial killer who has a huge grudge against vampires and sex workers. While Chaz and Sully meander the war field that is their relationship the serial killer gets closer to them than either of them ever wanted.
I loved this story, we have a vampire that is trying to bury his nature so he will be accepted by all and we have a sex worker who doesn't really care what people think of him. Both men have had hard lives but have handled things differently; they connect on an instinctive level and mesh well together.
This is a brilliantly written story; it flows perfectly and never drags. We are constantly finding out something new which keeps our interest and while we begin to get an inkling about the killer we do get thrown off track once or twice with carefully crafted red herrings. There are a couple of links to the first story Never Lose Your Flame but I do believe you could read this book by itself, although I do recommend reading Never Lose Your Flame first.
I recommend this to those who love urban fantasy, finding love in unexpected places, danger, mystery, a hunt for a clever serial killer and a brilliant ending.