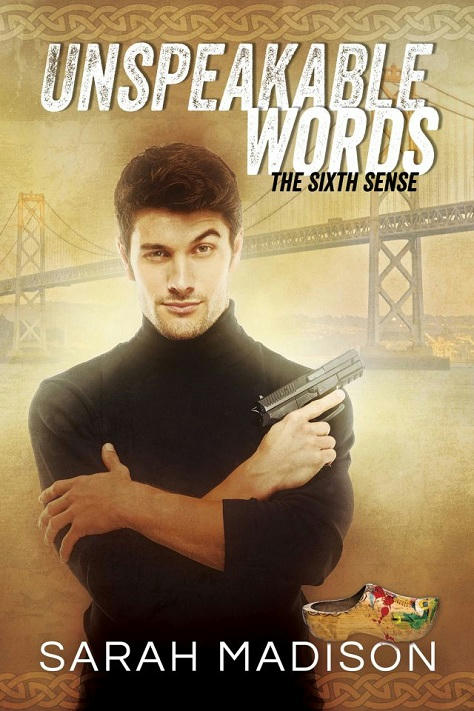 Title: Unspeakable Words (2nd Edition)
Series: The Sixth Sense 01
Author: Sarah Madison
Genre: Contemporary, Other Paranormal, Mystery, Suspense
Length: Novel (200pgs)
ISBN: 978-1-63533-335-0
Publisher: Dreamspinner Press (10th March 2017)
Heat Level: Low
Heart Rating: ♥♥♥♥♥ 4 ½ – 5 Hearts
Reviewer: Pixie
Blurb: Special Agent John Flynn is everything Jerry Parker is not: dangerously handsome, coolly charismatic, and respected by his peers. Special Agent Parker is dedicated and meticulous, but his abrasive personality has given him a reputation for being difficult. When new information on a cold case appears, Parker is assigned to work with Flynn, and the sparks fly as their investigative styles clash. Contact with a strange artifact changes everything when it bestows unusual and unpredictable powers on Flynn… and the two men must learn to trust each other before a killer strikes again.
First Edition published by Dreamspinner Press, 2010.
Purchase Link: https://www.dreamspinnerpress.com/books/unspeakable-words-by-sarah-madison-8275-b
Review: This story is a 2nd Edition and has been expanded to novel length.
Jerry Parker is used to being passed from pillar to post, going from case to case where he's needed, but that doesn't mean that he's not silently seething with bitter resentment about being used for his expertise and then shipped off to a new case before an arrest is even made. John Flynn is the golden boy of the FBI his solve rate is through the roof and his easy charm and good looks means everyone loves working with him, but his past is what drives him and he's haunted by that past.
Jerry and John are thrown together when a prospective witness comes forward on a serial killer case, The Grimm Fairy Tales Killer, but it leads to much more than that when the witness seems to be the killer's new victim and a strange artifact complicates their lives.  
Sarah Madison couldn't have given us two characters who are so different that they should be the anathema of each other, but who actually make a tenuous connection that works for them. Their circumstances leads to a fascinating story that would have been brilliant just from the case and their slowly developing relationship, but add in the unusual paranormal aspects and holy hell it takes it to another level altogether! 
The story is from Jerry's POV but there are certain times during the story that I would have loved to be in John's head, that would have been awesome… don't get me wrong Jerry is awesome in his own right, but the things happening to John wow.
Unspeakable Words is a fantastic contemporary FBI story that has the added bonus of paranormal aspects, it gives the author more to play with and this author hit it just right. We have a fascinating case, characters who struggle with new developments and a tentative budding relationship… there's also a dash of danger as John uses his new ability to hunt down Jerry when he vanishes.
I recommend this story to those who love difficult characters, a dash of paranormal in their contemporary, some serious teasing and hot sex, and great characters who bring a great story to life.