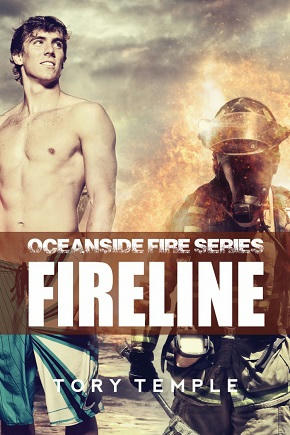 Title: Fireline
Series:  The Oceanside Fire Series
Author: Tory Temple
Genre: Contemporary
Length: Novel (350 pages)
Publisher: Dreamspinner Press (December 2, 2016)
Heat Level: Moderate
Heart Rating: ♥♥♥♥♥ 5 Hearts
Blurb: Sparks fly when Chance meets Tucker, and the flames aren't far behind.
Heat
Chance has a job he loves as a fireman, an ocean view, and a great bunch of friends. There's no reason to change until he meets Tucker, a paramedic who works his shift. Tucker might even be worth coming out for. But when Chance is injured, it takes a toll that could shatter everything they're working to build. Can they get through the first test of their new relationship and come back better than ever?
Flashover
Chance and Tucker return when a family tragedy forces Tucker back to Kentucky to wait out the probate on the old homestead—but they can't be together for long, because Chance can't leave work. Their few stolen moments are plagued by adversity from the locals, problems in their personal lives, and even the weather as they try to settle the farm enough to leave it behind. Can they keep it together when the fire burns high enough to flash over their heads?
Flesh and Blood
After they endure those hardships, they still face the daily dangers of their jobs and the uphill battle to prove their love is as legitimate as anyone else's.
ISBN=13:  978-1-63477-866-4
Product Link: https://www.dreamspinnerpress.com/books/fireline-oceanside-fire-series-by-tory-temple-7837-b
Reviewer: Shorty 
Review: Wonderful stories that tell about the lives of two hoy firemen, Chance and Tucker, and the love, struggles and everyday dealings they have. I loved each story as they were focused on that particular stories plot, which were well thought out and written.
I was captivated from the start by these men. Felt their frustration, heartache and joy depending on the situation they found themselves in. As is the case with an all male profession these two faced some not so nice people who were against them being together. But alas they dealt with what others thought and persevered as they should. 
The chemistry between was hotter than the fires they put out in their profession. Hot, steamy and all around sexy these men definitely heated up the pages. I truly loved this series and highly recommend it to everyone who loves stories about firefighters.
Fantastic read.