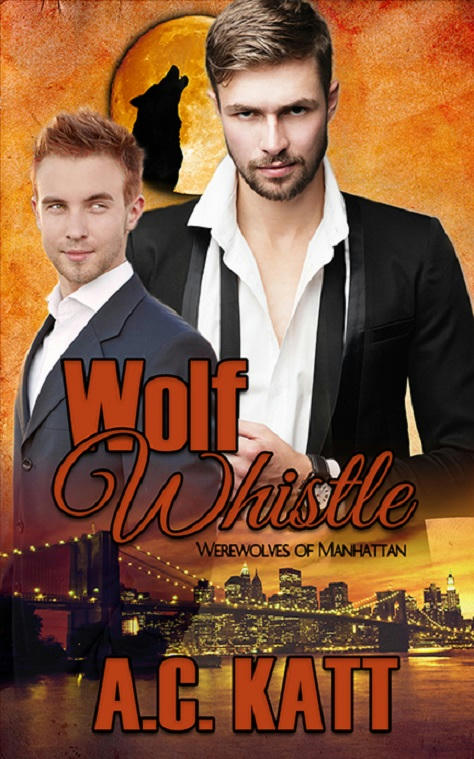 Title: Wolf Whistle
Series: Werewolves of Manhattan #7
Author: A.C. Katt
Genre: Paranormal
Length: Novel (196)
Publisher:  MLR Press (January 20, 2017)
Heat Level: Low
Heart Rating: ♥♥♥♥♥ 5 Hearts
Blurb: Can a whistleblower find a new future with a wolf while being chased by a corrupt cop and the Serbian mob?
Richard Kerrigan is on the verge of losing hope. Fired from his job for blowing the whistle on a defect that would harm service members if used as designed, he is now blacklisted in the Chicago area. A local Serbian mobster wants Richard and won't take no for an answer.
Garou Industries, the loup garou privately owned company, has been searching for Richard to offer him a position in the company as they value having someone with his integrity on staff. Richard relocates to Manhattan to begin his new job and stays with Julien Bellaire, his mentor, who is also Richard's Mate.
Before they can settle in, the Serbian mobster turns up dead and a corrupt cop who secretly works for the Serbians comes to New York with trumped up charges to pin the murder on Julio. With over eighty witnesses to Julio being on an airplane at the time of the murder, the cop abandons trying to frame Richard and instead plots to murder him. The loup garou request assistance from the Italian mob to protect Richard which comes with some interesting consequences.  
ISBN: MLR-1-2017-0689
Product Link: https://www.mlrbooks.com/ShowBook.php?book=ACK_WOWH
Reviewer: Lisa
Review: Each book in the Werewolves of Manhattan collection features a new romantic couple. To enjoy the overall story arc and crossover characters, I would recommend reading the series in sequential order.  
I have been reading romance and paranormal's for over 30 years and can honestly say that I love a good paranormal romance more than any other kind of story.  It was not until 5 years ago that I started read m/m romance stories.  There is just something about the worlds created in them that seem more attractive to me. So over the years you come to cherish and love certain authors more than many others.  It is the way they tell a story that will have you wishing you were right there with them.  And sometimes you wished you were the one falling in love 
Tis author's characters are quirky as hell, protective to the point of well you can guess that answer.  I still have my ultimate favorite ones but many start to work their way into my heart.  Her stories also are full of action, suspense and danger plus some hot sexy time for our guys.  They catch my attention the moment I start reading and keep it all the way to the very last word.  This story gave me everything I could ask for in a story and so much more.
Richard has got to be one of the smartest men I have ever seen.  Things in his life have not always been easy.  His best friend had disappeared when he was a small child after his parents were killed.  He lost both his father and mother to illness.  Then when the company he worked for wouldn't listen to the dangers of one of his designs, he was fired for blowing the whistle on the dangers.  Now he is working at a store and bartending to make ends meet, as well as paying on his student loans.  To top it off a mob guy from Serbia has his eye on him.  Things are not looking up.  That is until someone connected to his dear friend finds him.
Now here he is with a job at Garou Industires and living with a very sexy man.  Things might just be going good for him.  That is until the Serbian is killed and the cop is trying to frame him.  Let's see how Julien and the other wolves protect him; well you are just going to have to read this book to find out more.
I love how it has that serious tone to it but there is a bit of humor in it that your attention is captivated throughout it all. I loved the cover and that was what caught my attention first.  I just can't seem to get enough of this series. There is something about the way that A.C. Katt tells you a story more than likely have you laughing your ass off at parts of it. 
It caught my attention from the moment I started reading and kept it all the way to the end. It also gave me everything I could want in a book. I can honestly tell you that this is going to be one of those types of series. One that I will have to read over and over. I love the way all the feelings they felt was involved in this story. It was the perfect story for me and I loved it. I can't wait to read the next story.