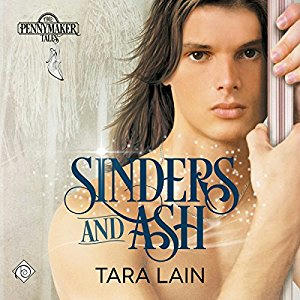 Title: Sinders and Ash
Series:  Pennymaker Tales 1
Author: Tara Lain
Narrator: Kale Williams
Genre: Contemporary, Urban Fantasy
Length: 4 hrs, 52 mins
Publisher: Dreamspinner Press LLC (29th February 2016)
Heat Level: Moderate
Heart Rating: ♥♥♥♥♥ 5 Hearts
Blurb: Housekeeper Mark Sintorella (Sinders) works diligently at a resort hotel while designing clothes anonymously, hoping to get into fashion school. Then his carefully planned life is upended with the arrival of Ashton Armitage, son of the fifth richest man in America – and the most beautiful guy Mark has ever seen. Ash must find a wife or he'll lose his grandfather's inheritance, and he settles on Bitsy Fanderel. But secretly Ash is gay, and the guy who cleans the fireplaces sets his heart ablaze.
Further stirring the pot is the little elf of a man, Carstairs Pennymaker, who has Mark wearing his own designs and masquerading as a girl to impress the fashion investors in the hotel. When the clock strikes 12, two beautiful princesses line up for the wedding – but one isn't a woman. Will the slipper fit? Only Mr. Pennymaker knows for sure.
Product Link: Audible US |  Audible UK
Reviewer: Prime
Review: Sinders and Ash is, as you can tell from the title, a modern reimagining of the Cinderella. I was totally and completely charmed by this story. I loved it all, from the actual storyline, to the characters and the excellent narration by Kale Williams, who brought every emotion to life fantastically.
Mark Sintorella (Sinders) is a poor housekeeper who does his best to keep his head down and not make any waves at the resort he works at. He's had a hard life mainly because he was rejected by his family for being gay. Now at the resort his bosses are not kind to him, a sleazy cook constantly hits on him and other workers who whisper words about him behind his back. Everything changes for him when he meets mysterious guest, Carstairs Pennymaker, which also happens to be the day that he meets the son of one of the richest men in the country, Ashton Armitage.
I suppose there are a number of aspects of this story which force you to suspend your disbelief for the entirety of the book. I think the biggest one for me to wrap my head around was Mark's continuing to appaear as a female when dressing in the clothes he makes – which are, like in any fairytale, are runway worthy, I think. I think it just got to the point where at the end I was thinking "why?"
All in all, I loved this fairytale of poor boy meets rich boy and they fall in love. Carstairs Pennymaker, the whimsical elven guy (seriously, wtf is he??) is as lovable as the two main characters. A real satisfying read and I can't wait to get to book 2!