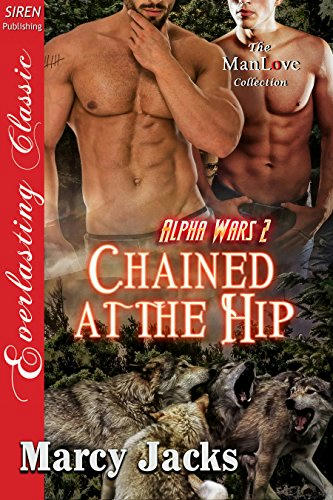 Title: Chained at the Hip
Series: Alpha Wars 02
Author: Marcy Jacks
Genre: Contemporary, Fantasy, Paranormal
Length: Novella (88 pgs)
Publisher: Siren-BookStrand (17th November 2017)
Heat Level: Moderate – Explicit
Heart Rating: 💖💖💖 3 Hearts
Blurb: Owen Wilson (yes, just like the actor, don't mention it) has spent the last six months of his
life in a vampire blood farm. He's on the verge of giving up until rescue comes from an unlikely source: Alpha werewolves.
Great, not only do vampires exist, but werewolves, too? Though he can't complain, they are rescuing him, and one of them heats Owen's blood in a way he never would have thought possible.
Hugh Greywolf was just doing a routine take down of a vampire farm with the rest of his pack. He never in a million years would have thought he'd find his mate in that horrifying place. Owen is skinny and malnourished, but Hugh needs to make the claim. Enjoying their mating might come to an end when the vampires track down their stolen cattle, and when they come for Owen, Hugh might be too late to keep them from bleeding Owen dry for good.
ISBN: 978-1-64010-777-9
Product Link: Siren-BookStrand | Amazon US | Amazon UK
Reviewer: Shorty
Review: This story starts with Hugh and Fergus already at a vampire farm. How they got there I have no idea. This question plagued me all throughout the book as I felt I missed something. Owen has been in the vampires clutches for ix months and is practically dead on his feet.
Sparks fly when these two meet. Hugh takes care of him and explains what is going on. Owen is happy to be with Hugh, then during a hunt Owen is almost killed by a vampire.
We are introduced to Trey, Owen's friend. But still do not get a lot about the man.
It was an o.k. read.