Hi guys! We have Sean Michael popping in today with their upcoming release Daddy, Daddy, and Me, we have a brilliant guest post from Sean and we have a great excerpt, so check out the post and enjoy! ❤ ~Pixie~
Daddy, Daddy, and Me
by
Sean Michael
When Jeff agreed to be the sperm donor to his best friend Beth, he never expected a tragedy to leave his newborn and three-year-old motherless. Beth's loss has totally thrown his life into chaos: his lover has left him, his house isn't anywhere near childproof, and his boss feels the restaurant has been patient enough with Jeff's time off.
Donny has always known he wanted to work with kids, and he just finished his degree in early childhood education. He didn't count on the prejudice he'd face as not only a male nanny, but a gay one at that. Job-hunting has been frustrating to say the least, so when he knocks on Jeff's door and is greeted by the sounds of things breaking and a pair of screaming children, he thinks maybe he can begin this particular interview with a trial by fire.
Becoming the nanny to Jeff's children might be a dream come true for Danny and exactly what Jeff needs, but are either of them ready to really be a family?
Sean Michael!
Thank you to MM Good Book Reviews for hosting me today!
Daddy, Daddy and Me was actually the first book that I wrote featuring a manny. I enjoyed writing it a lot and it inspired me to write the next book, which before I was done writing it, I knew was going to be a series. So, while it's not a part of that series, it is where it all began!
I really enjoy writing about men who come in to the rescue for a single dad. Danny is exactly what Jeff needs, both in terms of childcare for his kids, and also emotionally for himself. Everyone deserves love, and I love being able to write about men who do.
I hope you enjoy Daddy, Daddy and Me!
Sean Michael
smut fixes everything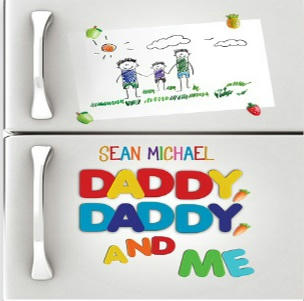 Excerpt!
"Those sound like good references. I hope he works out, Jeff. I know how badly you want to keep the kids."
He rolled his eyes. They'd had this discussion. Beth's parents and he had had the discussion. His lawyer. His cousin Matt. Everyone in the world who knew him had an opinion. Hell, people he didn't know probably had an opinion. It didn't matter; he was these children's father—like it or not—and more than anything, Beth had wanted him to raise them if she couldn't.
So no matter what, he would.
Beth had been his best friend since kindergarten, for Christ's sake.
"Yeah. I just wanted to check in."
"Good luck, Jeffster. You know I'm pulling for you."
"I do. Love you, Jellybean."
"Love you too, Jeffster." The phone went dead as his sister hung up.
He called the first two references and got glowing results, the third he left a message for, then he called Mickey. "Mickey? Jeff Roberts. How goes it?"
"Hey, Chef Jeff. How's it hanging, man? I haven't talked to you since… what? End of January?"
"Yeah. Yeah." They'd had a little debrief over how the Christmas fundraisers had gone. "How's it going?"
"Great. I was just thinking about you. You and Mitch should come over for dinner, man. Lew loves to try and impress you."
He winced. "Uh. Mitch and I…. It. Well…."
"What? You two had been together forever! It's been, what?"
"Seven years." He'd thought they really were going to be together forever too.
"Jesus!"
Donny's head popped around the corner. "Supper's gonna be about five more minutes, man."
"Thank you." He nodded and sighed. "Look, I'm calling about Donny Gleason."
"Donny Gleason? He's a good kid. What about him?" It had to be a good sign that Mickey knew him by name.
"I'm interviewing him for a nanny position."
"A nanny po—what the…? Oh my fucking God. It was your Beth. I told Lew I thought so, but he said no way." Mickey sighed. "Oh God, Jeff. I'm so sorry, man. She was a good woman."
"She was." Hysteria bubbled up in his chest, but he swallowed it down. He had to get through this, which was what he told himself every time her death started to feel overwhelming. "Tell me about Donny."
"He's a good kid. He's been volunteering here since he was fourteen."
"Yeah? I've never seen him, but my hours…." He did more behind the scenes stuff, like cooking for fundraisers, than he did actual hands-on with the kids Out-Reach mentored.
"Shit, Jeff, I haven't seen you in months. You're busy. Especially now with Beth's…. Are you going to keep them?"
"They're mine." Of course he was. It was what Beth wanted.

About Sean!
Best-selling author Sean Michael is a maple leaf–loving Canadian who spends hours hiding out in used book stores. With far more ideas than time, Sean keeps several documents open at all times. From romance to fantasy, paranormal and sci-fi, Sean is limited only by the need for sleep—and the periodic Beaver Tail.
Sean fantasizes about one day retiring on a secluded island populated entirely by horseshoe crabs after inventing a brain-to-computer dictation system. Until then, Sean will continue to write the old-fashioned way.
Where to find the author:
Website | Facebook | Facebook Author Page | Twitter | Blog | Instagram