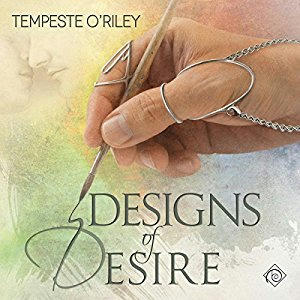 Title: Designs of Desire
Series: Desires Entwined 01
Author: Tempeste O'Riley
Narrator: Max Lehnen
Genre: Contemporary, Arts
Length: 6 hrs, 18 mins
Publisher: Dreamspinner Press LLC (4th December 2013)
Heat Level: Moderate
Heart Rating: ♥♥♥♥ 4 Hearts
Blurb: Artist James Bryant has forearm crutches in every color from rainbow for fun to sleek black for business. He even has a pair with more paint splatters than metal. After his family's rejection and abuse from a man he thought loved him, James only just gets through the day by painting. He lives in constant fear that he's not worthy of anything, let alone love.
As CEO of his company, Carrington Enterprises, Seth Burns is a take-charge kind of guy, and he is instantly smitten by the artist helping with his newest project. When he witnesses James suffer a panic attack, a protective instinct he never knew he had kicks in. He truly believes nothing is unobtainable-including James-if he's willing to put in the time and effort.
James is shy and confused by Seth's interest in him as a person. With Seth's support, can he work through his fears to finally find the true love he deserves, or will someone finally land the crushing blow he won't survive?
Product Link: Audible US | Audible UK
Reviewer: Prime
Review: Designs of Desire is the first book in Tempeste O'Riley's fantastic Desires Entwined series, which has at least 2 more books coming out in the future. However, I must admit that I did listen to the audios a bit arsed about – I actually heard this one after hearing books 2, 3 and 4 in order. Luckily, these books work as standalones although I recognized the names of characters as we met them of people that had their own stories in the following installments.
Designs of Desire follows artist James. He is kind of the heart of the group that slowly forms around him during the course of the series. He is an artist who works for a design firm, and had been for 5 years. He's been used and abused by people who were meant to love him in the past, primarily a couple exes and his own brother. On top of all that, he also has a genetic condition which means that his soft tissues can never heal properly and are easily injured. This is where Seth, CEO of Carrington Enterprises comes in.
This is a very sweet romance, on the whole. The sexual tension and attraction between the characters works well and is well paced. At no point did I mentally think "oh, for fuck sake, hurry up". James in no way need a knight in shining armor – he is a strong man because of what has happened to him. However, Seth does want to ride in on his proverbial horse to save James. But that isn't a bad thing. Even James can recognize that sometimes a little bit of help is never a bad thing, especially where love is involved.