Hi guys! We have Tere Michaels popping in today with her upcoming release Forever & Ever, A Collection of Stories, we have a guest post from Tere and exclusive excerpt so check out the post and enjpoy!  ❤ ~Pixie~
Forever & Ever
(A Collection of Stories)
(Faith, Love, & Devotion 07)
by
Tere Michaels
A Faith, Love & Devotion Anthology
What happens after the story ends?
Join Matt, Evan, Jim, Griffin, and their friends and families for a glimpse of what happens after happily ever after. Between growing up and growing pains, weddings and retirement, changing careers and changing diapers, life is never boring. Changes, decisions, tears, and joy await as the years march on.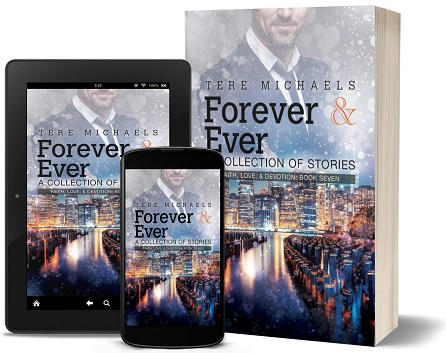 Tere Michaels!
Thank you so much for having me! After ten years of writing in the Faith, Love & Devotion universe, I'm ending this universe with a fun collection of stories called "Forever & Ever." It's glimpses into the future of Matt, Evan and their sprawling group of family and friends, and some of the life events they go through after "happily ever after." Oh and I believe some folks have been waiting for a wedding…
I love this universe dearly, and these characters, so I wanted to give them a big beautiful send off. A love letter to everyone, especially my readers. Thank you for a wonderful ten years and here's to new worlds to explore!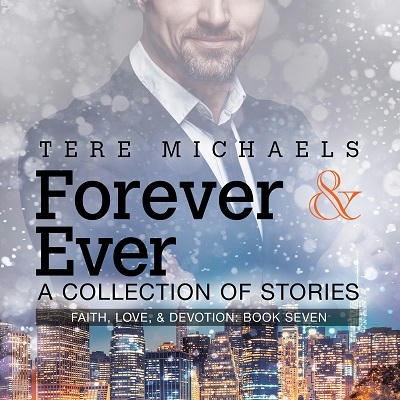 Exclusive Excerpt!
(Takes place between chapters 32 and 33 of Truth & Tenderness)
Evan lived in his head, a constant stream of concerns and worries and self-reflection, imagined reactions and potential pitfalls. Some days he worried about his kids to the point of distraction. He got caught up in cases, stewed over the ones that didn't resolve quickly. He thought about his friends, torn sometimes between stepping in with advice and minding his own damn business.
All that time meant he knew himself with an uncomfortable level of detail. People thought him oblivious, but Evan could diagram every emotion and reaction he had down to the root cause.
Nothing happened without checking on that diagram.
Asking Matt to marry him was probably the most spontaneous thing he'd ever done. He tried to scrutinize it, come up with a reason for the secrecy, and all he could come up with was…
Mine.
Just one word. It was maddening, unreasonable—this purely selfish feeling coursing through his veins. He felt almost giddy with delight, carrying his secret around like a prize. Evan found himself checking his face in the mirror. Was he smiling too much? Did he look ridiculous?
He distracted himself with the change in the weather, upcoming holiday conversations beginning to crop up over the dining room table.
During dinner at Jim and Griffin's house a few weeks later—over steaks and far too many bottles of red wine—Evan listened to them discussing their wedding, wiping his mouth every time he feared the urge to smile like a crazy person. Matt seemed outwardly fine with it all, throwing out jokes about penguin suits and offering to have the getaway car revving in case Jim changed his mind.
"You're just jealous," Griffin said, leaning against Jim's shoulder. They'd been affectionate all night, touching and smiling, sharing quiet moments that started to ping Evan's radar.
The engagement wasn't new. The easy display of love wasn't either. But the spark and crackle between them spoke of a secret of their own.
"We have most of the details worked out, but the actual execution—Daisy said she'd take care of it since we have other things to worry about," Griffin said as they were scraping the last pieces of chocolate cake from their plates. God, their housekeeper created magic with sugar and flour and forty pounds of butter.
"I'm giving Daisy a credit card and free rein," Jim muttered as Griffin petted his head and made soothing noises. "On purpose."
"Why? Why would you do that?" Matt asked, leaning back in his chair. "Griffin has forty-four sisters and a hundred and eleven nieces. They can probably whip up something in a week. You may have some money, trust-fund baby, but Daisy's used to gold toilets. You're going to end up getting married on the moon."
"There is so much to unpack there, Matthew. I'd start with the idea only the female members of my family could plan an event." Griffin shook his head, but Evan picked up on the slight flush on his cheeks.
"What are you two going to be working on?" he asked finally, and was rewarded by the bashfully delighted grins Jim and Griffin exchanged.
A wordless conversation commenced; Griffin nodded and Jim rolled his eyes with a grin.
"Okay—this is for your ears only. Just the parties involved have the poop, and Daisy, because she is my platonic life mate…," Griffin began, sitting up straight in his seat while still holding on to Jim's shoulder.
"Nosy," Jim interjected. "She's nosy and currently emotionally compromised. She basically lives here."
Griffin gave him a slight shove. "Shut up, she's going to be fine." He cleared his throat. "We can't finish planning a wedding because we'll be busy with more important things. My sister Farrah has agreed to be our surrogate. We're uh—having a baby. Officially."
Matt's arms went over his head to call the touchdown of his life; he knocked over a half-empty wineglass getting up, then pulled Jim out of the chair to give him a lung-busting hug. Evan felt his entire face cracking with a smile as he got up a little less exuberantly to congratulate Griffin.
"I had a feeling something was up," Evan said, giving Griffin a tight hug. "You looked like you had a secret."
"The best secret! I mean, we said we were going to have a baby, but now it's officially official, with a doctor and a schedule because we have a date to start to fertility treatments. I want to tell everyone. I'm in the grocery store like, 'Hey, these apples are great! My sister is having my baby! Or rather my future husband's!' But that sounds so… bad reality TV!" Griffin bounced a little as he pulled out of Evan's arms. "So yeah, that's our news!"
"You're going to be wonderful fathers." A profound gratitude settled into Evan's bones: he and Matt deciding to get married, their friends having a child. He felt the satisfaction at a cellular level. "And I think it goes without saying, we are always available for babysitting."
"When the baby is out of diapers, of course," Matt added smoothly as he finally released Jim from his grip and moved over to do the same to Griffin. "And can eat wings without assistance."
"You're an idiot," Griffin said fondly before being swallowed up into Matt's excited hug.
Evan dodged the lovefest and ducked around to where Jim was standing, looking slightly rumpled from Matt's congratulations.
"Exciting news," Evan said, unsure of going for a handshake or a hug or—
Jim spared him the internal strife, offering his hand. "Thank you. We're not really spreading it around until things are a done deal and Farrah has passed the three-month mark."
"Of course, of course." The handshake tapered off, and Evan made an impulsive decision to pull Jim a bit closer for a one-armed hug. "It'll be nice to add another little one to the family."
When Jim pulled back, he offered Evan a slight nod and a curious expression.
"That wine was great," Evan murmured, feeling self-conscious, like Jim had taken his attempt at casual affection as an invitation to probe Evan's mind. "But whew! Not used to it."
"I'll put on some coffee." Jim looked over at where Matt was holding Griffin in a sleeper hold as the younger man flailed. "Haight, don't break him. I refuse to go through all this to find another model."
Matt dropped Griffin onto the floor. "Like… a model model? Someone taller, I assume."
"He likes young, but not children. They're all like eleven! Besides, I'm already house-trained," Griffin said, indignant, as he got up off the floor. "You're all insane. Except Evan. He's an adult."
"He's ninety-seven on the inside." Matt winked, then blew Evan an obnoxious kiss.
"I'm going to make coffee. Evan, you're in charge of these two."
As soon as Jim left the dining room, Matt and Griffin shared a look both mischievous and charming.
"Whatever it is, no."

About Tere!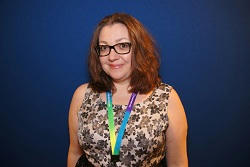 Tere Michaels unofficially began her writing career at the age of four when she learned – via a Disney magazine subscription – that people got paid to write stories. It seemed the most perfect and logical job in the world and after that, her path was never in question.
Tere's specialties are snark, angst, and happily ever afters. And not so happily ever afters that eventually work out because she is, after all, a romantic – tempered with realism. She has written fifteen books including her popular Faith, Love & Devotion series and the superhero saga The Vigilante.
Nothing makes her happier than knowing she made a reader laugh or smile or cry. It's the purpose of sharing her work with people. She loves hearing from fans and fellow writers and is always available for speaking engagements, visits, and workshops. Send her a message through her contact page or connect with her on Twitter (@TereMichaels) and Facebook .