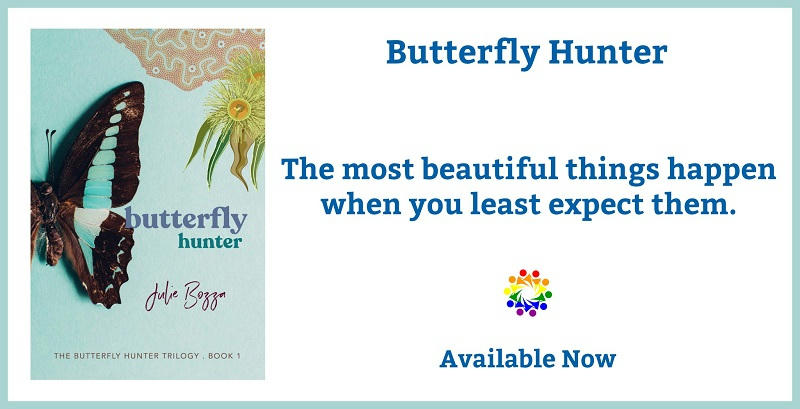 Hi guys, we have Julie Bozza popping in with her Butterfly Hunter Trilogy, there's a great excerpt and a brilliant giveaway so check out the post and enter the giveaway! ❤ ~Pixie~
Butterfly Hunter
(The Butterfly Hunter 01)
by
Julie Bozza
It started as a simple assignment for Aussie bush guide Dave Taylor – escort a lone Englishman in quest of an unknown species of butterfly. However, Nicholas Goring is no ordinary tourist, his search is far from straightforward, and it's starting to look as if the butterflies don't want to be found. As Dave teaches Nicholas everything he needs to survive in the Outback he discovers that he too has quite a bit to learn – and that very often the best way to locate something really important is just not to want to find it…
This new edition has been slightly revised from the original. 
.•.•.**❣️ Amazon US | Amazon UK | Amazon AU | Amazon DE | Smashwords | Barnes & Noble | Kobo | iTunes US | Books2Read ❣️**.•.•
.•.•.**❣️ PB: Amazon US | Amazon UK | Amazon AU | Amazon DE | B&N ❣️**.•.•
Of Dreams and Ceremonies
(The Butterfly Hunter 02)
It seemed like a great idea at the time… Aussie Dave Taylor has followed Nicholas Goring to England, and the lovers have become engaged. But now Dave has to cope with living in a mansion full of family and servants, making wedding plans, getting his head around visa applications, and wondering why on earth he'd ever want to wear a 'mourning suit'. He's not sure if it will prove any easier, but right now Dave would love to just skip ahead to the honeymoon…
.•.•.**❣️ Amazon US | Amazon UK | Amazon AU | Amazon DE | Smashwords | Barnes & Noble | Kobo | iTunes US | Books2Read ❣️**.•.•
.•.•.**❣️ PB: Amazon US | Amazon UK | Amazon AU | Amazon DE | B&N ❣️**.•.•
Like Leaves on a Tree
(The Butterfly Hunter 02.5)
Dave has made the most perfect plans for his first Valentine's Day with Nicholas … but of course that's when Sod's Law kicks in, and everything that can go wrong does go wrong.
.•.•.**❣️ FREE! ❣️**.•.•
.•.•.**❣️ Smashwords | B&N | Kobo | iTunes | Books2Read ❣️**.•.•
The Thousand Smiles of Nicholas Goring
(The Butterfly Hunter 03)
Dave and Nicholas, married for seven years now, are happily settled together – but as an Australian prime minister once observed, "Life wasn't meant to be easy." An unexpected threat to their beloved waterhole forces Dave to try asserting his unofficial custodianship of the Dreamtime site, and a visit from Nicholas's nephew Robin doesn't help as he brings his own surprises. And there's always the question of Nicholas's health hanging over their heads…
The Butterfly Hunter Trilogy
(The Butterfly Hunter 01 – 03)
Dave Taylor is an Aussie tour guide specialising in trips through the Queensland Outback. In some ways, however, Dave himself feels lost. He has been alone this past year, since his childhood sweetheart Denise left him and married another man. Change comes via Dave's latest rather unexpected client, Nicholas Goring, the youngest son of an English earl. Nicholas is on the hunt for an undiscovered species of butterfly, and has hired Dave to help guide his quest. Although the two men are from very different backgrounds, they become friends, and soon their relationship grows into something more. But how easy will it be for an Australian and an Englishman to find common ground?
This boxed set includes all of the above: the novels "Butterfly Hunter", "Of Dreams and Ceremonies", and "The Thousand Smiles of Nicholas Goring", as well as the (free) story "Like Leaves to a Tree".
Excerpt!
from Butterfly Hunter
They were silent while Dave led his client out to the car park, paid off his ticket, found the car and put the bags in the boot, insisting in a mutter that he didn't need Goring's assistance.
It wasn't until they were heading into the city on Kingsford Smith Drive that Dave finally spoke. "I'll take you to the hotel. I booked it with an early check–in. I'm sure you'll be glad of a shower and change of clothes." When he risked a glance at the man, Dave was disconcerted to find that Goring's smile once again had a wicked kick to it. "Um," said Dave, "sir…"
"I always had a thing for chauffeurs," the man confided.
"Huh." Dave frowned, and stared very hard at the road ahead, though he wasn't entirely sure how much he was actually seeing. "Well. What do you do when they don't have a thing for you?"
Goring chuckled, sounding genuinely amused. "Ah, come on. Seize the day!"
"Mate, life's not thatshort."
The chuckle turned into a laugh – and Dave liked that. Still, he was relieved when Goring said, "All right, I'll stop. Don't mind me. I hardly got a wink of sleep on that damned plane."
"You weren't exactly travelling cattle class. Were you?"
"No, but …" Goring looked away, biting at his lower lip. He was a tall, scrawny man, and his lips were the plumpest thing about him. They were a dash of pink on his pale face. They were almost pretty. "Too much on my mind, I suppose."
Dave let a beat go by, and then headed for safer ground. "Common wisdom is to stay awake for as long as you can today, and try not to sleep until tonight. Get into the new time zone as soon as you can."
"Yes, so I've heard."
"And I find that people like to start with a good breakfast, to keep their energy levels up. The hotel – you're at the Hilton – is known for their breakfasts."
"I see."
"It's up to you, but I'll keep you company, if you like. For as much of the day as suits."
"Starting with breakfast … ?"
"If you like," Dave repeated. "And later, if you have people here, I can drop you off wherever. Just tell me what you want to do and then, you know, feel free to change your plans if you can't stay awake any longer or whatever."
Goring was staring at him. "I understand." After a moment, he added, "I don't know why I was expecting laconic rather than loquacious."
Dave glanced at him. "Dunno if I'm your typical Aussie, mate."
Another laugh, though wry this time rather than genuine. Then Goring asked, "Will Mr Taylor be able to join us for breakfast?"
"What?" Dave grimaced as he turned right onto Albert Street. They were almost there. "No, I'm – I'mDave Taylor."
"Oh."
"I guess I didn't – No, I didn't introduce myself. The meeting at the airport didn't, uh –"
"Didn't quite go as planned," Goring smoothly supplied.
"No. My fault. Look, we're here," Dave said. "I'll drop you off, and you can check in while I park."
"No need. I'll stay with you."
Dave glanced at him, and thought that Goring wasn't merely being polite. In any case, he needed to decide right away, as he was already approaching the car park. He nodded, and flipped on the indicator. So be it. Almost nothing this morning had gone as intended, so why not this as well?
They were silent again as Dave collected a ticket, and then quickly chose an empty space on the ground floor – it was still too early to be busy. Once he'd parked, they both got out, and met around the back of the car. Dave looked the man in the eye, and held his hand out. "Good morning, uh, sir. I'm Dave Taylor."
Goring shook his hand with a cool firmness before disengaging. "I'm pleased to meet you, Mr Taylor. Call me Nicholas."
"Dave."
"David," said Nicholas.
Dave grinned, and turned to open the boot, started lifting the three bags out. "All right, but no one calls me that. It's Dave or – well, my friends call me Davey."
"Would you join me for breakfast, David?"
"Sure. Thanks," he added, quite genuinely. "We can talk over your trip. I've brought maps and such."
"Good. Here, let me –"
But Dave only handed over the cabin–sized bag, and insisted on wheeling the larger cases. "I've got it," he said. He attempted the three syllables as they emerged into sunlight: "Nicholas." He wondered how long it would be before he was allowed to go with Nick or Nicky.
"Thank you." The man's smile was a little gentler by now.
Of course it had all gone horribly wrong so far, and God only knew what that meant for the rest of the trip, but it seemed that at least Dave had been forgiven for his part of the shambles. He nodded, both accepting and returning the thanks. Nicholas seemed to understand. As they walked shoulder to shoulder into the hotel, Dave dared to think the next three months mightn't be a complete disaster.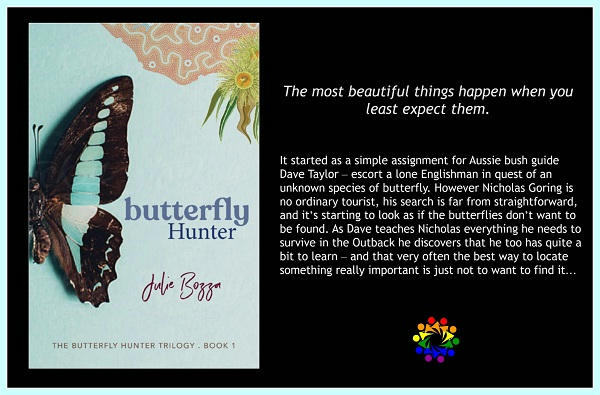 About Julie!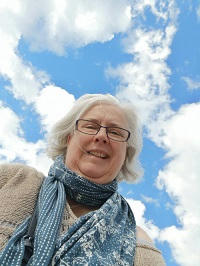 Julie Bozza is an English-Australian hybrid who is fuelled by espresso, calmed by knitting, unreasonably excited by photography, and madly in love with Amy Adams and John Keats.
Blog | Website | Facebook  | Twitter | Pinterest | Goodreads
.
.
.
.
Giveaway!
Win one of 10 copies of any ebook from Julie's backlist!