Hi guys! We have K.D. Fisher stopping by today with the tour for her new release Love on the Hudson, we have a great excerpt and a brilliant giveaway so check out the post and enter the giveaway! ❤️ ~Pixie~
Love on the Hudson
by
K.D. Fisher
Art historian David Webster left his childhood home of Saugerties, New York ten years ago and hasn't looked back. Intelligent, successful, and proud of his sexuality, David has built a comfortable, if lonely, life in Chicago. But when he learns his father has suffered a debilitating stroke, he decides to leave his prestigious museum job and move home to care for his dad. Until now David has never questioned his devotion to academic and professional success. Suddenly he's forced to confront and reevaluate his desires, chief among them, his former best friend Nick.
Nick Patras has spent his entire life trying to be the perfect Greek son. From devoting himself to football, to forgoing an athletic scholarship to work at his family's diner, to denying his sexuality and getting married to his high school sweetheart, Nick got used to putting his family's dreams ahead of his own. The facade shattered, however, when Nick divorced his wife and left the family business to follow his dream of starting an organic farm. Finally content with the life he's built for himself, Nick is still haunted by the mistake that ended his friendship with David a decade earlier.
When David and Nick reunite their old feelings are undeniable, but can David trust Nick with his heart a second time around? As David embarks on a new career as an artist, he must decide whether or not Nick fits into this composition.

Excerpt!
Love on the Hudson, K.D. Fisher © 2019, All Rights Reserved
I step onto the salt-white sidewalk and into a stream of traffic noise. Rush hour commuters pour their anger into their car horns, laying on them for what feels like minutes at a time. The familiar scents of bus exhaust, cigarette smoke, and the caramel-sweet fragrance of roasted nuts from the stand on the corner overpower the rich steam rising from the to-go cup of coffee in my hands. It's cold. I know March in Chicago is always cold, really still winter, but the bite of the wind makes me edgy. I find myself constantly checking the weather forecast the moment I wake up, hoping I can stow away my heavy, unattractive coat for the season.
I rush toward the museum, knowing I'll be early for my meeting but hurrying nonetheless. As I walk, I mentally go over the presentation I'd practiced endlessly the night before. We can work with Chicago Public Schools to widen the reach of the museum and diversify visitorship. I've already talked to the assistant superintendent, and she loved the idea, saying the partnership would help supplement the arts programs that got cut a few years ago when the state couldn't agree on a budget. I'm lost in thought, half hoping I'm not practicing my talking points aloud, when I realize I'm already standing at the bottom of the lion-flanked steps of the museum. It bothers me that I do this—zone out and navigate the streets on autopilot. I chastise myself for taking the aesthetics of the city for granted. On any given day I pass the spaceship-like hulking form of the Thompson Center without batting an eye. I breeze by major public artworks by Picasso and Miró. I whisk past Burnham and Sullivan buildings with my eyes trained on the ground.
When I first moved to Chicago for undergrad, I was fascinated by the city. Everything was vibrant and engaging, unlike Saugerties, the small town where I'd grown up. Every chance I had I hopped on the bus, pretentious leather sketchbook in hand, and went north from my school's South Side campus to the center of the city. I took silly architecture boat tours filled with tourists who largely tuned out the information pouring from the scratchy PA system as the boat chugged through the dingy river. Spending hours on Google Maps, I planned walking tours of Oak Park for myself, enjoying the lull of the suburban streets as I basked in the gorgeous lines and thoughtful details of the Frank Lloyd Wright houses.
Again I'm lost in thought because I'm now enveloped in the quiet of my office, coffee still in hand, coat and scarf still on, but seated behind my desk. Shaking my head, I set my coffee down and busy myself with the tasks of a Monday morning. Check my voicemail, start my computer, glance at the Post-it-covered Stendig calendar tacked to my wall. As I'm about to reread my notes for the thousandth time since I woke up, my desk phone rings and the small light for the main museum reception line blinks red.
I pick it up on the second ring, running my fingers through my hair as I speak. "This is David Webster." I always lower my voice when fielding an unexpected call. Although I tell myself it's to sound professional, I'm a bit self-conscious about the soft, lilting cadence of my words.
A timid female voice responds. "Uh, hi, Mr. Webster? I have a call for you from a, uh, hospital. The nurse said she tried your cell but…" The woman's voice trails off, growing somewhat hoarse.
"Oh, sure. Okay. You can go ahead and put her through." The tremble in my voice does not surprise me. My heart races and my fingers shake as I reach for my bag to retrieve my cell phone.
"Mr. Webster?" My name is tinged with the upstate New York accent of my youth.
"Speaking," I squeak out. "What's going on?" I know it's something with my dad. Or fuck, could it be Anna? There's a sickening swooping sensation in my stomach. Did something happen to Nick? Unbidden, his intense gray gaze appears in my mind's eye. I shake my head to clear the thought. No one would call me about him.
"You're listed as next of kin for Dr. Richard Webster. You are his son, correct?"
"Yeah. Yes. Is he okay?" I hold down the button on the side to start up my phone. I always keep it off between the hours of midnight and seven to preserve my sanity and mitigate my technology addiction. It had been my New Year's resolution. Clearly this is not a good choice when your elderly father who lives alone hundreds of miles away is hospitalized.
"Yes, sir. Your father's condition is stable. We were unable to reach you on your primary contact number. He suffered an ischemic stroke. We have him on tPA and he's resting in the ICU. We'll keep him for a few nights for monitoring and scans. Then we can start talking about rehab. A…" She pauses and I hear a few mouse clicks over the phone. "James Webster is with him now."
Jimmy must have called me. Quickly I unlock my phone to see a barrage of texts and missed calls from my uncle's number, as well as three voicemails from an 845 area code, very likely the hospital's number. I scan through Jimmy's increasingly panicked then calm texts without responding to the nurse.
"Mr. Webster?" she asks, a note of irritation creeping into her voice.
I tear my eyes away from my phone screen. My hands clench white and my arms are suddenly insanely heavy. My torso is hollow. "Yes. Sorry. I'm in Chicago. Like, I live in Chicago so I need to fly up. But he's okay, right?"
Line two rings on my desk phone—startling me—and I know it means the superintendent has arrived. My head spins and I lean forward, scrunching into myself and trying to resist the urge to collapse even though I'm sitting. A few moments later I have wrapped up my conversation with the nurse and managed to write down the relevant information on the back of a deli receipt on my desk. I'm about to return one of Jimmy's dozen calls when Marc blusters into my office, eyes wild.
"Uh, David?" his voice is shrill, and it's one of the first times I have ever seen him look so irritated.
"I know. She's here, right?"
"Yes!" he hisses, running his slender fingers through his perfectly messy dark hair. I notice he's even wearing a tie today. A nice touch for the meeting, I think, and I smile to myself.
"My dad had a stroke," I say softly. Repeating the information I was told makes my stomach twist sharply and a wave of nausea rolls over me.
The irritation drains from Marc's face and he quickly crosses over to my desk. "Shit. David, when? Why didn't you call me?" His groomed eyebrows are raised, earnest.
"I just got the call here… You know, my phone was off."
Marc groans. "You and your stupid phone thing. I knew it was going to be a problem someday." He claps a hand over his mouth. "And I'm nagging you right after you found out your dad's sick." He paces my small office, from the wall plastered with my calendar and some framed landscapes to the window overlooking Millennium Park. "Okay. Okay. Okay. Here's what we'll do. I'll take care of the meeting. Call, well normally I would say call me…but Vic can handle booking you a flight to New York. You should be able to take leave for this." He runs his fingers over his lips, leaning back against the window. I know his mind is vibrating at its highest frequency. "Lane and Nisa and I can handle everything for a few days or whatever you need. Go, David."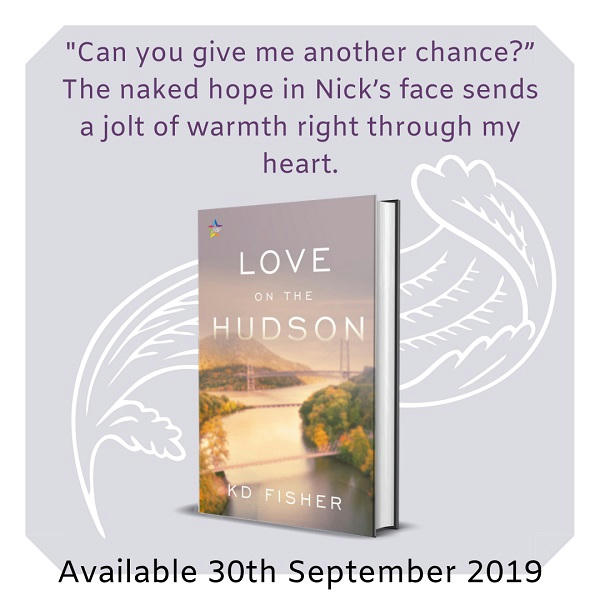 About K.D.!
KD Fisher is a queer New England-based writer of authentic, heartfelt LGBTQ+ narratives. KD grew up all over the United States, bouncing from North Carolina to Hawaiʻi to Illinois, and finally settling in Maine where she spends far too much time at the beach.
When KD isn't writing, she can usually be found hiking with her overly enthusiastic dog, obsessing over plants, or cooking elaborate meals. She loves classic country, perfectly ripe tomatoes, and falling asleep in the sun.
Website | Facebook | Twitter | Instagram | Pinterest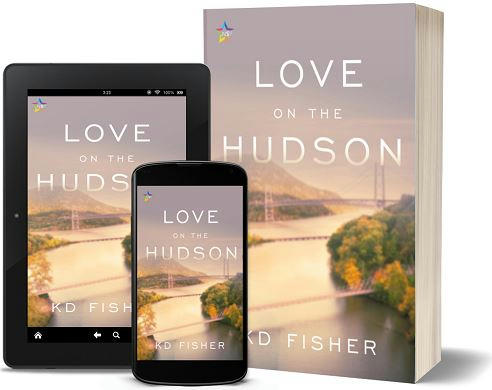 Giveaway!
Win one of 3 packages of a signed physical copy + postcard of LOVE ON THE HUDSON by KD Fisher!