Hi guys! We have Amy Aislin stopping in today with the tour for her new release Shots on Goal, we have a great exclusive excerpt and a fantastic giveaway, so check out the post and enter the giveaway! ❤️ ~Pixie~
Shots On Goal
by
Amy Aislin
Recently traded to the newly formed Vermont Trailblazers, professional hockey player Roman Kinsey needs to focus on helping the team win games and filling the stands, not on the blond, bespectacled part-timer who works at the library he volunteers at. He knows all too well that outing himself equals heartache and ridicule…or worse.
Cody Evans, psych major and grad school hopeful, notices everything and thinks too much. But he doesn't know what to think when he sees Roman reading to kids. The rugged hockey player just doesn't look like the type. But it stirs something in him, something he's never felt before.
When the library is threatened with closure, Cody enlists Roman's help. As they get to know each other better…much, much better…they realize that they have more in common than books. But Roman's keeping a big part of himself from his team, and giving in to his feelings for Cody might be more than he's willing to risk.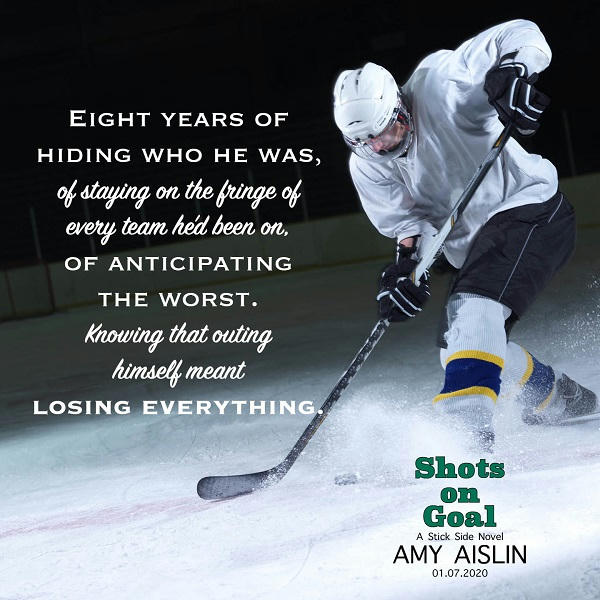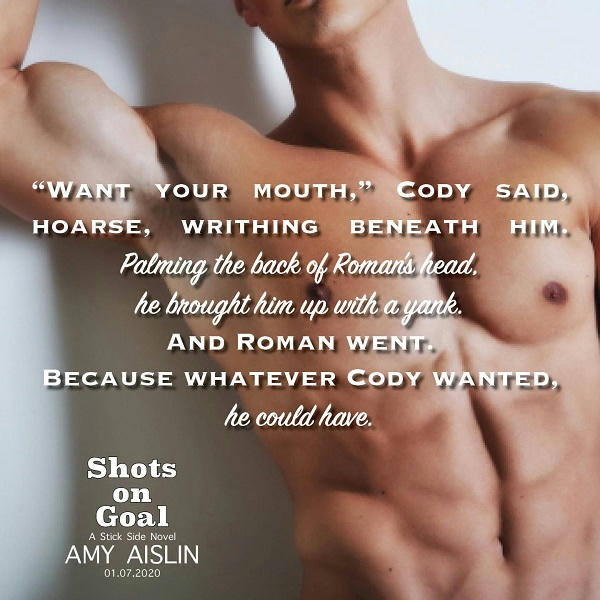 Exclusive Excerpt!
Thank you for joining me to celebrate the release of my newest m/m sports romance, Shots on Goal (Stick Side #3), and thank you to MM Good Book Reviews for having me!
Today, I'm sharing an exclusive excerpt. Check it out below!
***
Cody unbuckled his seatbelt and turned in his seat to face Roman. "Thanks for driving today. And for coming." Compared to how loud they'd gotten during their game, Cody's voice was now soft in the silence, almost intimate. In the shadow of the streetlight, Roman saw him bite and then lick his bottom lip, and followed the movement. "I guess . . . I won't see you Tuesday, right?"
Was it Roman's imagination or did Cody sound disappointed? "Right. I've got a team thing."
"So I'll see you . . . next Tuesday, then?"
"Yeah."
"Okay. Cool."
"Cool."
Cody had inched closer somehow, or maybe Roman had, because they were only inches away, Cody's eyes dark and questioning. Roman wanted to reach out and run a thumb over his glistening lower lip, touch the barely stubbled skin of his jaw. Cody's gaze met his, and because Roman apparently didn't catch on fast, it only hit him then—not only was Cody not a homophobe, but he was also most definitely not straight.
A tendril of tenderness unfurled in Roman's sternum.
Inching back slightly, small smile on his face, Cody said, "So . . . bye?" as if he was as reluctant to get out of the car as Roman was to let him leave.
"Bye, Cody."
The grin Cody shot him before opening his door and stepping out was knowing, secretive, and made Roman want to call him back in and kiss him stupid.
"Oh!" Cody paused before slamming the door closed. "We never got you any gloves. Or a scarf."
"That's okay. I'll—"
"Here." Removing his own scarf, Cody climbed back into the car, leaving the door open behind him, and wrapped the scarf around Roman's neck. To Roman's total shock, Cody pressed a kiss to his cheek, and with an irreverent smile and a wink, said, "So you'll think of me every time you wear it."
He was gone a second later..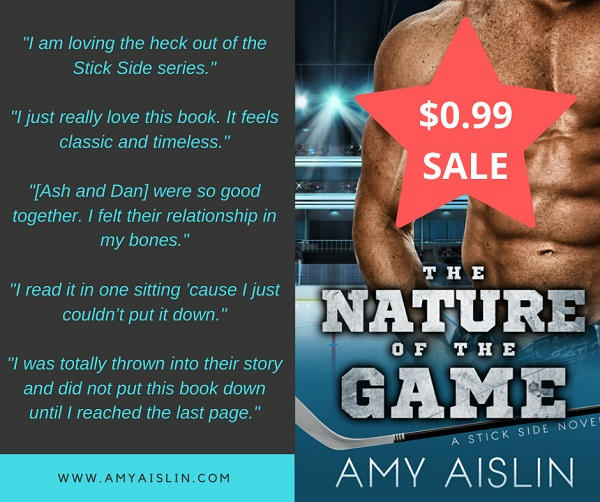 Stick Side series!
On The Ice (book 01)
.•.•.**❣️ Amazon US | Amazon UK | B&N | Kobo | iBooks ❣️**.•.•.
Nature of the Game (book 02)
.•.•.**❣️ Amazon US | Amazon UK | iBooks | Kobo | B&N ❣️**.•.•.
NOTG only 99c/99p until 13th January 2020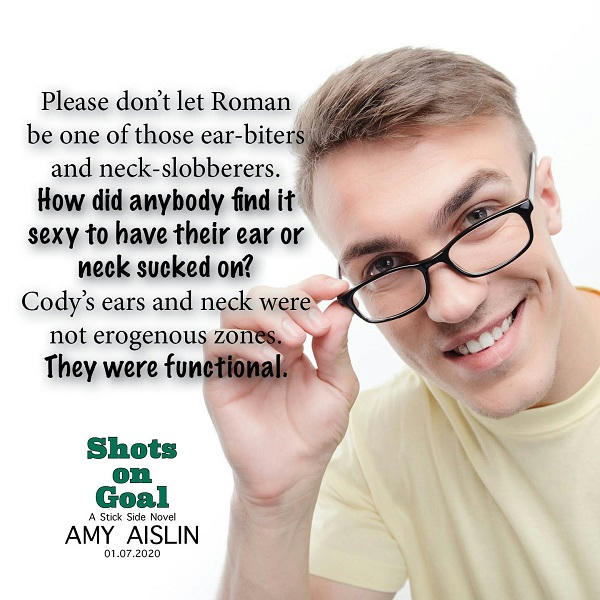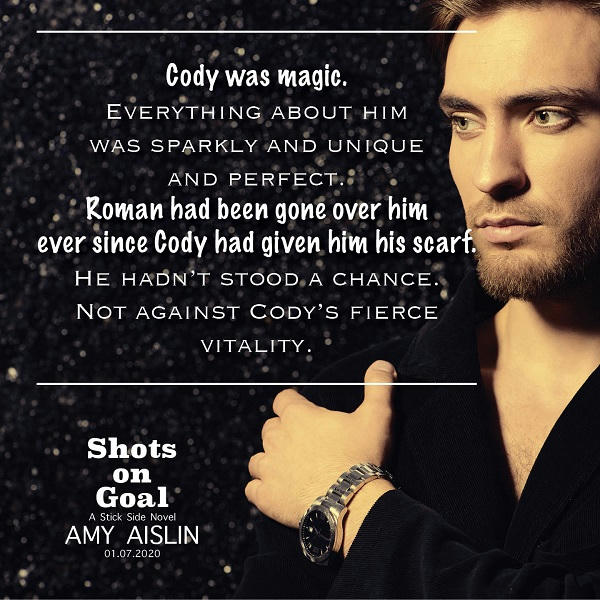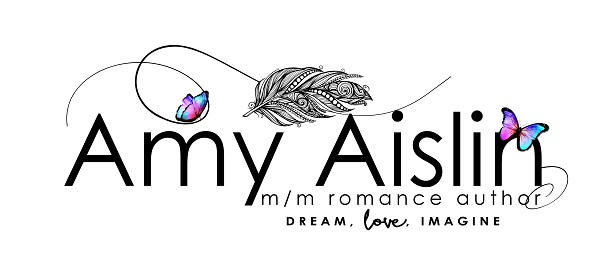 About Amy!
Amy Aislin's lived with her head in the clouds since she first picked up a book as a child, and being fluent in two languages means she's read a lot of books! She first picked up a pen on a rainy day in fourth grade when her class had to stay inside for recess. Tales of treasure hunts with her classmates eventually morphed into love stories between men, and she's been writing ever since. She writes evenings and weekends—or whenever she isn't at her full-time day job saving the planet at Canada's largest environmental non-profit.
An unapologetic introvert, Amy reads too much and socializes too little, with no regrets. She loves connecting with readers. Join her Facebook Group to stay up-to-date on upcoming releases and for access to early teasers, find her on Instagram and Twitter, or sign up for her infrequent newsletter here.
Website | Facebook | Facebook Page | Twitter | Instagram | Pinterest | Tumblr | Goodreads | QueeRomance Ink | Amazon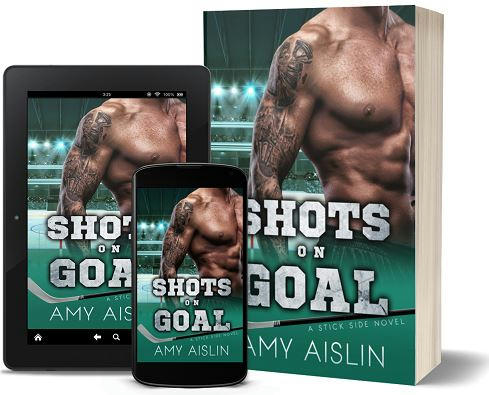 Giveaway!
Winner's choice of ONE signed paperback from Amy's backlist!