Hi peeps, we have Garrett Leigh popping in today with her new release Soul To Keep, we have a great excerpt and a brilliant giveaway so check out the post and enter the giveaway! ❤ ~Pixie~
Soul to Keep
by
Garrett Leigh
Recovering addict Jamie Yorke has returned to England from California. With no home or family to speak of, he sticks a pin in a map and finds a small town in the Derbyshire Peak District. Matlock Bath is a quiet place—he just needs to get there, keep his head down, and stay clean. Simple, right? Until a chance meeting on the flight home alters the course of his so-called life forever.
Ex-Army medic Marc Ramsey is recovering from life-changing combat injuries while pulling nights as a trauma specialist at the local hospital. Keeping busy is a habit he can't quit, but when Jamie—so wild and beautiful—bursts into his life, working himself into the ground isn't as compelling as it used to be.
Marc falls hard, but chaos lurks behind Jamie's fragile facade. He's winning his battle against addiction, but another old foe is slowly consuming him. Both men have weathered many storms, but the path to the peace they deserve might prove the roughest ride yet.
Excerpt!
The was a notion in life, even in the dark depths of Jamie's twisted childhood, that there was a manifest destiny in California, but for Jamie, it was the end of a dream he'd never wanted—a world of perpetual summer that he'd fallen into when the alternative had been certain death. There's nothing here for me. At least, there wasn't anymore.
"Are you sure?" Marvin asked for the third time since Jamie had told him of his plans to return to England. "Where will you go?"
"Anywhere. There's plenty of places I haven't been."
"You won't go back to Norwich? Or London? I know things were shitty before, but they're both big cities."
Glad that Marvin was currently distracted by the financial reports he'd been buried in all week, Jamie shuddered. There were numerous reasons not to return to London or Norwich, but fear was the loudest—fear of the past, of old enemies, and of himself. Mostly himself. I can't go back. "I want to go somewhere new. Start again."
"I don't see it." Marvin spun around in his ergonomic office chair. "You get kinda cranky when you're on your own too long."
"You never leave me on my own."
Marvin grinned without an ounce of denial, but it was fleeting, and his expression sobered a moment later. "I'm serious, dude. You've done so well this past year, but you're not done yet. Are you sure you're ready to face something so drastic? Why not go to Liam and Zac? They can help you settle."
Jamie shook his head. Liam Mallaney owned Sea Rave, the company that Jamie and Marvin both worked for, and he was the best boss in the world, but he'd also laid claim to the heart of the only man Jamie had ever loved. Asking him for another handout was one humiliation too many.
Besides, Zac was nauseatingly happy now—an emotion that Jamie was fleeing California to escape. The vibrant West Coast buzz had kept him alive when he'd had little desire to do it himself, but he'd woken up this morning with an absolute certainty that he'd had enough. I want to go home . . . Wherever that was.
"You should at least tell him."
Jamie scowled at Marvin. The bloke was awesome, but he'd been in Cali for too long, and his moral compass grated on Jamie's cynical English soul. "I can't take a piss in this place without Liam hearing about it, so I reckon Zac'll know where I'm headed before I do."
"That's not fair." It was Marvin's turn to frown. "I only tell Liam about work stuff, and your general state of being alive. And even if I wanted to tell him anything else—which I don't—what would I say? Seriously, mate—you barely leave the apartment. Maybe you're bored, and you don't have to leg it all the way back to England to fix that."
In theory, Marvin could be right. By choice, running the Sea Rave staff canteen and keeping up with his rehab program did take up most of his time, but the disquiet in his gut—brewing stronger with every clear-skied day that passed—wasn't about that. "I'm not bored, Marvin. I'm sunburned, and hot, and I'm tired of having sushi for breakfast. I'm tired of going for runs on the beach, and I'm tired of being nice to every idiot that crosses my path because no one over here understands my warped sense of humour . . ."
Marvin's grin widened.
"Don't bloody laugh at me," Jamie snapped.
"I'm not."
"Liar."
Marvin spread his hands. "I'm not, mate. I promise. It's just that you're starting to sound like every other Brit who passes through here, and I didn't think I'd see the day when you ever sounded like anyone else."
"What's that supposed to mean?"
Marvin shrugged. "That you're one of a kind, kid. And I'm really gonna miss you."
Jamie closed his eyes and turned away. Marvin had never voiced his obvious fondness for Jamie before, but there had been many days when the sensation that he desired something other than fraternal friendship had been strong enough to confine Jamie to the quiet sanctuary of his ocean-view bedroom. Counting the sea pebbles he'd collected calmed his racing mind—sometimes—but he couldn't do that forever.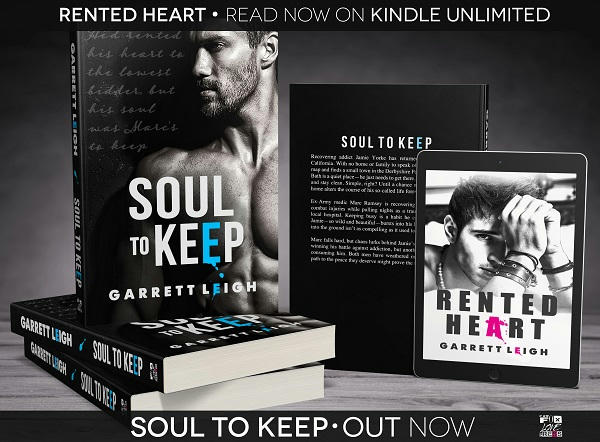 About Garrett!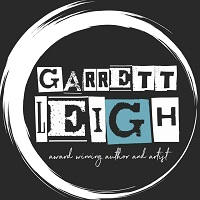 Garrett Leigh is an award-winning British writer and book designer, currently working for Dreamspinner Press, Loose Id, Riptide Publishing, and Fox Love Press.
Garrett's debut novel, Slide, won Best Bisexual Debut at the 2014 Rainbow Book Awards, and her polyamorous novel, Misfits was a finalist in the 2016 LAMBDA awards.
When not writing, Garrett can generally be found procrastinating on Twitter, cooking up a storm, or sitting on her behind doing as little as possible, all the while shouting at her menagerie of children and animals and attempting to tame her unruly and wonderful FOX.
Garrett is also an award winning cover artist, taking the silver medal at the Benjamin Franklin Book Awards in 2016. She designs for various publishing houses and independent authors at blackjazzdesign.com, and co-owns the specialist stock site moonstockphotography.com with photographer Dan Burgess.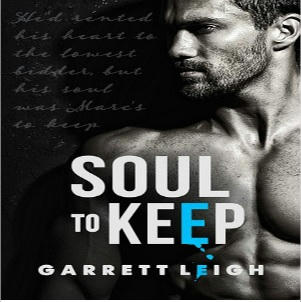 Giveaway!
Win 3 x Backlist Ebooks From Garrett Leigh!