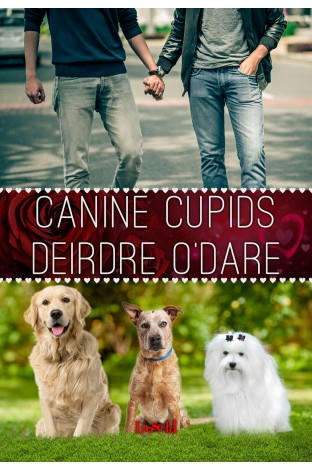 Title: Canine Cupids
Author: Deirdre O'Dare
Genre: Contemporary
Publisher: Loose ID (14th February 2017)
Length: Novella (138pgs)
Heat Level: Low
Heart Rating: ♥♥♥♥ 4 Hearts
Blurb: Loners Caleb, Justin, and Garrett are each caught up in too many daily problems simply trying to survive and overcome past sorrows. Although they are tired of one-night stands and short-term romances, they secretly long for the perfect partners to share their lives. When fate brings Nick, Barry and Dan into their worlds, each of them fights the sudden pangs of lust and desire. They cannot help but fear the differences will be too great for a real bond to form and dread the pain sure to come when things do not work out.
It takes some clever canines to recognize their masters belong together. With a wide range of tricks and treats, several dogs work sly magic to bring their beloved humans together. When a Canine Cupid goes to work, there is no telling where those arrows will fly!
ISBN: 978-1- 68252-276-9
Product Link: http://www.loose-id.com/canine-cupids.html
Reviewer: Lisa 
Review: Maltese Terror and Rescued by Love were previously released by another publisher. A New Leash on Life is a new story.  Now I will admit that when I picked this story I did not know it was three short stories instead of one.  
The Maltese Terror
Landscape architect Nick LeGrande has never experienced a more disastrous trip! When he ends up stranded in a Colorado blizzard, he's glad to have the company of his little canine buddy, Cedric, which circumstances forced him to bring along. Then a sexy Samaritan rescues them and Nick is introduced to a world he hardly knew existed…and is quickly enthralled. 
Caleb Storm is a loner, a rancher whose Native American blood sets him a bit apart from most of his fellows. When a spring blizzard dumps Nick LeGrande and his tiny dog into Caleb's life, he and his old stock dog Cheyenne hardly know what to make of their visitors. Caleb finds Nick very attractive but doubts such a successful and urbane man could have any interest in him. Their dogs, however, hit it off from the start and seem to conspire to get their masters together. Can a pair of canine cupids work the necessary magic? 
Since these were previously published I decided instead of giving you a description of the story I would just give you the blurb for it.  It is a very cute little story, but the romance was to fast moving.  I don't know of anyone that would move this fast, so with the story it just made it not believable.  However it was really adorable and I absolutely loved the dogs.  I would love to see this short story turned into a longer book.  
A New Leash on Life
Justin went from having a nice life in Phoenix, to being unemployed and pretty much homeless.  He still had his mother's house but moving there was not the question, the question was, was his old flame still there.
Barry noticed Justin was back and so were his feelings.  Then he got even a bigger shock and now things were going to be what he wanted.  Things are going to heat up.
Now for this one, there was no blurb for this and I tried not to give anything away.  It is a cute but frustrating story.  I wasn't too sure if I liked the characters or not.  It was too short to get anything more than a taste for it.  I do hope for a longer story that gives you more than just a tease.  
Rescued By Love
With his life torn apart by tragedy, Garrett finds a true life-saver in the Golden Retriever pup Mandy that he rescues from a local shelter. Inspired by search-and-rescue heroics he sees on television, he and Mandy become a trained SAR team. Their first big challenge comes when a series of violent storms with vicious tornadoes rip through the high plains. 
Dan has returned home from Iraq, shattered by the horrors he witnessed. Like his father and grandfather before him, he takes off on an old motorcycle to try to find peace and outrun his nightmares. Instead, he finds a storm that threatens to take his life. 
But a special SAR team comes to Dan's rescue. And in Mandy and Garrett, Dan finds the unconditional love he desperately needs to become whole again
Now the first thing I am going to say is it needed better editing before publishing.   When I started reading this it was a very sweet story with a bit of pain in it.  I enjoyed the guys a bit more and the dog rocked.  
Overall
The stories were pretty good but to damn short to get anything more than a taste.  I will admit that if I had paid attention I would have probably skipped reading it.  I am not a fan of short stories and anthologies.  I want a story with more details and juicy bits then they usually give.  Other than my issues it is a pretty good book that I did enjoy.