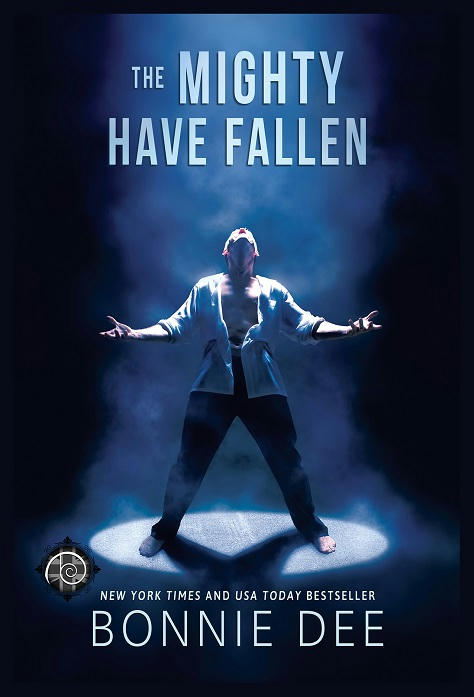 Title: The Mighty Have Fallen
Series: Perchance to Dream 03
Author: Bonnie Dee   
Genre: Contemporary
Length: Novella (112 Pages)
Publisher: Dreamspinner Press (January 18, 2017)
Heat Level: Low
Heart Rating: ♥♥♥ 3 Hearts
Blurb: Theatre headliner Trevor Rowland is at the peak of his career when disaster strikes. In one fell swoop, he loses his eyesight, his fame, and his boyfriend, who absconds with most of his money. Trevor must take on a flatmate, hardworking East Ender Jack Burrows, to afford the rent. Anger and bitterness have taken up residence in his heart—but Jack shines light into the shadowy corners with his relentlessly sunny disposition.
Jack introduces Trevor to a local drag club and convinces him he can enjoy the stage again. Trevor's defences slowly come down as Jack becomes much more than a barely tolerated roommate.
But will Trevor's fragile trust be destroyed when it appears he's been manipulated yet again by a man he's come to care for? Will he reclaim his life or crawl back into a shell of defeat? Trevor must learn to trust not only a man, but himself, once more.
ISBN: 978-1-63533-237-7
Product Link: https://www.dreamspinnerpress.com/books/the-mighty-have-fallen-by-bonnie-dee-8056-b
Reviewer: Lisa
Review: Trevor had lost everything including his eyesight.  Most of it was because of his creepy ex but he lost his eyesight from a blood clot in his head.  He was a bitter man who had to take in a roommate just to afford a place to live. He had been at the peak of his acting career and was on the lines of depression and anger.  However Jack just might be the best roommate ever.
Jack is a manager and cashier who looks at life around him with a good sign.  He is falling for his roommate but he has to get thru his shell first.  So when he takes him to a local drag club well let's say things might be looking up.
Most of this story was so bizarre and the words were confusing.  Whether it was the slang or what, it was just way too hard to get into.  My mind kept leaving the story which for me is not a good thing.  The way Jack spoke in this story made him come off as an idiot, even though you could tell he wasn't one.  The story just came off dull and lifeless to me.  I hate to admit that I skimmed over most of the story just to get to the end.  There was nothing that grabbed my attention and kept it. 
This story had potential but I am afraid that it failed for me.