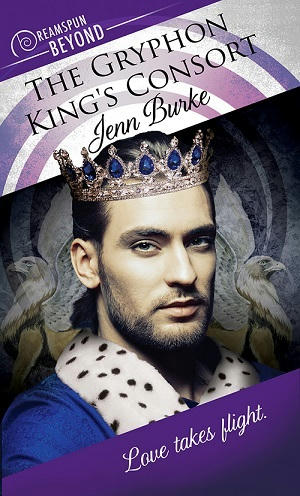 Title: The Gryphon King's Consort
Series: Dreamspun Beyond 10
Author: Jenn Burke
Genre: Paranormal/Shape shifters
Length: Novel (210 pages)
Publisher: Dreamspinner Press (15th December 2017)
Heat Level: Moderate
Heart Rating: 💖💖💖💖💖 5 Hearts
Blurb: Love takes flight.
The sudden death of the Gryphon King throws the kingdom of Mythos into uncertainty, and Crown Prince Luca rushes both his coronation and an arranged marriage to a man he's never met. Eirian is young and idealistic, and while they both want what's best for their people, their philosophies couldn't be more different. While Luca believes in honoring tradition, Eirian is determined to infuse modern values into their kingdom of magical creatures. When given the choice between loyalty to his husband and his own crusade, Eirian makes a decision that might doom their marriage.
Still, Luca is committed to making their union work, and that means forgiving his brash consort. But when Eirian becomes the target of a deadly conspiracy, Luca must act fast—or forever lose the chance to explore their burgeoning love.
ISBN: 978-1-63533-920-8
Product Link: Dreamspinner | Amazon US | Amazon UK
Reviewer: Prime
Review: The Gryphon King's Consort for me is one of those books for me that was simply amazing. The author, Jenn Burke, is completely unknown to me except for the fact that I heard the audio for this book a couple months ago and fell in love. I love shape shifters and like many people I'm enchanted by a royal arranged marriage that becomes a love match. And yet, I was a little skeptical that it was truly going to be my type of book because the blurb didn't really capture my imagination all that well. The other thing, although I rarely comment on book covers, the cover model on this is nothing short of mesmerizing.
The story starts after the death of the Gryphon King, the ruler of supernatural world, his seat of power located somewhere in Canada. He died under mysterious circumstances, but his heir is determined to make sure that his people do not suffer from the transition from the old king to new king. Crown Prince Luca, however, is not only being crowned as the king, he also has an arranged marriage that he needs to go through. This is entirely political alliance, even if his fiancé is an ordinary guy (gryphon), Eirian has been involved in governance at the local level and hopes that his experience will help him in his new life after being chosen by the King's counsel as the new king's consort.
Luca is a stoic traditionalist who wants to honor the memory of his mentor, the former king. Yet, Luca is also a loner, a personal betrayal means that he finds it near on impossible to let anyone in. Really, deep down he's just a grumpy old gryphon with a heart of gold.
Eirian on the other hand is younger and more brash than his new husband. Eirian is part of the group known as modernists, who want to encourage good will between the supernatural and the humans. He is an idealist at heart and finds it difficult when he has to make compromises between his own ideals/conscience and with forming a united front with his new husband.
Luca and Eirian are brilliant characters – there are a lot of depth to these guys that had me so invested in them from the start. I found myself sympathizing with the POV of both men and I fell even more in love at the end with Luca, faced with the possibility of losing Eirian, has an epiphany.