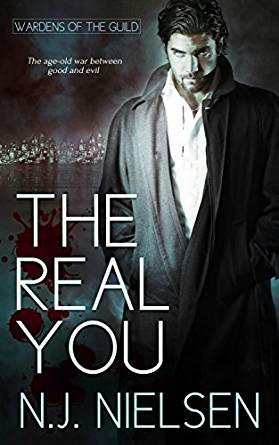 Title: The Real You
Series: Wardens of the Guild 01 
Author: N.J. Nielsen
Genre: Angels and Demons, Contemporary, Paranormal, Vampires
Length: Novella (126 pages)
Publisher: Pride Publishing (October 4, 2016)
Heat Level: Moderate
Heart Rating: ♥♥♥♥♥ 5 Hearts
Blurb: The age-old war between good and evil is bringing changes, and with change comes fear—especially the fear of what is to come.
Isiah Gillis and Claudius Reynar are twins in every sense of the word. No one can tell them apart, yet they're not related. Since meeting, they've learned that they've become the subject of a legend, something neither of them wanted.
Their first day warden, Gabriel, tries to kill Claudius and Isiah by turning their True One, Mitch, into a weapon against them. Instead, Mitch now shares his body with Remi, a powerful demon lord who enters their lives—a demon lord who claims them for his own.
Not everyone is happy that the legend has been fulfilled, and they will do everything in their power to tear apart the strong bond the four men possess. Laramie realizes he has to separate from Mitch or risk losing one of his mates so completely that it could break them all.
When old and new enemies alike step forward to destroy who they are, Isiah, Mitch, Claudius and Laramie gather family and friends to fight in the war to save them all. Can things be set right before evil intentions win? 
ISBN: 978-1-78651-473-8
Product Link: https://www.pride-publishing.com/book/the-real-you
Reviewer: Shorty 
Review: Isiah and Claudius look exactly alike except for they are not family. Mitch, a human, needs somewhere to live. His friend introduces him to the twins who happen to have an extra room. The price, watch over the twins as their guardian.
I loved this book. It has so many twists and turns that left me holding my breath and surprised. Someone wants the twins dead. One of those someone's is Gabriel, Isiah's cousin. But alas all is not as it seems. There is more going on than even these men know.
There is corruption, action, suspense, romance all throughout. I found myself immersed in the story before I knew it and was not disappointed with the direction it took. I'm very glad this is a series so there will be more to come. 
Highly recommended.