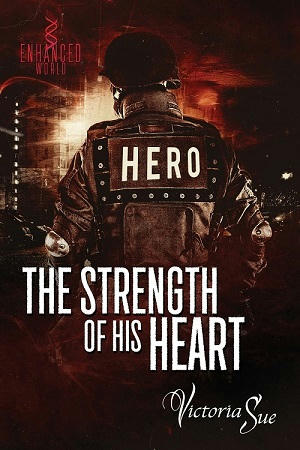 Title: The Strength of His Heart
Series: Enhanced World 04
Author: Victoria Sue
Genre: Other Paranormal, Science Fiction, Urban Fantasy
Length: Novel (214pgs)
Publisher: Dreamspinner Press (December 11, 2018)
Heat Level: Moderate
Heart Rating: 💖💖💖💖💖 5 Hearts
Blurb: To protect and serve…. All Vance Connelly ever wanted to do was continue his family's tradition and join the Tampa Police Department, but his dreams were crushed the day he woke with the enhanced mark on his face. After years of struggling to adjust to life as an enhanced human, by a stroke of luck, he met Talon Valdez and became a proud member of the FBI's Human Enhanced Rescue Organization.
Samuel "Angel" Piper is eager to leave his DEA undercover work behind as he joins the HERO team as Vance's regular human partner. But Sam's painful past is ever present, just below the surface of the life he has built for himself as an ambitious young agent. When the team investigates rumors of a new drug using enhanced blood, the case's mysterious connection to Sam threatens not just his life but Vance's.
Trust doesn't come easy for Sam, but Vance is willing to fight to convince his partner that the strength of his heart might be the salvation they both need.
ISBN-13: 978-1-64405-115-3
Product Link: Dreamspinner | Amazon US | Amazon UK
Reviewer: Shorty
Review: Oh my god this story was so good. You have Vance and Sam who are partnered in the Enhanced team. Both men have issues that are similar but yet different. They are on a case of drugs being used with enhanced blood. An undercover mission reveals sinister goings on and it's up to the team to stop it. Sam sends Vance mixed signals due to his past and his hang up with large guys which is to be expected. Vance is a gentle giant and understanding.
This series just keeps getting better and better the further along it continues. I love how each investigation is well thought out and written. New and old characters are always intertwined with twists and turns that have edge of your seat, nail biting results with action scenes that have you holding your breath awaiting the outcome.
It's one of my favorite series to date as I simply adore the enhanced in this series. I am so looking forward to reading more especially with the way this story ended.
Fantastic read and highly recommended.