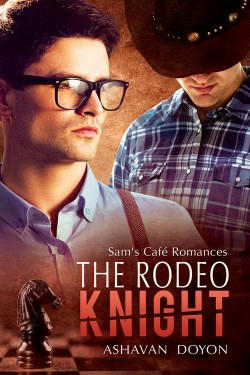 Title: The Rodeo Knight 
Series:  Sam's Cafe Romances 03
Author: Ashavan Doyon
Genre: Contemporary
Length: Novella (117 pages)
Publisher: Dreamspinner Press (November 30, 2016)
Heat Level: Moderate
Heart Rating: ♥♥♥♥ 3.75 Hearts
Blurb: Struck by amnesia after a car crash, Brian Stouten has been living a life laid out by his family, a heterosexual life that just doesn't fit. When he learns it was all a lie, he returns to the small college town that's his only clue to his past. But the town is still unfamiliar, and the man he'd hoped would make all his memories return is on a honeymoon with another man. To add insult to injury, everyone thinks Brian died in the crash. It's only when an out-of-place cowboy asks to bum a smoke that Brian realizes this trip was meant to be.
Sylvester Thomas has always fought a secret desire, and done it successfully. But when geeky Brian offers him a smoke and a light, a simple brush of hands has Sylvester's hidden passions burning deep. Did he make a mistake letting Brian walk away?
ISBN-13:  978-1-63477-913-5
Product Link: https://www.dreamspinnerpress.com/books/the-rodeo-knight-by-ashavan-doyon-7832-b
Reviewer: Shorty 
Review: Brian has no clue who he after a car accident leaves him with amnesia. His family help but Brian soon discovers they are lying to him so he leaves for a small town that seems familiar looking for Russell. He learns that Russ is on his honeymoon.
Sylvester has longed for Brian for a while yet kept it secret. Now Brian is back with no memory. I loved that Sylvester seemed to have a second chance. Though Brian at times seemed out of character with his callousness. 
It was an interesting story that draws you in with plenty of drama. Good read.