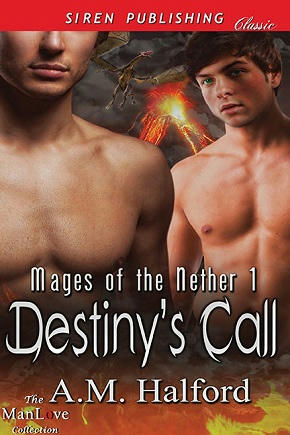 Title: Destiny's Call
Series: Mages of the Nether 01
Author: A.M. Halford
Genre: Paranormal
Length: Novella (168 pages)
Publisher: Siren-Bookstrand, Inc. (May 4, 2016)
Heat Level: Moderate
Heart Rating: ♥♥♥♥ 4 Hearts
Blurb: Aiden Dalrymple, the Medium for his generation, hates the fact he can't practice the Craft normally. He tries again and again to use his family's abilities in the traditional manner, always ending in failure. His parents swear he's destined for greatness, something he highly doubts. What good could summoning creatures of the Nether do?
Daniel Bradford is a Mage, having studied the Craft since he was young. He returns home from college upon being called by his family. His mother, gifted with the Sight, has foreseen a great calamity within the Nether and he is to play a part in bringing balance. Him and one other.
Aiden and Daniel are sent to the Nether to prevent the foreseen disaster. While they're there Daniel must find a way to bring balance to Aiden himself, and make him accept the fact he is the only one that can help them solve this mystery.
ISBN: 9781682951996
Product Link: http://www.bookstrand.com/book/destinys-call
Reviewer: Shorty 
Review: Interesting story about two mages who have been interested in the other from a distance. Adrian is a medium and though everyone tells him he has a gift he thinks it's a curse. Daniel is a prince who is summoned by his mother to help on a mission of great importance.
The journey they found themselves on was knowledgeable as Aiden found the answers he needed to help him understand who he is, what he can do and what his purpose is. It was fascinating to learn about the mediums and how they came about.
I am looking forward to reading more about the nether and the group who almost wiped out Aiden's ancestors. I have to say I could not stand Daniel's mother as she seemed to hate Aiden for some reason only she knows.  I really enjoyed how these two seemed to balance each other out. Adrian grew as a person under Daniel's care and with the help of the nether. I was happy to see him for the man he could be.
Great read.