Hi guys! We have Rain Carrington popping in today with the tour for her new release 33 Degrees of Separation, we have a great excerpt and a fantastic $35 Amazon GC so check out the post and enter the giveaway! ❤️ ~Pixie~
33 Degrees of Separation
by
Rain Carrington
I'm Ian, and this is my story. Like the others, I have a legacy. I was raised with the best of everything, one of the riches kids I knew. That isn't the legacy, however. That is to be a part of something I didn't want, and never asked for it's tearing me apart, but I can fight it. With some help, I can fight it.
Meeting Pat Castaldo, the hot, muscled FBI agent was the beginning of a life I thought was ending. I am terrified I'll get him killed, and others, if I can't stand up to my father and the other men that make up the terrible secret society. My family has been members for hundreds of years, and it was supposed to be passed to me. I don't want it, but I took it, and I took it to end them once and for all.
In the middle of all this, I am falling in love. That was a surprise, and one that possibly terrifies me more than the Gilded Grail. This could hurt, and I could get this beautiful man killed, along with a lot of others if I fail. My money may be able to solve some of my troubles, but there is much more that it can't.
I've never had to be brave or fight for anything. This is my fight, though, and I will win. I'll win it for my friends, for humanity and, maybe most of all, I'll win it for Pat.
***
Raised in wealth most could only dream of, Ian Andrews III didn't know another way of life existed until he went to college and learned about the world. There he met friends and came down from his palace to try to be like everyone else, but he had too much money to achieve that.
When he was set to finish graduate school, his father took him on a trip to learn the destiny that had been chosen for him. He would become a member of the Gilded Grail, a secret society that had members whose families had been a part of it for hundreds of years.
He was a legacy, and there was no choice for him. He would become a member, or he'd die.
Learning about this secret society, hearing their ways and goals, then going through the initiation, he was terrified and ran off to hide away from them and everyone.
His best friend worried when he'd been gone for days, his phone left in his room, not a word from him. Calling in help, it came in the form of an FBI agent in town on business. He was doing a favor, checking up on the missing college student, and right away smelled trouble. When he saw Ian's computer history and the name Gilded Grail, he knew he had to find Ian.
Once he did, he learned the secrets that no one outside the order knew. Together, they decided to try to stop them from a horrible goal they'd set, one that threatened every man, woman and child in the world.
Falling in love with one another was easy but keeping that attraction at bay to try to save everyone a horrible fate, Ian and Pat struggled. Pat called for more help, and Javier Duran came, an old lover of Pat's, and one of the world best mercenaries.
Sparks fly and jealousies ignite. Saving the world and falling in love at the same time wasn't easy on any man. It could tear them apart or make them more determined to have the other in their lives forever. That was considering if they could stop the Grail and there was a forever…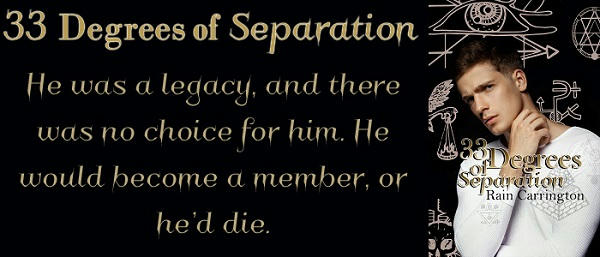 Excerpt!
In the circle, robed men stood like generations before them. There they conducted meetings that brought together only those of the highest degrees. The old ways and traditions meant something to them. In each set of hands, a bejeweled chalice was held, every one of them unique and adorned with priceless, ancient gems.
One of the men stepped into the center of the circle, as was the protocol for members who wanted to speak. The flickering of candles on the tables all around the concrete and cinderblock room making his handsome features appear sinister. It didn't help as there were symbols painted on the walls, symbols of their long faith, not in any god, but in their lineage and legacy.
Most of the men of the circle were old, living decades in the order to achieve their ranking. The few younger were seen as overly eager by the old men, rushing to power, but they never said this aloud. The order was clear, no infighting. The fight was out there, in the world, where other people lived like animals, cutting and cursing one another. The order, they were above that, civilized to a fault and more powerful than any of the scum who inhabited their world.
Their world. For hundreds of years, men dressed in the long robes stood in circles, deciding the fates of countries and continents. The world was theirs, and their power could be felt in every corner of it, though none of their faces were known, or their names.
"I don't know where he is."
The others nodded their heads in sync. One of the older men of the order spoke, and though his voice was low, it echoed through the room. "Is he to be trusted?"
The man in the center hesitated, but all it did was make the room quiet. The walls didn't rock, the ceiling didn't cave, and no one dropped dead. The room was simply quiet as all the thirty to thirty-three-degree members waited for their brother in the order to answer.
When he did, the voice rang out strong. "He is, or I will sacrifice him and therefore my family's continuing legacy in our order."
The others nodded again, assured he was telling the truth. Many of the original families had died out over the centuries of the order's reign, but none had yet to be taken out from lack of loyalty and allegiance. The man in the center would not have his be the first to die off with dishonor.
As he stepped back to stand among the others in the ring, a bell sounded, like the old church bells in the lands where the families had come from, though through speakers instead of an actual bell. Chins raised, casting the flickering shadows on them all, fierce in their beliefs. Another bell rang, and they all raised their chalices to drink.
"Paucorum bonorum," the man said, and the others repeated in unison.
"Paucorum bonorum."
The motto of the order, the words they lived by. The good of the few. What they meant was, the good of the few far outweighed the good of the many. There were few that counted in the world, and none more than the order.
Once the strong wine was rinsing down the throats of the men, the chalices were set at their feet. Ornate athames were brought from the robes and each made a smallish cut on their forearms. For a ceremony that important, they had to give more of themselves than words.
As the blood from each man dripped to splatter to the floor, their voices rang out again.
"The blood of our ancestors are in these veins, living forever, ruling all. Power, above all, be ours, though our faces stay shaded from the masses, long may our legacy live!"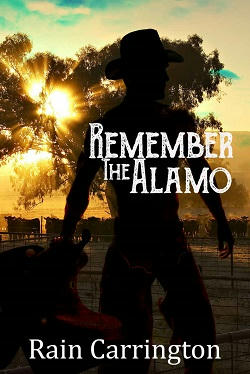 Legacy series!
Remember The Alamo (book 01)
.•.•.**❣️ Amazon US | Amazon UK ❣️**.•.•.
The Principle (02)
.•.•.**❣️ Amazon US | Amazon UK ❣️**.•.•.

About Rain!
I love writing, it's been my dream for many years, and in October of 2013, when my first book went live on Amazon, that dream came true.
Writing love stories that are centered on flawed but lovable characters is my passion. Finding love between people isn't easy, nor should it be. Even in a book, there have to be obstacles for the story to feel real.
I am a mother of three amazing people, and three adorable fur babies. I live in Colorado, but love many other places besides my home. One state in particular is New Mexico, the state where I was born has always held a place in my heart.
People and places make my stories what they are. Each character I've written is a part of me in some way. Each place I write is as well. Adventures come in many ways, and each of my stories has taken me on an adventure that I treasure.
Come with me on my adventures and fall in love with my characters, as I have. I promise you will love the ride.
Website | Twitter | Bookbub | Facebook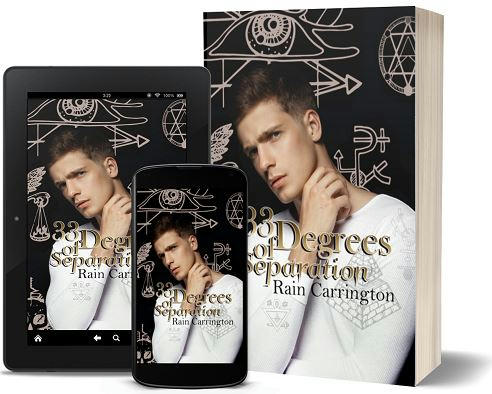 Giveaway!
Win a $35 Amazon Gift Card!