Hi guys! We have NineStar Press visiting today with week 3 of their new Holiday stories; we have Layla Dorine's A Season Of New Beginnings, Ava Kelly's Home in a Snowstorm, Ellen Jenkins's Dala Horse Inn, Elna Holst's Candlelight Kisses and C.L. Mustafic's Christmas Cookies. We have a great excerpt from Christmas Cookies and we also have a brilliant giveaway, so check out the post and enter the giveaway! <3 ~Pixie~
Holiday Stories week 03
A Season Of New Beginnings by Layla Dorine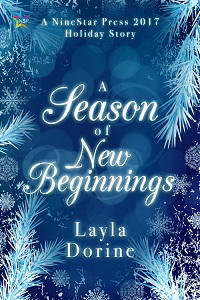 Joshua just wants to be alone. Happy holidays be damned; the last place he wants to be is at a Christmas Eve party surrounded by overly jolly friends. After a breakup with his boyfriend, Clay, he's having a hard time watching other people be merry when all he wants is to drown himself in booze.
If it wasn't for a promise to two dear friends, he'd have been home on his couch watching the least festive thing possible. Instead, he's got to deal with flamboyant Desi flirting up a storm with him. Only Desi has a past too, and his own pain, as well as a bit of unsolicited advice for Joshua that could turn his bleak night into a bright future.
.
.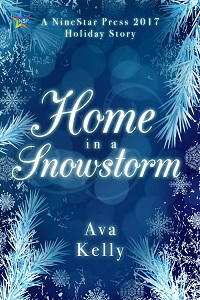 Home in a Snowstorm by Ava Kelly 
Daniel Wu is an elementary school teacher with a big heart and a collection of snow globes to match his travels. The small town he has settled in, however, feels like it could be home. All that's missing is someone special and a family to call his own.
Resigned to spending the holidays alone, Daniel finishes work on the last day of school, only to stumble upon one his students, Abby Weber, who needs a ride home. Jeffrey Weber, single father and recent owner of a cast on his broken leg, needs quite a bit of help around the house when Daniel drops Abby off. Christmas Eve is around the corner, so Daniel can't let the two fend for themselves. What he doesn't expect, however, is the snowstorm that strands him in their remote home in the forest. But is this misfortune, or could it be a wish come true?
.
Dala Horse Inn by Ellen Jenkins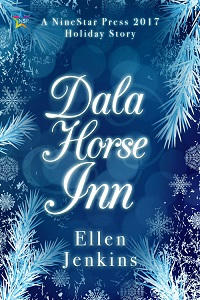 Six months after she inherits the Dala Horse Inn, Tilde's family has arrived to celebrate Christmas and critique Tilde's every move. When her grandma walks in on Tilde while with Emma, her friend with benefits, Tilde suddenly has a fake girlfriend for the holidays. Fueled by stress, glögg, and Emma's help, Tilde is determined to make Christmas a success. As the big day approaches, she isn't sure if being interrupted by Grandma was another hurdle to surpass or the best thing that's ever happened to her.
.
.
Candlelight Kisses by Elna Holst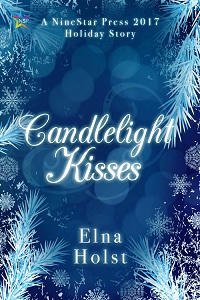 Malmö, Sweden, 1994
Erika Stolt is a feminist activist, and not one of the slick, lipstick lesbian variety. She's the kind who trashes beauty contests, who graffitis her own subversive messages over commercial billboards, and who fucks people mainly as a political statement. But then a community service sentence lands her a spot as the unlikely new assistant of one of the candidates for the Malmö Lucia contest, and the world as she knows it is promptly turned on its head.

.
.
Christmas Cookies by C.L. Mustafic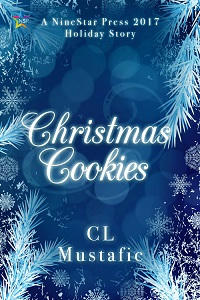 After losing his husband, David, to a tragic accident the previous year, Russ doesn't feel much like celebrating the upcoming holidays. When his daughter unexpectedly asks for one of David's cookie recipes, Russ makes a decision that lands him in a baking class. After a few mishaps with an inept partner, Russ is ready to give up, but then the teacher, Amos, offers private lessons to help him recreate David's smorgasbord of holiday treats. Somewhere along the way, Russ develops an attraction to the younger man, but is he ready to move on and let Amos in?
.
Excerpt!
Christmas Cookies, CL Mustafic © 2017, All Rights Reserved
Chapter One
"You guys sure you got all your stuff?" Russ asked for the third time as he backed out of the driveway.
"Yes, Dad," both his children said in that tone all adolescents use when irritated by their parents.
"All right, I'm only asking because I don't want a repeat of what happened last weekend." Russ drove down the quiet residential street, past houses where lights gleamed in the early dusk of late November.
"Hey, Dad."
"Yeah, sweetie?" Russ looked in the rearview mirror at his fourteen-year-old daughter.
"Remember those turkey cookies David used to make?"
The question hit Russ in the gut, but he schooled his features for the benefit of his children. "I do." His gaze went from the road to the mirror to the seat next to him, where his sixteen-year-old son was staring intently at the screen of his phone, causing Russ to wonder if the question had been something the boy had known was coming.
"Do you think maybe you could give the recipe to Mom so we could make them this year?" Annabelle asked.
"We'll see." Russ's words sounded hollow as they passed his lips, which suddenly felt numb. The thought of someone else making his David's cookies didn't sit well with him.
"I really like those cookies and I miss–"
"Enough, Belle. He said he'd see." RJ interrupted his sister before she could say something that would upset the quiet calm of the car ride.
"It's fine. I'm not sure where the recipe is, that's all, but I will see if I can find it, okay?" It was a flat-out lie, but Russ knew it would buy him some time to figure out how to handle the situation.
"Okay." Belle settled back in her seat and quiet descended on them for the rest of the five-minute drive.
Pulling into the driveway of the house he used to call home, Russ put the car in park and turned to RJ. "I'm not going to come in tonight, so tell your mom I had something important to do so she doesn't worry."
"Okay, Dad." Putting his phone in his pocket, RJ turned to open the door but stopped. "Are you going to be okay?" he asked without looking back.
"I'll be fine," Russ said, patting his boy on the shoulder. It didn't matter how not okay he was going to be once alone, but he had to reassure his kids that he would make it through just fine.
Arms came from the back seat area to wrap around his neck. "I love you, Daddy." Annabelle squeezed him tight from her awkward position, and Russ wanted to say something to let her know he was fine, but she disengaged and was out the door before he could find the words. He waited until the kids were at the front door before waving at them and pulling out onto the street.
Home. For Russ, the word held little meaning, and walking into his empty three-bedroom ranch-style house after dropping his kids off was always hard. He put his keys on the peg next to the door before stripping off his coat and hanging it on the coat tree, both habits he'd established in another time, another life. He bent to untie his boots and set them on the matt off to the side of the door before walking through the dark house to the kitchen. He flipped on the light and stared at the shiny marble countertops, not a crumb remaining after his kids had cleaned up the supper mess. They were good kids, and he was thankful for the hours he spent with them—the hours when his mind was too occupied to think about the past.
The refrigerator was one of those big stainless steel monstrosities that took up twice as much space as the original had, but David had insisted they needed it. Popping open the drawer on the bottom revealed a selection of frozen pizzas, ready-made meals, and the thing he was looking for: ice cream. The half gallon of rocky road was only a quarter full but Russ felt the need to indulge, and since alcohol was out of the question, he'd have to take what he could get. Grabbing a spoon and forgoing a bowl, he sat on one of the stools at the raised center counter and spooned up a gob of chocolatey goodness while his gaze stayed trained on the box on the opposite counter.
The box, covered in cartoon cookies and cakes with top hats, had belonged to David. His David, the man he'd shared his house, his life, and his love with, the man who'd left him alone far too soon. He didn't even register the first tear, and by the time he noticed he was crying, there was a small puddle on the table next to the empty ice cream carton. He couldn't do it; there was no way he could open that box and face what he'd lost again. Instead of digging for the recipe Belle had asked for, he got up, threw the empty container in the trash, rinsed the spoon, and then splashed some water on his face. Shutting off the light, he left the box in the dark.
The couch in the den had become his bed, so after pushing his jeans off, he lay down and turned on the television. Watching but not watching, he spent the evening in a stupor, just passing time until he fell asleep.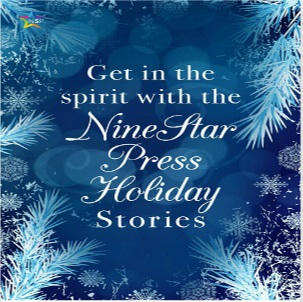 Giveaway!
One lucky winner will receive an ebook of their choice from NineStar Press!