Hi peeps! We have Amanda Meuwissen popping in today with her upcoming release A Model Escort, we have a brilliant guest post where Amanda shares her 5 Tips for a Successful Author Convention, and we have a great excerpt. So peeps check out the post and enjoy! ❤ ~Pixie~
A Model Escort
by
Amanda Meuwissen
What's the value of love?
Shy data scientist Owen Quinn is brilliant at predictive models but clueless at romance. Fortunately, a new career allows him to start over hundreds of miles from the ex he would rather forget. But the opportunity might go to waste since this isn't the kind of problem he knows how to solve. The truth is, he's terrible at making the first move and wishes a connection didn't have to revolve around sex.
Cal Mercer works for the Nick of Time Escort Service. He's picky about his clients and has never accepted a regular who is looking for companionship over sex—but can the right client change his mind? And can real feelings develop while money is changing hands? Owen and Cal might get to the root of their true feelings… if their pasts don't interfere.
Release date: 5th March
Preorder:

Amanda Meuwissen!
5 Tips for a Successful Author Convention
There are many kinds of conventions. The ones I'm most familiar with are comic cons (being a huge geek myself) and creator conventions where authors, artists, and craftsmen can share their work with others.
I have had tables and wonderful experiences at both for my writing for close to a decade now and have learned a lot about what works best, what to hope for, and what is considered a successful experience.
Here are 5 of my top tips for your next convention.
Bring too many books – you can always save them for next con.
I actually ran out of copies of the first book in my Incubus trilogy one year, not having prepared for how many I would sell. Whether you have inventory normally or purchase print-on-demand, order as many as you can the first time around, especially for a new con experience, and judge accordingly from there for future years based on sales.
You can still never be sure what new people might discover you and how many books you might sell, so always over-prepare rather than under. Readers love getting author-signed copies.
Make it about the books, not swag.
I've tried having posters of my book covers, and I always have bookmarks and my business card, but whenever I consider adding imagery from my covers to other merchandise, I remind myself that if I want someone to buy something of mine, I want it to be one of my novels, not a T-shirt or something else to fill up their arms or bag at a convention.
Books take up enough space, so just like I think in all my marketing, keep your calls-to-action simple and singularly focused. I'm an author. I want to sell books, not swag.
Be friendly with your table neighbors.
This is just common sense and good manners, but there's no reason to be rude or cold to the people who are going to be sitting near you for the next several hours (or days). Make friends wherever you can. We're often all creators, whether of the same craft or not, and even other authors aren't competition. We only compete with ourselves, because readers always want more stories to indulge in. Help each other. Be courteous. Offer to watch their things when they need to take a break or offer to grab a snack when you get up to get one for yourself. It just makes for a better overall experience.
Plus, we usually give each other vendor deals come the end of the con to clean out last minute merch, but you're not getting any dollars off if you're a jerk.
Have multiple payment options.
These days people almost expect that you'll be able to take a card payment, even at smaller conventions, because it's so easy to offer that. Some use Square, I use Paypal, and it's no huge cost to sign up and get the card reader you need to do this.
On that note, also make sure to accept cash and therefore have a cashbox and plenty of change. That often means hitting the bank before a show to make sure you have enough $1s and $5s and coins. I only ever deposit large bills after a con and tend to keep the other cash in the box for next con.
Asking for tax depends, in my opinion. You will have to pay in sales tax to your state come the beginning of next year, so best if you usually collect it to save that money for when taxes are due, but there are situations where it might be more prudent to round up or even down to make a sale or just make it easier on the buyer to pay with a clean $20.
Enjoy yourself.
I don't just mean in general, though I do hope you enjoy any conventions you attend, but you also need to look like you're enjoying yourself. A smile goes a long way for making a sale. It helps you and your table look more inviting.
I tend to stand most of the time, and since I'm often at comic conventions, I also usually dress up as one of my favorite geeky characters. It reminds people that hey, I'm one of you too, I love this stuff, we can just talk about anything, and maybe if we have a lot in common, you might like one of my novels too.
It's a community experience, and you should have fun, whether sitting chatting with a table partner, your neighbors, or whoever stops by your booth.
I hope these tips are useful for any new authors (or other creators) planning to attend conventions. My first one of 2019 is MSP SpringCon, May 18th and 19th, at the Minnesota State Fair Grounds. You can learn more here: https://www.mcbacomicons.com/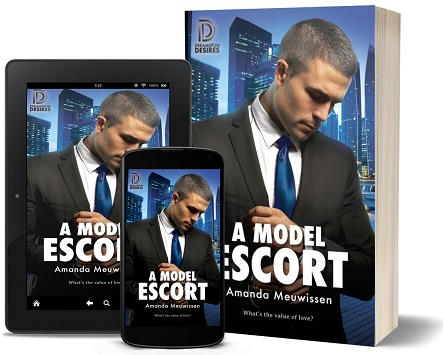 Excerpt!
EVERYTHING HAD a pattern. The trick to understanding the data was in the models. The algorithms. The points along a timeline that indicated the probability of what should come next.
Owen's whole world revolved around patterns, but some things couldn't be predicted. Whenever that happened, he thought back to something his mother once told him.
"Meet every surprise in life like you had a plan all along."
Owen did not have a plan.
Looking around his apartment, he realized he also didn't have furniture. He remembered the moving-without-furniture part of coming to a new city; he'd just forgotten how annoying living without it would be until he went out and bought something. All he had right now were boxes filled with clothing, electronics, kitchenware, and keepsakes.
He sat on one of the larger boxes amid the clutter, facing the wall of floor-to-ceiling windows that led out to his balcony. The view beyond was humbling, a dozen stories up to look upon the glittering lights of the city, nestled in the heart of it. Owen had always loved cityscapes more than trees. He'd dreamed of having an apartment like this someday, and finally he had a job that let him afford it. He'd just hoped he'd be sharing it.
He never was good at new beginnings. He had to be out of his mind to pick up and move three hundred miles from home just to escape his ex.
Not that Harrison was the only reason Owen chose Atlas City. The mayor himself had offered Owen a consultation position while his new predictive models were put into use at the police department. One of the stipulations Owen had on any private or government organization using his patents was his personal involvement in implementation. Mayor King had agreed and brought Owen in to work part-time at the mayor's office while things got up and running. The move to Atlas City also opened doors for him at Walker Tech and Nye Industries to sell his models for industrial use. He'd never want for anything again with the opportunities and money headed his way.
For now, the ACPD would be using the algorithms he'd created to predict where criminal activity was most likely to occur, allowing them to position officers more efficiently and maximize coverage on the streets. Owen's models would save the city millions by better utilizing their current resources, and maybe even help save lives. It was everything he'd ever wanted, and if things went well here, his models could help even more people all over the country.
He should have been happy. He should have been ecstatic. But a shadow hung over him because of how things had ended with Harrison back in Middleton.
Habit caused Owen to wrap his fingers around his forearm. The bruises were gone now, no lasting damage, but sometimes it was like phantom pain when he thought about his ex. The older man he'd dated for years, who he'd lived with for years, who he'd believed would be the last person he ever came home to, had never physically harmed him until that night. Harrison's abuse had been different, deeper, if not as visible as the bruises once were.
The sound of Owen's ringtone startled him, sitting alone in the dark of his mostly empty apartment. He scrambled to remember where he'd put his phone before realizing it was in his pocket.
"Hello?"
"Uh-oh. Don't tell me the moving company lost something? You sound about two seconds from having a pint of Häagen-Dazs for dinner again."
Alyssa. Owen's sister had an uncanny knack for knowing exactly when he needed to hear her voice, ever since he was adopted into her family when he was ten.
Despite himself, he smiled. "I resent that stereotype."
"I would too if I hadn't caught you doing it multiple times before you moved."
They shared a chuckle, though the memory of how true that was turned Owen's expression sour.
The night he left Harrison, he could have gone to his adopted father, but Doug had never approved of the relationship.
"He's twice your age!" was the common complaint.
He wasn't twice Owen's age, though close, since Owen had been twenty-one when they met and Harrison thirty-eight. That was four years ago, putting his "boyfriend" in his forties now, which shouldn't have mattered, but Doug never let it go. He meant well, loved Owen like flesh and blood and had always been there for him, but sometimes that displayed as the classic overbearing father figure. Now Doug could finally say "I told you so."
At least he'd never actually said that. Still, Owen hadn't wanted to deal with Doug's judgment, so he'd gone to Alyssa instead. Her husband, Casey, was one of Owen's closest friends. They understood, but it was still awkward being a third wheel in their home for months before the call to Atlas City came.
Owen needed a change. He just hoped he hadn't made a terrible mistake all because a bad breakup made it too difficult to stay in his hometown.
"I'll get something substantial once I gather enough will to leave this box," he said, patting the side of it so Alyssa could hear the thumps over the phone. "Like Thai food or pizza."
"Owen…."
"Hey, I don't have any dishes unpacked yet. Or food in the fridge. Or furniture, for that matter."
"I told you not to let Harry have everything in the divorce."
"It wasn't a divorce." Owen scowled. All his friends referred to it like that, which only made the loss feel worse, because he'd always wanted to get married someday. He still did. He just hated the idea of starting from square one. "And I didn't want his things."
"Some of it was your things."
"None of it was mine, Lys. He chose everything in that apartment. It was always his, never mine, never ours. And I'm not completely devoid of amenities. I have a bed."
"You have a mattress," she said, just as Owen looked to his left through the bedroom door to see it resting on the floor like some minimalist mockery. "My mattress that Casey and I gave you so you wouldn't be sleeping on the floor tonight. You still need a bedframe, dresser, table—"
"I can't think about that right now. I'm meeting the mayor tomorrow and all my new contacts. I probably won't even sleep. I'll worry about furniture after work tomorrow."
"How about you worry tonight?"
"Lyssa…."
"Relax, O. Check out the large kitchen box I helped pack."
Perking up from where he sat, Owen scanned the apartment until he spotted the larger of his boxes labeled KITCHEN. "What did you do?" he asked as he headed toward it, expecting balloons or confetti to explode out the top in some lame attempt to make him smile, which honestly might have worked, but Alyssa was using her serious, practical tone. She couldn't be hiding an entire apartment full of furniture in that box.
Only somehow, she was—a catalog full.
On the very top was a catalog for an express delivery furniture store that included rentals. Even from the cover, Owen could tell the furniture was more his style than anything Harrison had ever allowed. Owen liked color and character and light; Harrison was too rigid for that.
"This stuff looks…."
"Amazing?"
"Expensive."
"Considering how much they're paying you, nothing is out of your price range right now. Indulge a little. Plus, this way you can relax and choose some things you like tonight, make the order online, and have everything delivered tomorrow while you're at work. If you fall in love with something, you can buy it. If you hate a piece once you see it, you can return it and get something new. I dog-eared pages of things I thought you might like."
Owen was already flipping through and came upon a dog-eared page as she said that. There was a small kitchen table with four chairs, each a different color—red, blue, yellow, and black. Harrison would have hated the asymmetry, which meant Owen immediately wanted it.
"You are the best, Lys."
"I know. Casey and I miss you already. Dad's holding up okay but still grumbling about you moving thousands of miles away—his words, no matter how many times I tell him it's a simple day trip in the car or a quick flight."
"I hope he's not too mad. Four years of Harry keeping me secluded, barely spending time with you guys or any of my friends, now just when we'd started to reconnect, I moved away. Maybe this was a bad idea…." He looked around the apartment again, feeling small and suffocated by so much space and so many miles between him and the closest people who loved him.
"Owen, Dad will get over it. This is important to you, something you've always wanted, the project you've been working on since you were a kid, and the one thing Harry wasn't able to twist into one of his own patents."
"Because I kept it from him."
"You weren't the bad guy. If you'd shared those models with Harry, he'd be the one getting cozy with Atlas City elite tomorrow. Instead, it's you, like you deserve, like you've earned. Don't run scared yet. This will be so good for you. But if you start to go out of your mind and feel too homesick, I'll be on the first plane there."
Owen smiled as he dropped into a cross-legged position on the floor to keep paging through the catalog. "Thanks, Lys. I can do this. It just doesn't feel like home yet with only boxes around me. I'll order dinner and have fun picking out furniture. Once I have the place decked out, I'll send pictures. Deal?"
"Deal."
"Hey." He frowned, reaching another dog-eared page, but this one had a business card stuck in the crease. "What's this?"
Alyssa had been the biggest asset in helping Owen move, from finding the right apartment to hiring the moving company. She'd even made him lists of restaurants to check out, corner stores in his neighborhood for when he needed groceries, and random activities to try so he wouldn't sit at home doing nothing when he wasn't at work. She was a good sister and a loyal friend.
But finding the business card made Owen question all of that.
"Alyssa." He balked. "You got me a referral for an escort service?"
"Hear me out—"
"I don't need to hire someone—"
"I'm not suggesting you do! I just thought it might be easier to have someone on standby for dinners and events if you weren't ready to date yet and didn't feel like answering questions about your love life. An escort could take the heat off, that's all."
Calming at her logic, Owen tried not to get too worked up over the implications. The card was sleek navy with silver writing, just the name, a website, and a phone number. "But isn't like… sex implied?"
"Not legally."
"Lyssa!"
"Nothing is implied, O. Is it easier for people to look the other way if sexy times go down, yes"—he cringed at her word choice—"but that doesn't mean there's obligation on either side. Some people really do hire escorts to escort them. Not that I'd judge if you needed more than that—"
"The last thing I need right now is mindless sex. That's all I was to Harry. His little trophy. Convenient and obedient. I'd rather have someone around who'd hold me. Oh God." He tipped back into a slow fall, stretching his legs out in front of him when he landed. "I sound like a failed greeting card."
"Owen." Alyssa giggled before shifting to earnest understanding. "Everyone needs different things at different points in their lives, and no need is more or less valid than another. I wish I could be there to hug you, honey. I really only meant the referral as an option for social events, no bad joke or pressure involved. You can totally ignore it."
"Sorry, I'm not upset," Owen said, staring at his ceiling. "It makes sense. I didn't even think about social events. I do not want to have any real dates right now, but having the option to skip the 'so are you seeing anyone?' conversation would be such a relief. Divulging that I just got out of a long-term relationship would probably make me someone's 'project' and they'd start setting me up with their neighbor's cousin's roommate and… urg, maybe I will call that agency."
Alyssa giggled again, but lovingly not mocking. "First dinner and furniture."
"Right. Dinner. Furniture. Disaster of a love life. That sounds like the right order."
After another shared chuckle, she said, "It's going to be okay. You're moving on. You're heading in a new direction all for you. You are so much more than Harrison Marsh."
That's what Owen had been telling himself for months. He knew in his bones it was true; he'd proven how successful he could be all on his own. He just wished being on his own wasn't so lonely. "I know. Give my love to Casey. I'll check in with you guys soon."
"You better. I love you, O."
"Love you too, Lys."
Lurching into a sitting position again, Owen hung up the call and stuck the business card back in the catalog as he continued paging through it. He couldn't imagine calling some stranger to be his date for whatever fancy event the mayor might drag him to, but the idea wasn't completely ridiculous. He'd barely dated anyone before being caught in the whirlwind of Harrison Marsh. He probably did need a professional at this point.
But no, he doubted he'd drum up enough courage to call an escort, though he did like the agency's name and implied speed in an emergency. If he ever got truly desperate, he had the option to call Nick of Time Escort Service to save him.

About Amanda!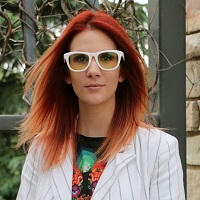 Amanda Meuwissen is a primarily gay romance writer, as well as Marketing Operations Manager for the software company Outsell. She has a Bachelor of Arts in a personally designed major from St. Olaf College in Creative Writing, and is an avid consumer of fiction through film, prose, and video games. As author of the paranormal romance trilogy The Incubus Saga, young adult novel Life as a Teenage Vampire, the novelette The Collector, and superhero duology Lovesick Gods and Lovesick Titans, Amandaregularly attends local comic conventions for fun and to meet with fans, where she will often be seen in costume as one of her favorite fictional characters. She lives in Minneapolis, Minnesota, with her husband, John, and their cat, Helga, and can be found at:
Website | Facebook | Twitter | Amazon | Goodreads | Tumblr