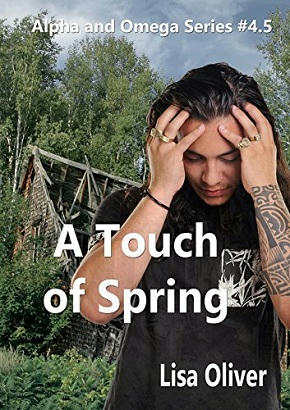 Title: A Touch of Spring
Series: Alpha and Omega #4.5
Author: Lisa Oliver
Genre: Paranormal
Publisher: Lisa Oliver (May 2, 2017)
Length: Novella (105 Pages)
Heat Level: Low
Heart Rating: ♥♥♥♥ 4 Hearts
Blurb: Lone alpha wolf, Bronson Cunningham, dreams of finding a mate and starts to think it's possible when his best friend Zander falls head over heels with Terry; a sweet dancing omega. His curiosity is piqued when a strange letter lands on his desk, simply addressed "You smell like mine". That must be a shifter reference, right? But it seems the guy likes to stay in the shadows, because Bronson doesn't scent him anywhere. 
Harley thinks he has every reason to hide. A savage scar on his face means his trysts are best kept to dark alleys. Watching his mate, he quickly realizes Bronson is one of the world's beautiful people. He wasn't going to be interested in a scarred tattooist from the wrong side of town. 
A letter, a meeting, secrets are revealed. But is Bronson strong enough to stand by Harley's side when he faces his nemesis from the past…and will Harley let him? 
ISBN: B072563MSP
Product Link: https://www.amazon.com/dp/B072563MSP
Reviewer: Lisa
Review: Each book in the Alpha and Omega collection features a different romantic couple. To enjoy the overall story arc and crossover characters, I would recommend reading the series in sequential order. 
I am glad to see these sexy guys get their story told, but I really am not a fan of spinoffs.  Even though they can be read as a standalone, I would suggest reading the other stories first.  For me the love they feel just seems to fast and a bit forced.  However there is something about them that still drew me in.  
Harley is a sexy feline shifter, who doesn't think he is anything to look at.  Having a very harsh life has left him scarred in more ways than one.  Let's just say I would love a good go at his mother and her lover.  To know more into why I made that statement, you need to read the book.  So anyhow, he smells his mate, but thinks the man doesn't want him.  So he leaves him a little note.
Bronson wants to find his mate and have the love he knows will be there.  A note dressed to him, gives him a head start.  Now all he has to do is to show his mate, he is most definitely wanted.  The past always has a way of showing up in the present, and Bronson is bound and determined to keep his mate safe.
It is a very good story that has some unique twists, but for me it just seems to be missing that extra zest.  Other than my issues, it is one fun book.  I always get a kick out of Lisa's stories and I know you will too.