Hi guys! We have M.K. Hardy popping in today with their new release A Town Called Noelle, we have a great excerpt and a fantastic $10 NineStar GC giveaway so check out the post and enter the giveaway! ❤️ ~Pixie~
A Town Called Noelle
M.K. Hardy
Just a few days before Christmas, high-flying city exec Brooke Hawkins is forced to return to her small home town due to the death of her mother, who she hasn't spoken to since she left for college over a decade before. The town, Noelle, is as full of the Christmas spirit as its name suggests. Brooke is more of the "Bah, Humbug" persuasion. She has a funeral to attend, property to sell, and she wants to do it and leave—preferably before December 25th. Unfortunately, the weather and the pace of small-town life both conspire to keep her right where she is.
Small-town baker Holly Jackson gets a nasty shock when she receives the news, just days before Christmas, that her little shop is about to be sold from under her by her late landlady's estranged daughter. In the years since her husband died in a tragic accident, she and her daughter Maya have been getting by, healing and rebuilding. Holly was beginning to really enjoy life again. She doesn't plan to let some woman she hasn't seen since high school come in and ruin everything.
When Holly and Brooke cross paths, sparks fly—and not in a good way. Brooke is determined to sell up and get out of town—and outrun her bad memories in the process. Holly is determined to make her business work. When an unstoppable force meets an immovable object, can the spirit of Noelle change minds… and melt hearts?
Warning: references to deceased family members, a funeral, and homophobia from a family member

Excerpt!
A Town Called Noelle, MK Hardy © 2019, All Rights Reserved
Nine Days Till Christmas
"Goddammnit, where's the friggin' windshield wipers on this–oh, finally."
Brooke sighed in relief as the automatic wipers came on just in time to swipe the sudden veil of snow off the windshield, allowing her to see the long, empty road ahead of her. The forecast had cautioned there might be scattered snow showers, but this had come out of nowhere, turning the onerous drive into a slightly more nerve-racking prospect.
She barely drove any more in the city, and the rental car was an unfamiliar make, with buttons and toggles and a slick GPS system she hadn't even bothered to turn on. There was only one road where she was going, and she knew it well.
Noelle, Michigan, was the sort of place known only to those who lived there—or those who'd left. One of those lower peninsula towns far enough north to feel isolated, and not close enough to any Great Lakes to be of interest to anybody.
The first hour on the road had been fine, a relatively clear run. Now it was getting dark the temperature had dropped like a stone, and Brooke regretted not paying the extra to fly into Traverse City instead of Grand Rapids. It wasn't like her, really, to sacrifice time and effort to save money, but this time, for this trip, she hadn't been able to keep her mother's voice out of her head.
"I'm not paying an arm and a leg to fly into that glorified back yard just to save an hour's drive!"
Still, it would be fine. She'd seen snowploughs parked in rest stops she'd passed, and her destination was a straight shot up the road. She resisted the urge to drive a little faster; the sooner she got there, the sooner she could leave.
A dark object loomed ahead. Almost too late, Brooke noticed it was stationary, pulling sharply to the side to miss it. A car horn screamed as she slid back into her own lane just in time to miss a vehicle coming the other way. The snow was coming down properly now, and people were clearly getting stupid. Including you. Eyes on the road.
Brooke pulled into Noelle at five minutes to eleven. She could barely see for the swirling snow but even if she could've she knew there wouldn't be much there—a few shops, a stop sign at the town's only four-way intersection, tidy sidewalks rapidly being covered in a thick blanket of white. Carefully she steered down one of the side streets where she had once ridden her bike, chased by jeering bullies. Now it was home to a B and B she hoped was still open to late check-ins.
Nearly every house on this street and every other she'd driven down was lit up. In Noelle, people took "the season" seriously. Even back when Brooke was a kid folks didn't much care what precisely you were celebrating, but there was an expectation that one way or another you would double your bills in December turning your house and yard into an electrical fire hazard.
She pulled up outside Lakeview Guest House (the name was an outright lie) to find herself greeted by a twinkling facade adorned not just with the obligatory string of coloured lights along the eaves but a large Santa Claus waving merrily from the wall.
"Wow. Talk about tacky," she muttered, throwing on her parking brake and then pulling her coat collar up and opening the door. Snow swirled around her as she emerged from the car and retrieved her suitcase from the trunk; there was enough blanketing the ground to make rolling the case up the front path a physical impossibility. Instead she lugged it with her as she tried to avoid any patches of black ice that might be lurking underneath—the last thing she needed right now was a twisted ankle.
She remembered the late hour only a split second after she'd pressed the doorbell. A loud "ho, ho, ho!" rang through the house's interior. Brooke winced. Not the best first impression. Still, the inside porch light came on almost right away, so at least she hadn't woken her host. Only most of the guests, probably. A few moments later an older woman wearing a navy housecoat opened the door.
"You must be Ms Hawkins." Brooke, still cringing from the doorbell moment, found herself momentarily lost for words, but the woman simply reached to take her case from her unresisting grip. "C'mon, we're letting the weather in."
The woman led her not to any sort of reception, but rather through to the dimly lit kitchen at the back of the house. The table lamp and book at the breakfast bar pointed to the landlady's previous location, but now she put the case down by the door and moved over to the coffee maker. "Hot chocolate? Herbal tea? You'll want something after that drive…"
"Some bourbon?" Brooke said wryly, reaching up to ruffle the snow out of her tousled bob.
Her host's response was a chuckle. "Hot chocolate, then," she said, pressing the relevant button on the machine, which was an automated multi-function affair. In moments, it poured no doubt underheated and watery brown liquid into the waiting mug. Perhaps she spotted Brooke's expression, as she hastened to reassure her. "There'll be proper fresh-brewed coffee in the morning," she said. "I keep this around for emergencies. And workmen."
"It's not the first time I've been described as an emergency," Brooke said as she accepted the mug, wrapping her hands around it. It might not've had any booze in, but it was still welcome after a long drive, and she let the silence stretch out as she sipped, looking around herself with idle interest. The inside of the house was no less festive than the outside, with obviously handmade snowflakes adorning the kitchen cabinet doors.
"That weather's certainly an emergency—it's come down fast out there. Expect we'll be snowed in for days."
This got her attention. "Snowed in? But I saw the snowploughs out just a couple of hours ago—they'll have the streets cleared by morning, surely."
"Running to stand still if you ask me—you wait and see. I know a proper blizzard when I see one and this snow's settling in for the long haul."
Just my luck. Outwardly Brooke managed a bland smile. "I guess we'll see. The municipal building will still be open though, right? They wouldn't close just because of a little snow."
"Oh, I expect so, as long as the power's on."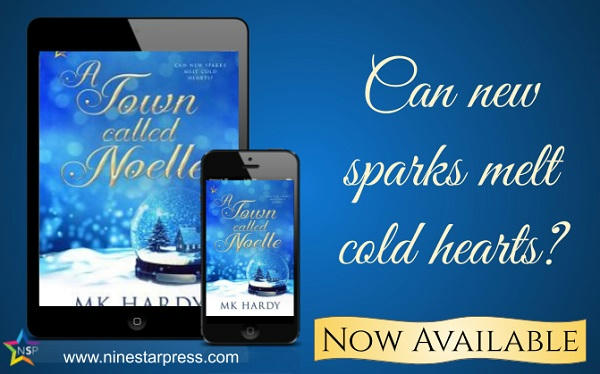 About M.K.!
MK Hardy is the pen name for two geeky women living and writing together in Scotland. They've been writing partners for eleven years and life partners for nine. When they're not typing frantically at one another they like to walk the dogs, cuddle the cats, drink cocktails and play boardgames.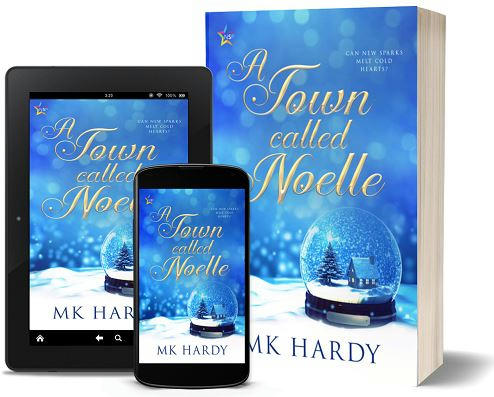 Giveaway!
One lucky winner will receive a $10.00 NineStar Press Gift Code!