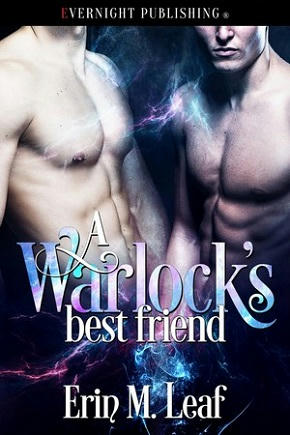 Title: A Warlock's Best Friend
Series: The Warlock's 01
Author: Erin M. Leaf
Genre: Paranormal, Erotic, Humor
Length: Short (55 pages)
Publisher: Evernight Publishing (October 29, 2016)
Heat Level: Moderate
Heart Rating: ♥♥♥♥ 4 Hearts
Blurb: Dakota thought moving to a new town for his new job would be easy. He gets to live with his best friend Leo, far from the machinations of his mother and the witches who want his genes. Unfortunately, his new boss keeps hitting on him. Is there nowhere a nice guy can hide from women who want his body?
Leo thinks pretending to be his best friend's lover will be hilarious. He loves a good joke, and he's delighted that Dakota finally lives close enough for them to hang out again like they did as kids. So what if they're not gay? It's all for a good cause: keep Dakota out of the clutches of a crazy woman.
Neither of them expects their charade to feel so real. How were they supposed to know that one kiss would lead to sex, or that true power comes from love?
ISBN: 978-1-77339-062-8
Product Link: http://www.evernightpublishing.com/a-warlocks-best-friend-by-erin-m-leaf/
Reviewer: Shorty 
Review: I enjoyed this short story about Dakota and his best friend Leo. Dakota gets hit on his boss every time he sees him. Tired of the way the man is making his friend feel Leo suggests they act like a couple in the hopes it will deter the man's advances. 
It comes down to an intense kiss, sparks flying and a connection neither Dakota nor Leo saw coming. Sweet and cute this short story packs a punch.