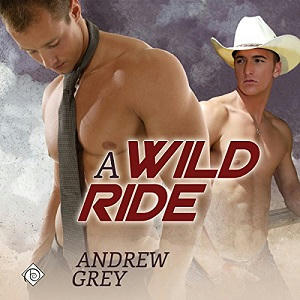 Title: A Wild Ride
Series: The Bullriders 01
Author: Andrew Grey
Narrator: John Solo
Genre: Contemporary, Cowboys
Length: 6 hrs, 55 mins
Publisher: Dreamspinner Press (27th February 2018)
Heat Level: Moderate
Heart Rating: 💖💖💖💖💖 5 Hearts
Blurb: Dante Rivers just lost the rodeo by two 100ths of a point; he's frustrated as hell, needs to get laid, and he knows just where to go. That night, he meets Ryan Abbott and catches his eye – Ryan watched the rodeo and is still riding high on the rush. The chemistry between them ignites, but Dante, unable to deal with complications, leaves while Ryan's asleep.
Ryan figures he'll never see Dante again, but they're fatefully reunited when Dante's grandfather, Hy, hires Ryan to help straighten out some old investments. The attraction between Ryan and Dante still sizzles. Sex slowly turns to more, but obstacles abound: Hy's failing health, Dante's homophobic sponsor, an attack on Ryan, and Dante's own struggle with his identity. Any one thing would be enough to separate them permanently…unless they both decide to hang on for the wild ride.
Product Link: Audible US | Audible UK | Amazon US | Amazon UK
Reviewer: Prime
Review: I love a good cowboy book and throw in the fact that it's written by Andrew Grey and I'm sold. I love the rugged sexiness of a strong cowboy with a heart of gold as much as the next person. For those into that type of thing then you'll probably enjoy this book.
The book begins with the high adrenaline scene of cowboy Dante Rivers doing his final ride on the back of a bucking bull in the rodeo finals. He heartbreakingly loses first place by the narrowest of margins (to someone who is a bit of dick, if you ask me, and I guess you have in a way). So to vent his pent up frustration he meets a guy in a bar for a hot and heavy one night stand.
Dante never thought that he would meet Ryan Abbott again. In fact, Ryan, who thought about Dante long after their one-night stand, never expects to get a phone call that would bring him back into Ryan's orbit again. Ryan is an investment guru who is hired by Dante's grandfather, Hy to help fix up some old investments. The attraction is sizzling hot but being a cowboy story, the guys have to deal with coming out of the closet and homophobia – because, you know, no cowboy can be gay, right? Dante's grandfather is also ill, which is another stress in his life. Hy is an old rascal and such a lovable character, his character is wonderfully reflected in Dante, showing the strong link between the two after Hy had raised his grandson from a young age.
The plot line is fairly simple, but it is all heart and emotion. I don't want to go too much into it because I feel there would be too much spoiler.
For me the narration by John Solo was the icing on the cake. I've always enjoyed Solo's work. He has a fantastic grittiness to his voice that especially suits the voice of a rough and ready cowboy. I especially enjoyed the voice that he gave Dante, although Ryan's voice was also pretty damn good.