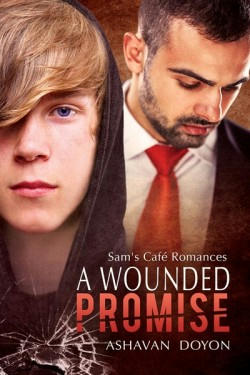 Title: A Wounded Promise 
Series:  Sam's Cafe Romances # 2
Author: Ashavan Doyon
Genre: Contemporary, Erotic Romance
Length: Novella (99 pages)
Publisher: Dreamspinner Press (March 4, 2015)
Heat Level: Moderate
Heart Rating: ♥♥♥♥ 4 Hearts
Blurb: Having survived one nightmare of a relationship, Justin Tesh thought he'd left the worst behind when he put his ex Peter behind bars. But when his new lover, Russell Pine, explodes in a fit of alcohol-fueled rage, Justin finds himself frozen with a fear he thought he'd long since worked through. While older, more experienced Russ is anxious to put the incident behind them, avoiding personal issues never works, and for Justin, his fear is an open doorway to demons both he and Russ need to confront.
Despite their histories of loss and pain, Russ has faith in the promise of their relationship. But if he can't heal the wound he's inflicted on his lover's heart, he risks losing Justin forever to Peter's legacy of brutality.
ISBN-13: 978-1-63216-562-6
Product Link: https://www.dreamspinnerpress.com/books/a-wounded-promise-by-ashavan-doyon-2191-b
Reviewer: Shorty 
Review: One man one step away from becoming an alcoholic and another trying to live again after a horrific relationship nightmare come together and all seems to go well until Russell erupts in a blind alcoholic rage after an incident. Poor Justin is thrown back into a scenario he'd rather forget so leaves in terror.
These two men Justin Russell had so many issues I was honestly surprised they got together at all rather taking time and getting through their baggage before attempting a relationship. Nevertheless, the two men seem to need one another and once the incident that drove Justin away is talked over they come together. 
Emotional, dramatic and tense at times this book delivers a punch.