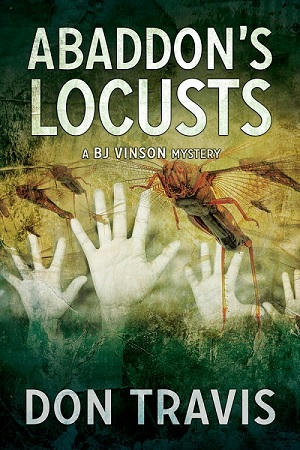 Title: Abaddon's Locusts
Series: A BJ Vinson Mystery 05
Author: Don Travis
Genre: Mystery, Suspense
Length: Novel (290 Pages)
Publisher: DSP Publications (January 22, 2019)
Heat level: Low
Heart Rating: 💖💖💖💖💖 4.5 Hearts
Blurb: When B. J. Vinson, confidential investigator, learns his young friend, Jazz Penrod, has disappeared and has not been heard from in a month, he discovers some ominous emails. Jazz has been corresponding with a "Juan" through a dating site, and that single clue draws BJ and his significant other, Paul Barton, into the brutal but lucrative world of human trafficking.
Their trail leads to a mysterious Albuquerquean known only as Silver Wings, who protects the Bulgarian cartel that moves people—mostly the young and vulnerable—around the state to be sold into modern-day slavery, sexual and otherwise. Can BJ and Paul locate and expose Silver Wings without putting Jazz's life in jeopardy? Hell, can they do so without putting themselves at risk? People start dying as BJ, Paul, and Henry Secatero, Jazz's Navajo half-brother, get too close. To find the answer, bring down the ring, and save Jazz, they'll need to locate the place where human trafficking ties into the Navajo Nation and the gay underground
ISBN: 978-1-64080-7181
Product Link: DSP Publications | Amazon US | Amazon UK
Reviewer: Lisa
Review: I would recommend reading this series in sequential order. It tells you about our sexy characters and gives you a bit more about their back ground. Also you will enjoy them quite a bit.
Jazz and his brother had helped B.J. on a case and was a dear friend. When his brother came to B.J. and wanted his help, B.J. had not expected Jazz to be a victim of human trafficking.
Jazz had been only looking for the one, the one that would love only him. It led him to many dating sites and to a man named Juan. The problem was Juan was deep neck in the world of selling young children and occasionally an adult. He was eighteen but looked like he was about fifteen or so. He was also very beautiful.
The lead went into many different directions all the way up to politician's it would seem. They needed to find Jazz and then shut down the whole gig. The leader whom they call Silver Wings, is not only slippery but very deadly. To know more you need to read the book.
I came across this author when the first book came out in this series and lets just say he is one of my top mystery writers. This story was written about what truly goes on in our world, but the ending just so happens to be happy in the end. Well written and told with so much heart that it just draws you in and keeps you there. It gives you action, danger, murder, suspense and a few hot times for our two main characters. It actually gives you more than you could possibly ask for in a story.
Now on the downside, it is also a very long telling story. So I would suggest it on a cold winters day off with a glass of wine on the table besides you. For me I didn't really like the fact that it came off so long and a bit over telling in parts, but the story itself rocks. Now even though I list it as gay romance it truly isn't, it is more on the mystery than anything else. It has a much darker tone to it then the previous ones which one can expect from such a dark subject.
I can't say that this one is a top favorite of mine, it is pretty high up there. I enjoyed the characters quite a bit and Jazz will be a favorite of mine, and I do hope to hear about him and his new guy in future books.
I enjoyed reading this story and would definitely recommend it.