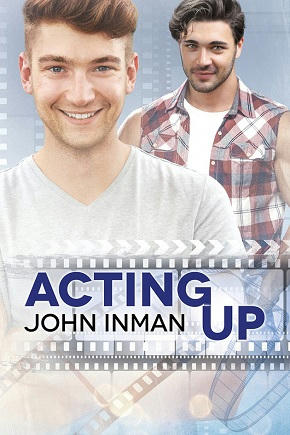 Title:  Acting Up
Author: John Inman
Genre: Contemporary
Length: Novel (200 Pages)
Publisher: Dreamspinner Press (December 23, 2016)
Heat Level: Low
Heart Rating: ♥♥♥♥♥ 5 Hearts
Blurb: It's not easy breaking into show biz. Especially when you aren't exactly loaded with talent. But Malcolm Fox won't let a little thing like that hold him back.
Actually, it isn't the show-business part of his life that bothers him as much as the romantic part—or the lack thereof. At twenty-six, Malcolm has never been in love. He lives in San Diego with his roommate, Beth, another struggling actor, and each of them is just as unsuccessful as the other. While Malcolm toddles off to this audition and that, he ponders the lack of excitement in his life. The lack of purpose. The lack of a man.
Then Beth's brother moves in.
Freshly imported from Missouri of all places, Cory Williams is a towering hunk of muscles and innocence, and Malcolm is gobsmacked by the sexiness of his new roomie from the start. When infatuation enters the picture, Malcolm knows he's really in trouble. After all, Cory is straight!
ISBN: 978-1-63477-355-3
Product Link: https://www.dreamspinnerpress.com/books/acting-up-by-john-inman-7918-b
Reviewer: Lisa
Review: Malcolm has always wanted to work in show biz, so in between auditions he also works at the zoo.  He cracks me up.  His best friend and roommate, Beth is also a struggling actress.  Somehow they just make it all work.  That is until Beth lets him no her one and only darling brother is moving in.  Along with a big pit bull and a four foot snake.  Not Malcolm's idea of fun, until he sees Beth's brother.  Then he might just faint.  The poor boy has never been in love before and well let's just wait and see what is to become of him.
Cory broke up with his girlfriend, well you will find out the true reason when you read the book.  He is a sexy young man from Missouri and wants to get into show biz like his sister.  These two are like smoking hot and are perfect for each other.  Now you add in Malcolm's mom and this is one rocking book.  However you just have to read the book for more juicy information.  
I came across John Inman a few months back with one of his series, and from that moment on he has been one of my favorite contemporary writers.  His stories are just down right juicy and so damn funny.  This particular book had me laughing my ass off for hours afterwards.  Just thinking about Malcolm's reaction to the snake was a blast.  They are so entertaining that your attention is caught from the moment you start reading this book and well I didn't, no, I couldn't take a break until I got to the end.  
I had quite a bit of fun with this book and would definitely love to hear more about this sexy couple.  Hell his mom was funny as hell, and damn I wish more mothers were like her.  The rats were a great touch to the story also.  Who would know Malcolm had such a big heart for the creatures, well at least for the rats.  The romance itself is super easy and just seemed to flow off the pages.  This is one book that I can guarantee will be read more than once.  Trust me; you have to read this book.