Hi guys, we welcome Avery Duran today with the tour for her upcoming release Ahava is Love, we have a short guest post, a great excerpt and a fantastic giveaway, so check out the post and click that giveaway link! <3 ~Pixie~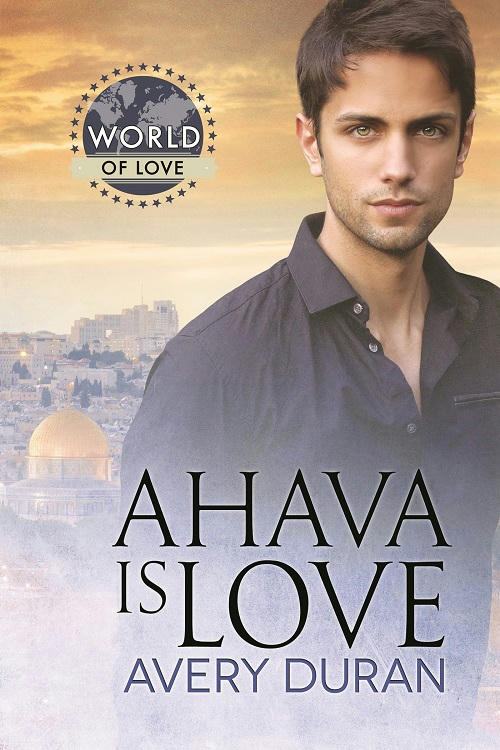 Ahava is Love
(World of Love 14: Israel)
by
Avery Duran
Brooklyn Realtor Josh Perlman desperately wants to settle down. Unfortunately he can't find a man who wants the same. Tired of disastrous dates, he travels to explore his heritage.
Yaron is an Israeli security guard and medic charged with looking after Josh and his pilgrimage group. For Yaron, the need to protect has become more a duty than an honor since he lost his long-term boyfriend to a terrorist attack—a loss that continues to haunt him.
As they embark on their journey through the Holy Land, it's hard to deny the attraction that sparks between Josh and Yaron. Yet with America calling Josh home, and Israel, and the death of his lover holding Yaron prisoner, it seems only a miracle can keep them together.
But Israel is an ancient land, one that has seen miracles before. Surrounded by structures that have been destroyed and rebuilt time after time, Josh and Yaron might just learn that their futures can be found in the wisdom of the past.
World of Love: Stories of romance that span every corner of the globe.

Avery Duran!
A huge Thank You to MM Good Book Reviews for hosting me today! I really appreciate the opportunity to talk about my upcoming release, "Ahava is Love".
When I heard that Dreamspinner Press was launching a World of Love collection, described as "contemporary romances spotlighting the unique features, qualities and attributes of a specific country, as well as the universality of love wherever it's found," the idea for a story that took place in Israel popped into my head, and I just had to write it!
I am a United States citizen, a born and bred New Yorker, but I have had the privilege of traveling to Israel twice. Once as a teen and the other as an adult. The second time I went, I was in a bit of a "Why me?" funk. However, every day I spent in a land steeped in so much history, filled with so many examples of heroism, I found my attitude switching over to more of, "Why not me?" By the time I came home, I was inspired to make changes in myself and my career, and was more comfortable in my own skin. It was a life-changing experience.
While my experience was not about romance, there was no doubt in my mind that the setting was ripe for a love story – and it sure was! Think about it: two men, traveling together for ten days, both with a great deal of love to offer, yet each afraid to open his heart to someone else. The attraction is instant, but nothing good can come of them getting together…or can it?
Ahava is the Hebrew word for love, I think you'll enjoy falling in love with Josh, Yaron – and Israel!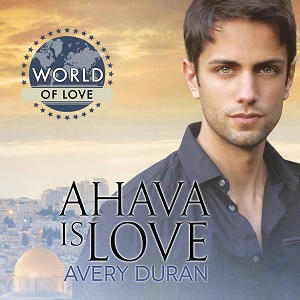 Excerpt!
The hotel itself was tall, its top hidden beyond the scope of the van. It was whitewashed, with a lot of windows and balconies. I could see why they would want to exploit the view. Located across from a body of water, it resembled a resort in Florida, not like the middle of the desert. I was surprised to see it. I followed him off the van, and we made our way into the hotel. The lobby was open and airy, the color scheme white and blue. Many young adults with backpacks were roaming about. I followed Yaron to the desk. The view from here was just as striking as the one outside; the man had an ass someone could bounce a quarter off. Man, I would've loved to bounce on that. Of course I'm not here to hook up, so nothing can happen between us. Right? Right! I needed to put my stuff down and take a cold shower.
We approached the huge white desk and were greeted by the attendants. After filling out some forms, I got my key—with a fob shaped like a seahorse. I noticed he didn't have one. "What about your key?"
"I have mine already. I checked in before I came to get you. I don't live that far from here."
We wound our way down a long corridor, our footsteps muffled by the thick blue carpet. I could not wait to put down my luggage. It seemed like I'd been dragging these bags around for days.
Yaron pressed the silver button to get the elevator, before he turned to me. "We have about two hours before dinner and orientation—after that you can sleep. You should take advantage of it. Tomorrow is a busy day, and you won't have time for jet lag."
With a ding to announce its arrival, the elevator door slid open to reveal a whitewashed wood-paneled interior. We both reached for the third-floor button at the same time.
"Are you on the third floor too?" I asked.
He regarded me oddly. "Of course. Where else would I be?"
The elevator dinged again to indicate our floor. We exited together, and we kept walking. Together. I arrived at my room, but before I could get my key out, he reached across my chest, his muscled arm sliding across my body to unlock the door. To my room. With his key.
I raised my brow and eyed him. "Why do you have a key?"
"Well, how else would I get into our room?"
How else indeed?
~~~
I hope you've enjoyed this glimpse behind the scenes. I will be sharing more about me and the story, so please join me when I visit the below blogs. They have been kind enough to host me to celebrate the release of Ahava is Love on July 5th!

About Avery!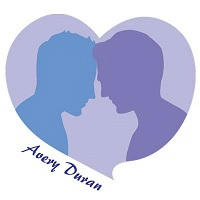 Parent Association President by day, Romance Author by night, Avery Duran enjoys the best of all worlds. She's a minivan-driving, cupcake-baking, soccer mom, who works outside the home while raising three rambunctious boys. Easily distracted by shiny things, Avery found making up stories in her head was an effective way to fool people into thinking she was paying attention. Eventually she decided to write down one of those stories, and her alter-ego was born.
She's always been a voracious reader, Avery's mother still brings up the time her school called because she refused to stop reading during math class. Avery is pleased to confirm that she has managed just fine without whatever important math lesson was being taught that day.
A native New Yorker, she often incorporates her favorite city into what she writes. During the day, while driving, watching endless YouTube videos, or animated shows with her offspring, she plots her stories. At night, when her husband and children go to sleep, Avery sits in a quiet house and puts those words on paper. She loves spending her down time creating a world filled with people loving and laughing their way to happily-ever-after.
She'd really love to hear from you!
Author Social Media Links
Website & Blog | Amazon Author Page | Facebook | Twitter | Instagram | Pinterest | Goodreads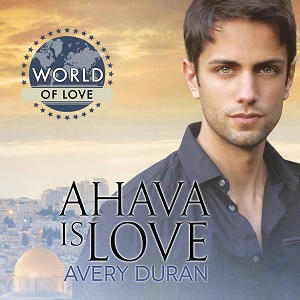 Giveaway!
Win a AHAVA Mineral Hand Cream + $5 Amazon Gift Card!
(Just click the link below)
(Ends 12th July 2017)
Check out the other blogs on the tour!
June 29 – MM Good Book Reviews
July 4 – Open Skye Book Reviews
July 7 – Scattered Thoughts and Rogue Words  
July 10 – Divine Magazine