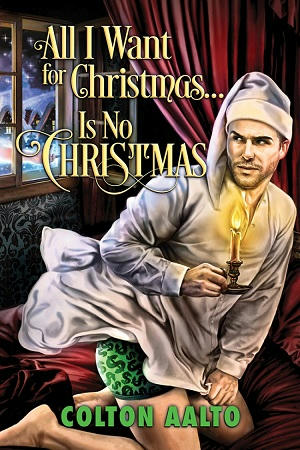 Title: All I Want for Christmas… is No Christmas
Series: Dreamspinner Press 2016 Advent Calendar Bah Humbug.
Author: Colton Aalto
Genre: Contemporary
Length: Short (35 pages)
Publisher: Dreamspinner Press (15th December 2016)
Heat Level: Low
Heart Rating: ♥♥♥ 3 Hearts
Blurb: Alec Ryder's arrest in Aspen, early on the morning of December twenty-fifth, is the latest disaster in his series of unhappy Christmases. He's dreaded the holiday since being subjected to endless church services as a child. Being kicked out on Christmas Day after he came out to his parents, followed by an improbable series of yearly yuletide trips to the emergency room, haven't made his Christmases any merrier. But getting busted for prostitution is the worst catastrophe; it means Alec's dream of a college degree is gone, replaced by the specter of jail time. 
Just when Alec thinks things can't get worse, Hayden Adler shows up to interrogate him. Hayden is a glamorous attorney who also happens to be Alec's college roommate's cousin. Alec's had a crush on Hayden for years, but whatever miniscule chance Alec might've had is now history—just like the life he's been trying to build for himself.  
But things aren't quite what they seem. In a long line of miserable Christmases, Alec will never forget this one, although not for the reasons he suspects.
ISBN: 978-1-63533-177-6
Product Link: https://www.dreamspinnerpress.com/books/all-i-want-for-christmas-is-no-christmas-by-colton-aalto-7971-b
Reviewer: Prime
Review: This short story is narrated by MC, Alec. He's had a miserable life since being kicked out of home on Christmas Day for being gay. To get through college he turned to being an escort as well as waiting tables to survive. But one of his clients leads him to being arrested on Christmas Day. The worst part for him being that his love interest and cousin to his college roommate/best friend is one of the agents trying to get information from him.  
While I enjoyed All I Want For Christmas… Is No Christmas, I did not outright love it. I believe this is because I felt that there was a lot missing from the story. Yes, I could read between the lines to some extent, but part of me wanted a lot of sections elaborated upon. The main character does explain at length his past and why he hated Christmas but I just needed more on how this Christmas became a better Christmas. The spark of attraction is there between the guys, it just needed to be fleshed out more I felt.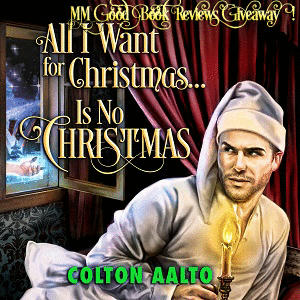 1st prize $100 DSP credits!
2nd prize $50 DSP credits!
3rd prize $25 DSP credits!
4th prize $25 DSP credits!
Colton Aalto's Question!
"All I Want for Christmas… Is No Christmas" takes place on Christmas Day in Aspen, Colorado.  While Alec is a skier, he spends the day being interrogated by Hayden instead of hitting the slopes.  Aspen's famous ski mountain wasn't the first to open in Colorado, but its been around for several generations and opened with what was, at the time, the longest chairlift in the world.  In 2017, what anniversary will the Aspen Mountain ski area celebrate?
(Just leave a comment with the answer on this post)
(Winners will be picked by a dart on 1st January 2017)