Hi guys! We have C.M. Corett popping in today with his new release Amending Plans, we have a great excerpt and a fantastic $10 NineStar Press giveaway so check out the post and enter the giveaway! ❤ ~Pixie~
Amending Plans
by
C.M. Corett
Luc Weston is employed by his uncle as a cartographer. He's an office dwelling creator of maps and plans, but as his uncle's heir, he must learn all aspects of the company. Specifically, surveying. The upside—spending time with the gorgeous surveyor, Rick Masters, in a cozy cabin. The downside—the cabin is in the woods. Luc hates nature, and nature hates him. He's got the injuries and bites to prove it. How can he impress Rick in such a foreign and hostile environment?
Rick Masters can't believe he has to babysit the boss's privileged nephew for two weeks. Come on, the man turned up for a mountain survey wearing skinny jeans and toting a suitcase on wheels. But Luc's attitude and self-deprecating humor has surprised him. Perhaps he's misjudged him? He's nothing like the robust outdoorsmen Rick is usually attracted to, and yet…those skinny jeans sure hug him in all the right places. But Rick has a plan for his life, and a man like Luc Weston could never be part of it. No way!
Excerpt!
Amending Plans, CM Corett © 2018, All Rights Reserved
Chapter One
Luc Weston pressed his heel down onto the floor to halt his nervous leg jiggling and leaned forward in his chair. "I know what surveyors do! Why do I need to follow one around for two weeks?"
Luc's uncle, Jeremiah Weston, sighed. "I expect all my employees to participate in the job-swap program, and that includes you, Luc."
Needing an outlet for his agitation, Luc stood up and paced around his uncle's office. The workspace was uncluttered, organized, and neat, just like his uncle, and provided plenty of room for pacing. The large tilted drafting board beside the window caught his attention, and he stopped to stare at the displayed survey plan. "I know, I know, but I'm not just an employee. Surely I'm different?" He winced. Okay, that had come out wrong. He hadn't meant to imply he considered himself better or more important than his colleagues, just…different. Shit.
Jeremiah frowned. "Yes, you are different. It's important for every employee to understand the various roles within the company, but it's vital for you, Luc. If you want to take over this company one day, you need to experience every aspect of the business. I need to make sure I'm leaving the company with someone who understands not only our drafting practices, but the surveying and other offsite processes too."
Luc drew in a deep breath. When his uncle spoke in his official "boss talk," there wasn't much room for negotiation, but Luc had to try. "Sure, I get that, but I understand the surveying side of the business. I practically grew up here. I've been surrounded by cartographers and surveyors since I was six years old. Hell, old Harry Miller taught me to mark up a surveyor's field book as soon as I could hold a drafting pen."
"Yes, you've gained a lot of knowledge over the years, but hearing stories and anecdotes from a bunch of surveyors is not the same as experiencing what they perform in the field. And yes," he held up his hand as Luc opened his mouth, "you interpret field books as well as anyone, but physically finding coordinates and hammering in marker pegs is another aspect altogether."
"Yeah, I know." He grimaced. "Out in the wilds of nature and all that."
"Is that what's worrying you?"
"Come on, Uncle J. You know how useless I am in the great outdoors. Surely our one and only camping trip convinced you I was destined to be a city boy." Luc's mouth twisted into a wry smile at the memory. He had been twelve years old and had begged his uncle to take him camping in the nearby national park. During the anticipation stage, his excitement had been off the charts. Once they'd arrived—not so much. Between his tent-erecting ineptitude and his determination to trip over every rock, tree root, and tent peg, the experience had soon lost its promise.
And then there were the sounds—scary, predators-coming-to-get-you-in-the-night sounds.
Jeremiah gave him a stern stare. "You're not twelve years old anymore, and this is your career. And the future of our family company. So, you'll do as I ask."
Luc stood, hands on hips, in front of his uncle's desk. "Or what?"
Jeremiah rubbed his hand across his face. "Or nothing. You're twenty-six years old, Luc. You're a damn fine cartographic draftsman—one of our best. I'm not about to ground you like some disobedient teenager, and I'm surely not going to fire you or even demote you, but I will be severely disappointed in you if you refuse to do this."
Oh, God. Luc dropped his hands to his sides, and his shoulders slumped. In the past, he had clashed with his uncle over a few issues, and the resulting anger and the consequences were understandable, but disappointment? Hell, no. He hated disappointing the man who'd raised him and had always been there for him. No way could he win the argument, but perhaps the details were negotiable. "Okay. Okay, I'll go."
"Thank you."
"But does the surveyor have to be Rick Masters? Can't I tag along with someone else?"
"Why not Rick? Rick Masters is our best and most experienced surveyor, and we were lucky to hire him two years ago. He had job offers from multiple companies. Yes, he can be a little gruff, and he's a man of few words, but I've always found him to be decent and hardworking. I have a lot of respect for the man. What do you have against him?"
"I have nothing against him, but I feel… It's just…" His heart hammered in his chest. How could he explain his feelings for Rick Masters? He couldn't admit—to his uncle—that Rick Masters made his heart race and his dick behave inappropriately every time he caught a glimpse of the man. No, not the type of explanation his uncle would want to hear. He cleared his throat. "Actually, I think I'd get more out of the experience if I paired up with someone else. What about Jessica Taylor or Stan Myers?"
Jeremiah frowned. "If this was coming from anyone else, I'd think they had a problem working with a gay man, but as Rick and you are both gay, I really don't— Ahh!" He nodded. "Are you worried about the gossip, or is there something else you want to tell me?"
"Well, I…"
"You know what?" Jeremiah raised both palms. "I don't want to hear it. What you think or feel about another of my employees is none of my business. You're a professional, and I know you won't let those emotions interfere with your job. The same goes for your dislike of nature."
"Yes, sir." What else could he say? He had no legitimate reason to refuse, and he would have to suck it up and follow Rick around for a while. Two weeks. With Rick Masters.
And field trips into the wilderness.
Shit.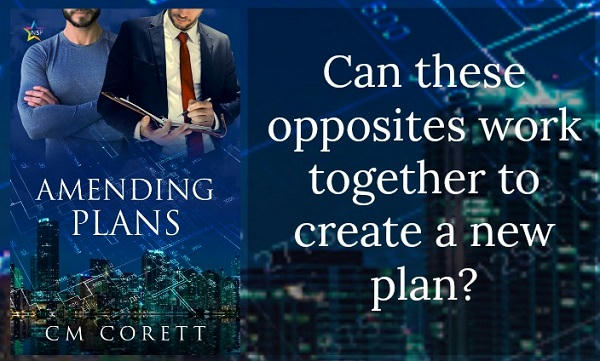 About C.M.!
CM Corett is an Australian author of M/M romance who has given up on trying to limit herself to one sub-genre. She writes contemporary, historical, sci-fi, and time travel… and she may have a few paranormal drafts hidden under the bed! An avid writer and reader of love between men, she has lived in the USA and traveled the world gathering inspiration for her stories. She loves movies, superheroes, and video games with awesome graphics. She hates housework and anyone who expects her to notice (or care about) the dust on top of the fridge.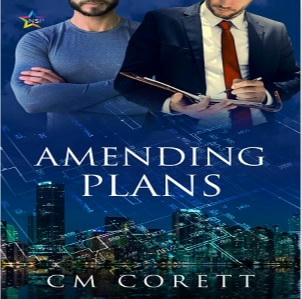 Giveaway!
One lucky winner will receive a $10.00 NineStar Press Gift Code!