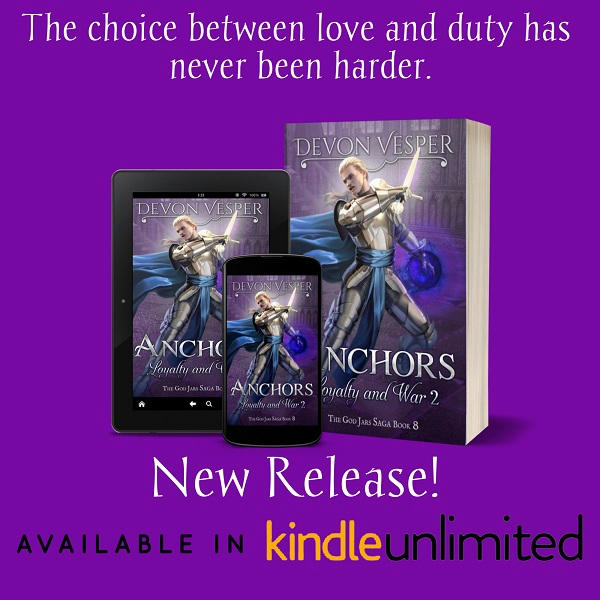 Hi guys! We have Devon Vesper stopping by today with her new fantasy release Anchors, we have a great excerpt so check out the post and enjoy! ❤️ ~Pixie~
Anchors
(The God Jars Saga 08 / Loyalty and War 02)
by
Devon Vesper
The choice between love and duty has never been harder.
Valis is on his way to free his father from the enemy compound, but it seems like everything is working against him.
The team sent to eliminate the last Anchor of Qos needs his help. Tavros falls ill after an accident, and if he doesn't get help quickly he's going to die. And the constant blizzards mean they are moving so slowly Valis is afraid they may be too late to save anyone.
With so much at stake—lives, family, his heart—one wrong move may cost Valis a price he's not willing to pay.
His army needs him. His husband needs him more. Valis can't afford to fail either. The race to save his family is on.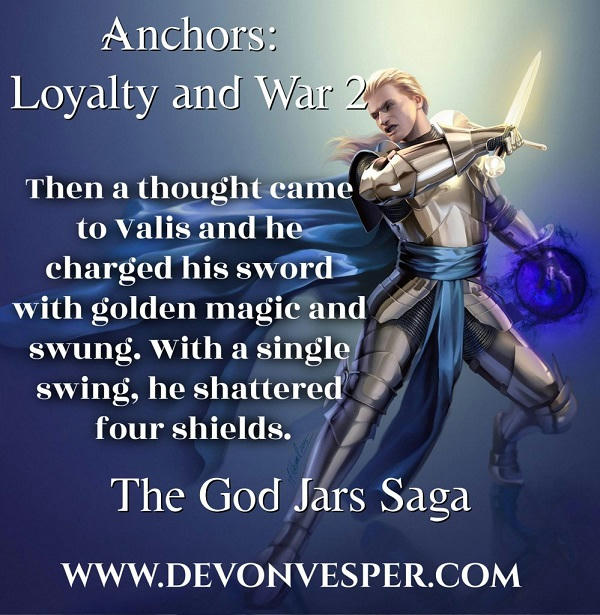 Excerpt!
While Tavros focused on the horde, Valis focused on their shield, renewing it on occasion if it started getting weak, and moving it as those near him moved so everyone could see the battle that waged before them.
It felt like Valis was stuck in thick, cloying mud. His fatigue weighed him down to the point where he could barely hear the sounds of battle over the ringing in his ears. His vision kept blurring on and off as if he had a pounding headache, but without the pain. He heard his pulse pounding in his ears. Each limb felt as if they were weighed down by pounds of lead. It got so bad that Valis wished he could sit down, but he knew it wasn't from Tavros draining him. That actually made things marginally better.
"Valis!" Tavros screamed when Valis stumbled.
"I'll be fine. It's not because of the drain!"
"Bullshit!"
"Tav, keep going! I'm fine. It's just fatigue from those two spells. I promise!"
"Fuck!" Tavros yelled. "Fuck fuck fuck."
Valis shared his sentiments, but forced himself to pay attention. Someone was coming toward them, and Valis had to spare enough of his energy to take care of them.
But then someone else hit them, and Valis cursed. He was too slow. In this battle, he was a liability. But if he stopped the drain, his army's shields would shatter, and he'd lose too many people to continue with their main mission. He wasn't about to risk that. He had to rescue Darolen at all cost.
"What is wrong with you?" Tavros demanded. Still, even with berating Valis, Tavros kept his focus broad and did his part to help their ranks deal with the Qos adherents from behind. "Tell me!"
"I'm draining all the Qos adherents' magic. And I'm doing it by absorbing it from everyone's shields. It's a bit much to handle, but I need the magic going forward, and it's keeping their magic from breaking our army's shields. It's also weakening the Qos adherents. I can't stop."
"Valis, you have to!"
Instead of stopping the drain, Valis focused on converting it to holy gold as it streamed into him. If he could manage that, maybe it would refuel his strength. But as he tried, something blocked him. He tried again, and grunted with the strain. His focus was too thin, his mind too weak from beating back the darkness that always came with an influx of dark magic. He had been fighting it off subconsciously, and now it took a toll on Valis' mind and energy.
He had to do better, be better. But it was almost like he was stuck in time, unable to do anything but what he had been doing all along. No matter what he did, it wasn't enough. No matter how hard he tried, he couldn't try hard enough for it to matter. All he could do was suck magic and pray that Tavros could use what he took in to keep them both safe.
Then everything came rushing back in. Valis surveyed the battle before him and his stomach pitted. This time, it felt precognitive, a sensation of something tugging at his mind at the same time his stomach gave him the "We're fucked" signal.

About Devon!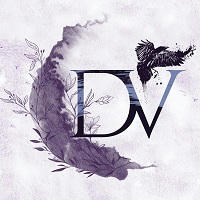 If there's one thing Devon likes most, it's chaos. She has a chaotic mind, messy house, and throws her characters into every calamitous situation possible. When she isn't writing, she's editing or formatting other authors' works, building websites, creating graphics, reading, playing video games, or watching Fortnite streams on Twitch. She likes to stay busy. So yes. Chaos.
Starting in 2003, Devon turned her writing bug away from poetry and online role play in chat rooms to write her first novel. Yes, it was trash, but the process of learning to edit that piece of garbage spurred her to learn more and more. By 2013, she read an author by the name of Raythe Reign, and somehow, Raythe's stories finally made all that learning in Devon's mind click. She wrote her first semi-salable book in two weeks. The next in ten days, and by the beginning of 2014, had seven books written.
Were they all trash? No, but she's in the process of rewriting them, and has already written one, turning Duty and Sacrifice into three books of a nine-book series, The God Jars Saga. Those three books were followed by more, and the last two books in the series will be published in the first quarter of 2019.
Born on a Navy base in Patuxent River, Maryland, Devon has traveled the world, living in Sigonella, Sicily for three years, and visiting many European countries before moving back to the states around the age of seven. She's lived in Florida for sixteen years, Oklahoma for a year, and Pennsylvania for the rest. She graduated from surgical technology school near the top of her class in 2004, and uses her medical and worldly knowledge to enrich her books whenever possible. Being the worldly woman she is, and having spent most of her teens as a broody goth, Devon has four tattoos, nine piercings, loves techno, electronica, dubstep, and similar music genres, and has an incurable internet addiction.
She builds her own computers, can't stand Mac-anything unless it's to format books in Vellum, and purple and black are her favorite colors, though that can change to burgundy and gray depending on the day. Since she has bipolar disorder, PTSD, social anxiety disorder, general anxiety disorder, clinical depression, and has trouble leaving her house due to all that, Devon works full time as an author and editor, and spends as much time as she can talking to other authors and her readers.
Facebook Page | Facebook | Twitter | Instagram | BookBub | Amazon | GoodReads