Hi guys, we have Rowan Speedwell popping in today with her newest re-release Angel Voices, we have a great excerpt, a fantastic giveaway and Aerin's review, so check out the post and leave a comment to enter the giveaway! <3 ~Pixie~
Angel Voices
Rowan Speedwell
One frigid winter night a week before Christmas, college student Will stumbles into a church during choir practice, bruised by his own father's hands. He's out of the closet now—there's no going back since his fundamentalist father learned the truth—but he's also out of a home, a family, and a future. Will has nowhere to turn. No one to care.
Except . . . Will's roommate, Quinn, cares. Maybe too much. He's been attracted to Will since they moved in together, but never dreamed his crush was gay. With Will's life in pieces, Quinn doesn't want to push. He also knows he has more experience than Will, who's never even been kissed.
Then Will's father makes a reappearance, and Will has to learn to trust his heart more than the voices of his past. But it's the season of miracles, faith, and hope, and Quinn is determined to teach Will how to love and be loved.
Excerpt
Light and music streamed out of the church, stained glass casting long flares of color on the snow, a luminous accompaniment to the sounds of the organ and angelic voices drifting through the open double doors. The angels obviously needed practice; they would sing a line, then stop a moment while an invisible conductor made an inaudible comment, then sing the line over and maybe, maybe, get as far as the next line before stopping again.
Will stood in the purple light emanating from around some saint's head and listened a moment, caught in the tenuous beauty that contrasted sharply with the ugliness he felt. He ached all over, his feet throbbing in time to the pounding in his head, his hands, his chest, his heart. The church was the first open place he'd seen in his eight-mile-plus walk—at least the only open place he'd seen that wouldn't require cash outlay of some kind for food or drink or a ticket. He could keep walking—his dorm was only across the campus, but all the way across campus, and he was tired, and cold. And tired. So, without even thinking much about it, he climbed the two steps up to the broad church porch and went through the open, welcoming doors.
The lights in the nave of the church were on full, though the ones up around the altar were dark—except for that red one that he knew was something important, but didn't have the energy to think about. He wasn't religious—his parents were, but theirs was a different faith than the one this church housed. Their religion didn't live in tall, cathedral-like places like this, with colored glass, lamp-like chandeliers, and wood carvings and statues. Theirs was cold and modern, at least in terms of the buildings.
This place was foreign, but it was warm, despite the open doors. The wood pews looked worn and well used, golden in the lamplight. The lamps cast pockets of shadow where they weren't quite as bright, like back here in the very last row, over by the wall, underneath the balcony where the choir was practicing. Will gratefully slipped into a pew, leaning back against the warm golden wood and letting his duffel fall onto the floor beside him. It was so weird to be happy to just sit down.
He'd come in during one of the quiet moments. Now that he was inside, he could hear the voice of the director or conductor or whatever the head person of a choir was called, but he still couldn't quite understand what he was saying. Then the voice stopped speaking, and Will heard the faint rapping of his stick or baton or whatever. The choir burst out singing again.
The acoustics inside the church made the sound richer and more beautiful. He listened, dazed by the purity of it.
And then a single voice, male, clear, powerful, and impossibly sweet, rose over the rest in a solo that sent a shudder through Will's heart: "Fall on your knees! Oh, hear the angel voices . . ."
Will took his frozen hands from his jeans pockets, put his striped wool scarf over his face, and started to cry.
* * * * * * *
"Okay, okay," Bennigan said, waving his hands absently. "Fifteen-minute potty break, then we'll go through the rest of the program. Quinn, good job on the solo, but I still think you need a little more punch on the 'fall' so that it really stands out. Wake the sleeping millions, got it?"
"Yes, sir!" Quinn saluted in cheerful mockery and headed to the stairs from the choir loft, beating the rest of the group to the door and lunging in his usual headlong way down the worn stairs.
"One of these days you're gonna fall and break your neck," Sean said behind him.
"Not him," Ellen said in disgust. "Leads a charmed life."
"I do, I really do," Quinn agreed, and opened the door out into the nave, the rest following, chattering, as he led the way to the restrooms at the rear of the church.
On his way back, as he wiped his hands on his sweatshirt because the stupid blow-dryers in the bathroom never dried properly, he saw the figure huddled in the very last pew on the far side of the nave. He would have just taken the figure for a street person who had come in to get warm, but it wore the green, blue, and orange striped scarf his roommate Will had worn over his denim jacket when he'd left that afternoon for the holiday break. Quinn had said something about the jacket not being warm enough, and Will had just muttered that he had a ride home.
The response was typical of Will—their conversations tended to be brief at best. Not that Quinn minded; Will was a quiet, considerate roommate, tidy and undemanding, if impossibly shy. He was nice to look at, too—a bit gangly, like most teenaged guys, but with a strong bone structure under his pale skin, hair the color of autumn leaves, and eyes the green of spring.
The guy in the corner had Will's untidy dark-red hair and the denim jacket. Quinn frowned. That didn't make sense—when Will had left, he'd had his duffel with him and was clearly going home. Had his ride fallen through? Why hadn't he gone back to the room, then?
"Will?" he said quietly, crossing the flagstone aisle to the pew where Will sat.
There wasn't any answer. Was he asleep? Quinn slid down the pew to his side and sat, touching his shoulder gently. "Will?" he said again.
Will started, and looked over at Quinn in a disoriented panic.
Quinn's hand fell away. "Holy fucking shit, Will, what happened? Were you mugged?"
Will's face was a bloody mess, the skin blooming with bruises, his nose swollen, crusted with blood, and muddy with tears and dirt. His hands, too, were dirty, and red with cold. He reached up and pulled the scarf away from his face. His mouth was swollen, the lip split. "Quinn?" he said in confusion.
"Yeah, kid, it's me. What happened? Are you okay?"
"Yeah, I'm fine." Will sat up straighter, winced, then shifted away from Quinn's reaching hand. "I'm okay. I just stopped in—I heard the singing. It was good."
"What happened to you?"
Quinn looked up to see Bennigan standing in the aisle on the other side of Will. "Were you mugged? Do you want us to call the police?"
"No, no police." Will put his hands up and shook his head. "It's nothing. I'm fine. I just . . . I just fell. It's okay."
"It's not okay, and that's not from a fall. I thought you were going home. Were you in some kind of accident?"
"We need to call his parents," Bennigan said.
"No! No parents! It's nothing!" Will stood up, waving his hands frantically in denial, then went pasty beneath the bruises and collapsed into Quinn's arms in a dead faint.
Read more at: http://riptidepublishing.com/titles/angel-voices (Just click the excerpt tab)
About Rowan
An unrepentant biblioholic, Rowan Speedwell spends half her time pretending to be a law librarian, half her time pretending to be a database manager, half her time pretending to be a fifteenth-century Aragonese noblewoman, half her time . . . wait a minute . . .  Hmm.  Well, one thing she doesn't pretend to be is good at math.  She is good at pretending, though.
In her copious spare time (hah) she does needlework, calligraphy and illumination, and makes jewelry.  She has a master's degree in history from the University of Chicago, is a member of the Society for Creative Anachronism, and lives in a Chicago suburb with the obligatory Writer's Cat and way too many books.
Connect with Rowan:
Giveaway!
To celebrate the release of Angel Voices, one lucky winner will receive $15 in Riptide Publishing credit! 
Thanks for 
following
the tour
, and don't forget to leave your contact info!
Review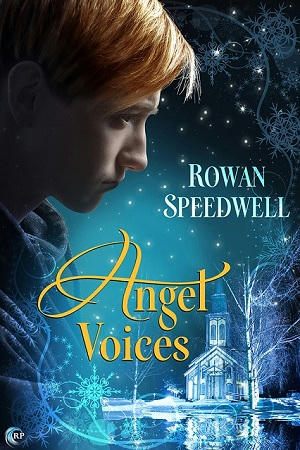 Title: Angel Voices   
Author: Rowan Speedwell
Genre: Contemporary, Holiday
Length: Short (66pgs)
Publisher: Riptide Publishing (Nov 28, 2016)
Heat Level: Moderate
Heart Rating: ♥♥♥ 3 Hearts
Blurb: On a frigid winter night, college freshman Will stumbles into the shelter of a church during choir practice. His father has just discovered that Will is gay, and has beaten him and thrown him out of the house. But right now Will's interested only in getting warm.
Will's college roommate Quinn is a soloist in the choir, which is practicing for a Christmas program. He discovers Will in the church—and his friend's condition. Will, who has grown up in a repressed environment, including church school, an abusive father and a passive mother, is taken aback by Quinn's enthusiasm and determination to take care of him.
Does Will have a future after all, especially one that will include Quinn?
ISBN: 9781626494930
Product Link: http://riptidepublishing.com/titles/angel-voices
Reviewer: Aerin
Review: For a short story, this wasn't bad; unfortunately I was expecting a full novel when I requested this book, because the blurb makes it clear there's no way a short story would do the characters justice.
Will is a freshman in college who's been severely beaten by his father after coming out as gay. After walking over 8 miles through the frigid weather outside, Will stumbles into a small church, drawn by the angelic voices singing in a choir.
Quinn is a soloist in the choir and he's also Will's roommate and somewhat friend. Quinn is a very friendly and social guy while Will mostly keeps to himself. Neither know that the other one is gay, but once Quinn learns about Will's recent experience with coming out, he takes it upon himself to care for Will through his recovery and is looking forward to sharing his family with Will for Christmas.
Will and Quinn also fall instantly in love, but that's mostly because of the short nature of the story. This book had much potential, if only the author would've taken the time to expand it. As it is, the whole thing takes place in a couple of weeks, and since I'm fairly sure Will's extensive injuries took longer than 2 weeks to heal, the sex was awkward and painful to read.
There's too much happening, too much drama in only a few pages, and everything feels just so RUSHED!
Check out the other blogs on the blog tour