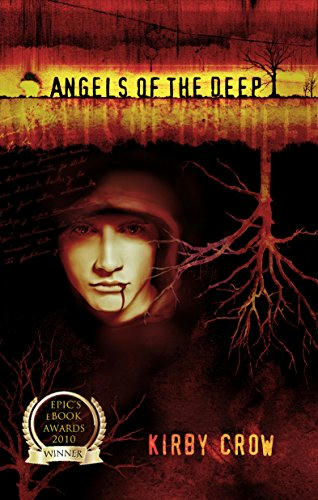 Title: Angels of the Deep (2nd Edition)
Author: Kirby Crow
Genre: Occult, Paranormal
Length: Novel (308pgs)
Publisher: Bonecamp (January 10, 2015)
Heat Level: Moderate
Heart Rating: 💖💖💖💖💖 5 Hearts
Blurb: [Winner of the EPIC Award – Best Horror]
2015 REVISED EDITION
Becket Merriday is a tortured soul: abandoned at birth, abused, haunted by strange memories of a life he never lived, and marked by an uncanny ability to see into the minds of killers.
After a harrowing stint in the FBI, Beck marries and tries to make a new life for himself as a small-town police chief, but the wounds of his past refuse to heal. He can't sleep, he drinks too much, and his wife leaves him for having an affair with a male officer. When a string of beautiful young men turn up brutally murdered in town, it feels like his bloody history at the FBI has come back to stalk him.
It isn't until Beck begins having visions of the killer that he turns to Sean Logan—the man named in his divorce—for help, because strangely, only Sean seems to understand what's happening to him.
*Author has chosen to warn for violent content and disturbing themes.
Warning: This story contains rape, non con and violent scenes from the killer. 
ISBN: B00S39OA1U
Product Link: Amazon US | Amazon UK
Reviewer: Shorty
Review: Wow, just wow. This story has so much going on. You have Beckett who is a tortured soul trying to overcome what happened to him as a child at the hands of a someone he should have been able to trust. Not to mention his falling out with his wife as he is actually gay but fighting it. Sean, a member on the police force is the one he wants but pushes away.
Then there is the mysterious deaths of young men happening and Beckett being forced to use his FBI skills to figure out who the culprit is. But there is so much more going on than mere humans being murdered. There is another level to the story that takes it further as angels, nephilim and a killer who is not what he seems.
I loved this story minus the non con m/f scene as I'm an m/m reader. Beckett's true identity was mind blowing but then again I knew there was something more to him but did not know what exactly. The past history of the angels and the fallen was fascinating as was the result that happened when god punished them.
I loved the story and was immersed immediately into a fantastic read that took my breath away.