Hi guys! We have Rebecca Cohen visiting today with the tour for her new release Anthony, Earl of Crofton, we have a fantastic guest post from Rebecca, a great excerpt and a brilliant giveaway so check out the post and enter the giveaway! ❤ ~Pixie~
Anthony, Earl of Crofton
by
Rebecca Cohen
A tale set in Stuart England, where the king's life depends on his most loyal of subjects.
Anthony Redbourn, Earl of Crofton, delights in his reputation as a charming rogue. Life is never quiet at the court of King James I, especially with his good friend and secret lover, Sebastian Hewel, by his side. As an actor with the celebrated King's Men, Sebastian has his own admirers, but neither man has eyes for anyone else.
When a plot against His Majesty is uncovered it threatens Anthony and Sebastian's charmed lives, and they are dragged into the political intrigue and the race to save the king from danger. Fear that a traitor is linked to the King's Men leaves Sebastian and Anthony with no choice but to stage a very public dissolution of their friendship, so Anthony can be free to be the patron of a new rising actor, and Sebastian can be the prodigy of another noble.
It is a dangerous game they are playing to expose the plotters and still find a way to meet in secret, as Anthony is adamant that they will not sacrifice the love they have fought so hard to win. They will do whatever it takes to protect the king's life, and their commitment to each other.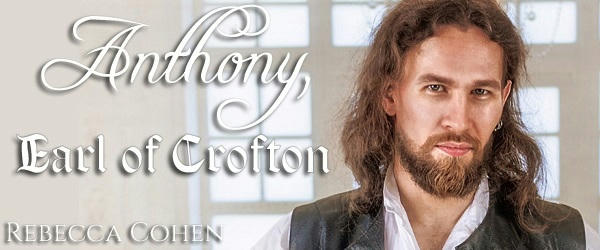 Rebecca Cohen!
In a fictional setting I love a bad boy. A roguish cad who is devilishly charming and an steal away your heart with a whisper of kiss while being mad, bad and dangerous to know. And that's what Anthony Redbourn (the eponymous character from my new release Anthony, Earl of Crofton) is, a charming bad lad. Born into a rich family, made an Earl and having the members of court adore him, meant Anthony was always going think well of himself, but his better half, Sebastian knows after several years of dealing with the scoundrel, how to make sure Anthony doesn't overstep the mark.
I'm not completely sure what it is about men like Anthony that make such dashing romantic leads. In real life I'd have no truck with Anthony's swagger, but as a main character in romance novel, his type leaves many of us weak at the knees. Sebastian is not immune to his charms, but was able to tame the savage beast, or at least rein Anthony in a little. So that where eyes once roamed they are now focused only on Sebastian. In this book they are an established couple (how they got there is the subject of the previous series The Crofton Chronicles), and there is a great play between which has come from the security of a mature relationship, especially when Sebastian has to rebuke Anthony for some of less gentlemanly ways: knowing which buttons to press, and as importantly which ones not to. Perhaps that is the essence of loving a bad boy, that the edge remains but softened by love, or maybe it is acceptance that flaws are part of the fundamentals of a person, and we can either love them and accept it or we can't.
In this extract Anthony is visiting the rooms Sebastian keeps in London so not to bring undue attention to their relationship. Here we see a bit of the softer side of Anthony:
Excerpt!
Anthony didn't like Sebastian's rooms, and it wasn't just because, when compared to the luxury of Crofton Hall and the townhouse, they were sparse and uncomplicated. No, his dislike came more from what the rooms represented: the relationship that the outward world was supposed to see when they saw him and Sebastian. He knew there was no point wishing for things to be different, but he would have preferred for Sebastian to reside permanently in one of the Crofton properties.
He retrieved the hat, which had been hanging on a chair. "I suppose you'll be spending even more time here soon," he said, not able to stop the bitterness creeping into his words.
"I believe so. But it will only be for a few months."
Sebastian put on the hat. Without thinking, Anthony reached out to adjust the angle, finding comfort in a simple touch.
Sebastian caught Anthony's hand before he could retract it and kissed the palm. "Maybe I will use the hours I would've spent with you more productively and finally write my own play."
"Hardly in the comfort you're used to."
Sebastian kissed his hand gently. "I know you didn't wish me to take rooms elsewhere in the city, but you agreed it made sense for me to live here. I should not be seen to be taking advantage of our friendship by living off you in your townhouse. I've heard too many snide comments about being your pet actor."
Anthony remembered the conversation only too well; it had bordered on an argument, but he'd conceded that Sebastian should at least be seen to be on his way to supporting himself, rather than milking his friend's generosity. "I only wish you would have let me find somewhere better."
"Then I would not have been able to afford it. And don't tell me you would've paid, as that would have defeated the purpose. Besides, they are not so bad. It has somewhere to write, a hearth for a fire, and the bed you so gracefully provided—rather decadent when I consider what some of the other players have."
"I doubt Richard Burbage resides so simply."
"His wife would not condone it. But most of the actors can't afford to live on their own, often several rent a single room together. While this might not be the luxury you are used to, Anthony, to many others this is beyond what they may ever hope for."
"Well, I, for one, am not envious of your home."
"This is not my home. My home is with you at Crofton Hall. Here is a place I can escape to when in London."
"I understand your needs; I do. But I wish you would not need to escape from me." He'd never said it in such terms, but doubt had niggled at him since Sebastian had first talked about a place of his own. It had been difficult not to think that Sebastian had alternative motives for having separate rooms elsewhere in the city. The reality of being here, in a place where Sebastian had no connection to him, made the thoughts of what was to come over the next few months sting even more.
"Please do not think of it in such a way. I am not escaping you. You are here almost as often as I am. It is just a screen, like many other things."
Anthony nodded, wondering when he had become a sentimental fool. "Let us go and enjoy the evening at court. I think we've acted out enough snide comments for the day."
"Agreed. Then maybe we can return to the townhouse, and I will let you peel my hose off with your teeth."
Crofton Hall Books!
The Crofton Chronicles
The Actor & The Earl (book 01)
Dreamspinner | Amazon US | Amazon UK
Duty to the Crown (book 02)
Dreamspinner | Amazon US | Amazon UK
Forever Hold His Peace (book 03)
Dreamspinner | Amazon US | Amazon UK
The Crofton Chronicles (4 books)
Dreamspinner | Amazon US | Amazon UK
Stately Passions
Saving Crofton Hall (book 01)
Dreamspinner | Amazon US | Amazon UK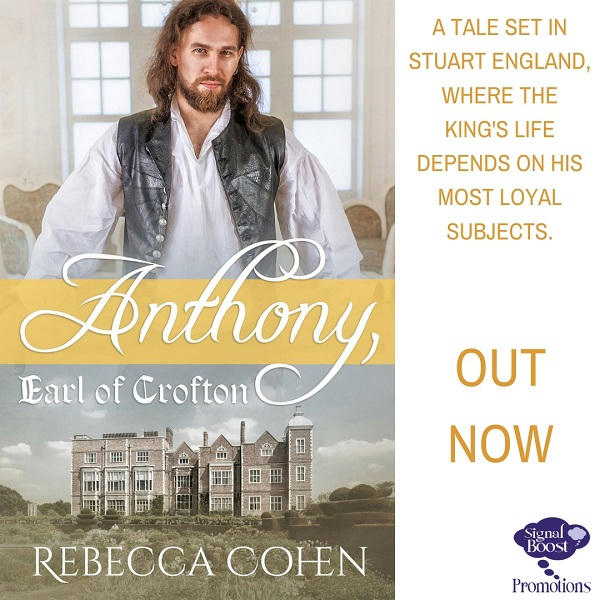 About Rebecca!
REBECCA COHEN spends her days dreaming of a living in a Tudor manor house, or a Georgian mansion. Alas, the closest she comes to this is through her characters in her historical romance novels. She also dreams of intergalactic adventures and fantasy realms, but because she's not yet got her space or dimensional travel plans finalised, she lives happily in leafy Hertfordshire, England, with her husband and young son. She can often be found with a pen in one hand and sloe gin with lemon tonic in the other.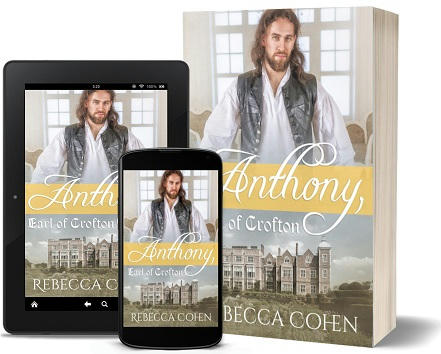 Giveaway!
Win a Backlist Ebook From Rebecca Cohen!