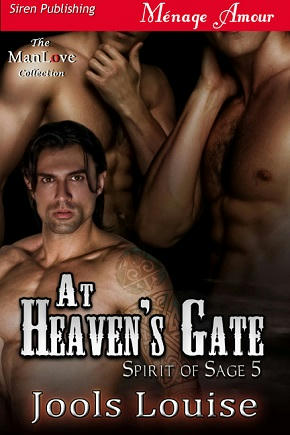 Title: At Heaven's Gate
Series:  Spirit of Sage # 5
Author: Jools Louise
Genre: Contemporary, Ménage a Trois/Quatre, Paranormal, Shape-shifter, Western/Cowboys
Length: Novella (133 pages)
Publisher: Siren-Bookstrand, Inc. (January 23, 2017)
Heat Level: Explicit
Heart Rating: ♥♥♥♥♥ 5 Hearts
Blurb: Aston has spent 25 years in prison, after a vicious cult attacked his parents, Herb and Kim. He was arrested for defending them and sent to a hell thousands of miles away from his home. Returning to Sage, Wyoming he finds that his parents are now dead, murdered after a deadly explosion, the town is being rebuilt…and twin sex kitten shifters who turn out to be his mates.  
Kieran and Kevin, having had their own dealings with the cult, are ready to settle down with their sexy mate…and begin the seduction of their wary stud.
After years of misery, Aston finds himself at Heaven's gate, but is he ready to take the plunge and accept his gorgeous blond bombshells? Kevin and his twin certainly think so, and soon have their badass beau just where they want him. But will their love and affection be enough to help chase the demons away and heal the lingering pain?
Note: This book contains double penetration.
ISBN: 978-1-68295-828-5
Product Link: http://www.bookstrand.com/book/at-heavens-gate
Reviewer: Shorty 
Review: Such an emotional addition to the Spirit of Sage series. Aston is finally released from prison after serving twenty five years for murder. When he arrives at Sage he realizes things have changed and that his parents are gone. He meets sexy twins Kevin and Kieran. Those two are hard to resist but he gets off on the wrong foot with them.
Amid trying to start his life things he's been through in prison come out. I bawled like a baby at the heinous things done to Aston while in prison. I hated the people who hurt and abused him. We find out that cult members were in the prison as well. As a result their devious deeds come to light. 
These three men have been through so much by this cult that it was a wonder they could still function and be around others at all. I admired their determination to live instead of giving up. I loved that they helped each other when memories became too much to handle and when other prisoners showed up to work who had hurt Aston. It made my heart sing when the crew helped Aston when the past came back to haunt him.
Emotional and yet healing this story packs a punch. Highly recommended.