Hi peeps! We have Jeff Adams stopping by today with the tour for his upcoming release Audio Assault, we have a brilliant guest post from Jeff, a great excerpt and a fantastic giveaway so check out the post and enter the giveaway! ❤ ~Pixie~
Audio Assault
by
Jeff Adams
Theo Reese is just like any other seventeen-year-old—with one small exception.
This summer all he wants is to spend time with his boyfriend, Eddie, and work on his MIT research project. His parents have other plans.
An old friend needs the help of Theo's family. Oliver Glenwood is an '80s music star who runs his own label. His wife and his daughter, Sofia, now a chart topper herself, are the targets of kidnappers. Oliver hopes they can eliminate whoever is behind the threat.
When Theo uncovers an even more insidious plot, the covert agency the Reeses work for, Tactical Operational Support, swoops into action.
Song files have been modified to steal personal data from devices and emit a tone that drives listeners into a homicidal rage. Theo and his parents race against the clock to stop this mysterious enemy from releasing the music on an unsuspecting populace and causing worldwide chaos.
Just when Theo thinks the mission couldn't be more complicated, Eddie shows up in New York looking to hang out with his boyfriend.
No one ever said being a teenage secret agent would be easy.

Jeff Adams!
I'm excited to kick off the Audio Assault blog tour here at MM Good Book Reviews. Many thanks to Pixie for hosting me.
Audio Assault, the third book in the Codename: Winger young adult cyber thriller series, comes out on November 27. While this is my second series to write, it's the first that I planned from beginning to end. I didn't know what it'd be like to have a blueprint of the series when I first started. I created it because it was needed to pitch the series to Harmony Ink since they'd want to know what was coming.
It's been strangely freeing to know what Theo Reese's journey would be in advance of even writing the first word. Yes, I could've gone with the basic premise that Theo is a high school hockey player, computer genius and secret agent who is often tasked to save the world. But to know exactly what saving the world looks like in each of the books and across the entire series allowed me to plant plot points and characters early on and then use them at key points later.
The writing on the series ended a couple months ago with the fourth book and I'm surprised at how close I stayed to the plans I'd laid out some three years ago.
Audio Assault is a pivotal book in the series. After a couple of missions in the field–one he signed up for (Tracker Hacker) and one that fell in his lap (Schooled)–he's hoping for a chill summer after he returns home from TOS training. Of course, "chill" for Theo means he's planned to spend a lot of time with his boyfriend Eddie while working on some TOS and MIT projects.
In a unique turn for him, Theo is told by his parents that he's going with them to New York City because a family friend needs help. Since he's seventeen, fairly autonomous and been on his own in missions, being told he must change his plans is something he doesn't expect.
Theo's growth through the series, and especially his internal fight between being a teenager and an agent, are the most fun scenes to write. A close second to those when his mom and dad go through similar conflict of being both parents and colleagues. Theo fights his feelings often when he's under stress because he desperately wants to be the calm, cool agent his parents and other TOS personnel are but sometimes the kid in him either pokes out or takes over.
His inner battle rages a few times in Audio Assault. Not only does he have to deal with being forced on a trip, the things the mission forces him to do push the limits of his experience–both physically and emotionally.
What's next for Winger?
Besides Audio Assault coming out on the 27th, I'm releasing A Very Winger Christmas, a short holiday story which finds Theo taking on a mission he'd never imagined. This free short starts being available next week and I'll leave details on the comments about where you can find it. It can be read as a standalone, but if you're following the Codename: Winger series, this story takes place between Tracker Hacker and Schooled.
Speaking of Tracker Hacker, the first book, is coming out on audio within the next couple of weeks (all depending on when Audible makes it available). I'm so happy Theo's adventures are coming to audio and I honestly can't wait to hear it.
And, as I mentioned briefly above, Netminder, the fourth and final book in the series, is set to release May 29, 2019. The first three books have all lead up to this one and Theo faces his biggest challenge yet.
Excerpt!
This excerpt from Chapter Three shows some of Theo's teenager vs. secret agent conflicts. This particular scene plays out over a family dinner.
Once everyone had served themselves and I'd sampled some of the very delicious food, I decided it was time to find out whatever it was. "So are we moving? Is someone visiting we don't want to see? I'm guessing if someone had died, you would've told me by now. So just rip off the Band-Aid and tell me."
They looked at each other, and Dad sighed. "I knew we were making too much out of this."
I chuckled. "If this is how you keep secrets in the field, you might want to go back for some remedial training. Just tell me. I can't imagine—"
"We need you to come to New York with us for a few days. Maybe a week." Dad interrupted, and my mouth dropped open in surprise. "We'll keep it as short as possible."
"What?" I was louder than I meant to, but it summed up how I felt. New York was not in my plans. "You know I have the weeks before school all planned out."
"We know." Mom spoke softly. "We wouldn't take you away if it wasn't important."
This wasn't an ask. Very unusual. There had to be a good reason. I couldn't remember the last time they'd forced me to do anything.
I sighed and ate a mouthful of burger. I didn't know what to do. Part of me wanted to act like a child—get up from the table and storm off to my room. That wasn't really who I was, though. They expected me to be the responsible teenager and TOS agent who would do what was necessary when asked. But this wasn't a mission, and they weren't my bosses. Yes, they were my parents. But it wasn't cool to just assume that my plans could be rearranged.
"I know this isn't exactly fair, Theo, and I can see you don't like it. Here's the situation." Dad rubbed his hand across his forehead and looked at Mom before he continued. "I was contacted today by a good friend from college. We haven't seen each other in about a decade, but we stay in touch. Over the years, he's become quite the music mogul. You might have heard of Glenwood Music. Oliver Glenwood is the CEO, and his daughter is one of the label's biggest stars. Yesterday in Central Park, Oliver and Sofia were nearly abducted at a photo shoot. Their own security just barely prevented it."
So far this seemed more like a job for the police. When I didn't speak up, he continued.
"Because of our covers, Oliver thinks I'm with Homeland and your mom is FBI. He's scared for his family, and because his own highly trained security force can't seem to ensure their safety, he's asked for help. Primarily he wants us to bolster his security. But we'll also see if we can find out who's behind this.
So it was a mission. Just not a TOS mission.
"How does this involve me? This isn't my specialty. Couldn't I just stay here and, you know, hang out with John?"
"We think it would be good," Mom said, taking over, "if you came along. The cover would be a family vacation to see an old friend. Plus it'd be easier for you to keep an eye on Sofia since you're the same age."
I'd never heard of Glenwood Music, and I didn't know a singer named Sofia. I should probably ask Eddie or Iris to tell me about her.
But I had TOS work, and I had a research project in progress for my MIT advisor. Not to mention I'd carved out a good bit of time to spend with Eddie.
"Plus, you've never been to New York." Mom tried to sound enthusiastic.
"Why not just tell me what's up?"
"You made such a big deal out of the summer plans you had and your junior year wasn't exactly normal. If we played the parental card and didn't leave you a choice, we thought it'd be easier to accept."
It sucked that they felt like they simply couldn't ask for my help. Maybe I wasn't a great son after all. We ate in silence for a while as I thought. After I'd finished off the burgers I spoke again.
"When do we leave?"

About Jeff!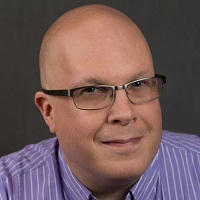 Jeff Adams has written stories since he was in middle school and became a gay romance writer in 2009 when his first short stories were published. Since then he's continued to create, often with a hockey player at the center of the story.
Jeff lives in northern California with his husband of more than twenty years, Will. Some of his favorite things include the musicals Rent and [title of show],the Detroit Red Wings and Pittsburgh Penguins hockey teams, and the reality TV competition So You Think You Can Dance. He also loves to read, but there isn't enough space to list out his favorite books.
Jeff is the co-host of the Big Gay Fiction Podcast, a weekly show devoted to gay romance as well as pop culture. New episodes come out every Monday at BigGayFictionPodcast.com.
You can learn more at jeffadamswrites.com or on Twitter and Facebook Jeff & Will's Big Gay Fiction Podcast: http://www.biggayfictionpodcast.com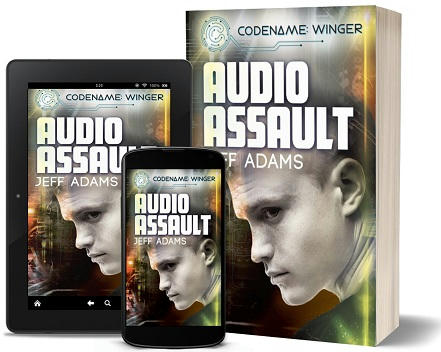 Giveaway!
Win! One (1) Grand Prize winner: Autographed Paperback of "Audio Assault"!
Win! Five (5) First Prizes: One (1) E-book copy of "Audio Assault" (one winner at each tour stop) !