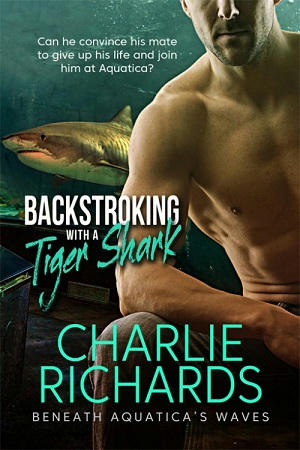 Title: Backstroking with A Tiger Shark
Series: Beneath Aquatica's Waves 01
Author: Charlie Richards
Genre: Paranormal
Length: Novella (104 Pages)
Publisher: eXtasy Books (July 14, 2017)
Heat Level: Low
Heart Rating: 💖💖💖💖💖 5 Hearts
Blurb: Tortelion, Tort to his friends, is a tiger shark shifter. He spends his workdays awing human audiences with a few aquatic parlor tricks. To him, it's a pretty good gig. Plus, the people who come to World of Aquatica learn about his kind…well, tiger sharks of the non-shifter variety, anyway. A day that starts the same as any other suddenly takes a turn for the better when a mishap sends two humans tumbling into his tank. Blood in the water tells Tort that one of them is his mate. Joining those taken to the doc's office as a witness, Tort learns his mate is Kane Cornshun, a busy human graphic designer only visiting the area to see his sister and her kids for a few days. Tort has very little time to woo his unsuspecting mate. Can he convince Kane to give up his life and join him at Aquatica?
ISBN: 978-1-4874-1419-1
Product Link: eXtasy Books | Amazon UK  | Amazon US
Reviewer: Lisa
Review: Wow a tiger shark! Tort just so happens to be one hell of a sexy tiger shark shifter who has found his mate. Now all he has to do is to figure out how to tell him. However he had intended to do it a bit more smoothly then how it happened, but your going to have to read that part.
Kane has come down to visit his sister and her kids. A trip to World of Aquatica sounded just right, especially as it was one of the kids birthday. He just hadn't expected to accidentally get pushed into the sharks tank. Things are going to get a bit more interesting real soon.
I get a kick out of Charlie's stories. She always manages to give us unique characters and situations. I love how the shifters are with their mates and how protective they are. This story caught my attention from the start and kept it all the way to the end. I loved the characters and their stories. This book gave me everything I could ask for in a story, I just wished they were a bit longer as I didn't want to stop reading it.
I had a blast reading it and can't wait to get started on next book. I can honestly say that this is one of those stories that will be read many times over.