Hi peeps, we have Elizabeth Noble popping in for a visit today with her new Circles release Bait, we have a brilliant guest post from Elizabeth, a great excerpt and a fantastic giveaway, so check out the post and leave a comment to enter the giveaway! <3 ~Pixie~
Bait
by
Elizabeth Noble
Tyler McCall has made mistakes. He was a teacher—before he fell for a student in his school. That misstep cost him his job and everything he'd worked for. He moved to the Black Hills of Wyoming to start his life over, and he's happy working at the Big Rock Inn near Devils Tower.
Linden Bourne, a no-nonsense FBI agent Tyler had met before, returns to Wyoming hot on the trail of a killer. The previously unexplored attraction between them grows—which is good considering they'll be spending a lot of time together when a blizzard strands them at the inn. Cut off from the outside world, with no power, they'll need to rely on their wits and each other to survive.
Especially when it becomes clear they're not alone—and the danger they face comes from more than the elements.
Circles series blurb:
Every life is a circle, and sometimes those circles connect and overlap in unexpected ways, even if the patterns they form aren't obvious at first glance.
Past and present, from the wilderness to small towns and cities, the greedy and evil seek to exploit the vulnerable. The brave men of law enforcement fight to protect the innocent and punish the guilty—but they're not alone. Men from all walks of life are called to stand beside them and solve these mysteries. Along the way, lives intertwine as couples are reminded that one thing makes the struggle worthwhile: love.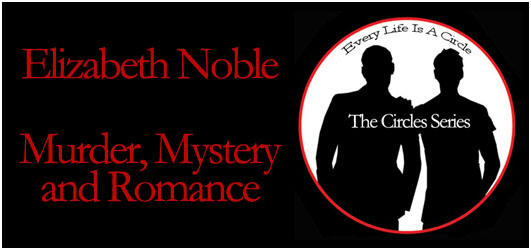 Elizabeth Noble!
My super awesome tools for writing a novel…or blog post
First, I'd like to offer a huge thank you to Pixie and MM Good Book Reviews for hosting me and for their continued support for not only me, but all authors.
I was going to write a post on naming a novel. Then I made a pot of coffee because it's a cold winter morning and more importantly I like coffee…and tea (hot and iced for both) and pancakes. I had pancakes, eggs and maple flavored sausage links with the coffee. It was awesome!
Got off track, sorry.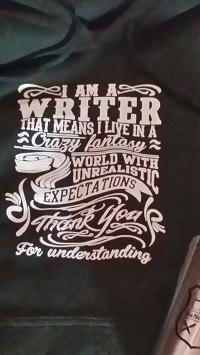 Which is a tool for creating a novel, along with coffee and tea and music. I bet you didn't know that, did you? Getting off track is a BIG tool in my novel writing kit. Sometimes in the process of writing one thing, it completely turns into something else. These inspirational moments produce some of the best directions taken in my novels.
Let's break those tools down. I'm a writer who can't work on a story until I have a name for it. Yeah, nuts, I know, but I don't think anyone ever accused writers of being overly logical when it comes to how they work. Usually a name comes to me with less than one mug or glass of my favorite caffeine delivery system once I know the plot.
The plot takes a little more time. I don't use outlines in the traditional sense, but I do work out the important plot points on paper—be it actual paper or digital paper—and it all ends up in a virtual notebook, another of my trusty tools.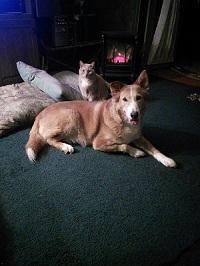 This brings me to some more tools in my arsenal. My dog, Rosie and cat, Murphy. They're the first beings to hear story ideas out loud. I'll admit Murphy sleeps through most my monologues, but Rosie watches with interest and wags her tail through everything!
Next comes the characters. For Bait the characters were easy since they appeared in the previous book, Gone Away. If I'm starting with new characters I decide about aspects of their lives and personalities, then while doing this usually names come to me. It's kind of like magic and a little creepy the way names and characteristics just sort of pop into my head.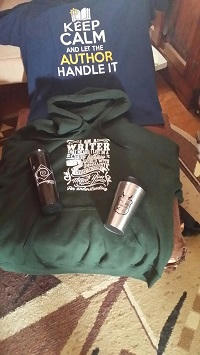 Then comes the writing part. Over the years, I've collected a number of writing props. Using them is fun, but not necessary. I don't wear my hoodie or t-shirt with nifty writer phrases on them every day and some are weather dependent, but these are delightful to collect.
Now, I'm off to make another pot of my very tasty coffee and drink it in my 'Write First' NaNo mug I bought a few years back. I have a new novel to finish off this weekend.
Coffee drinker? Want my new coffee recipe? You're wish and all….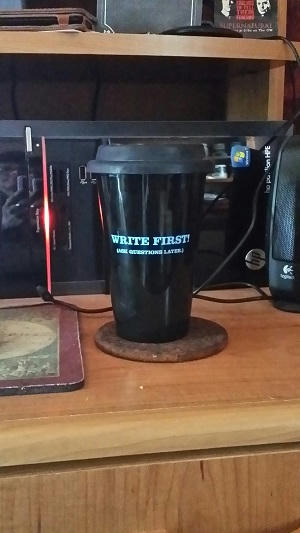 Elizabeth's novel and blog writing cup of java:
I ground my own beans and right now I have hazelnut flavored, but you can use your favorite coffee. I make this in a drip pot and French press.
Add to your grounds nutmeg, cinnamon and one cranberry cut into small pieces. Brew as normal and voila! Cranberry spiced coffee. Surprisingly it turned out really good. Go ahead, be adventurous and give it a try.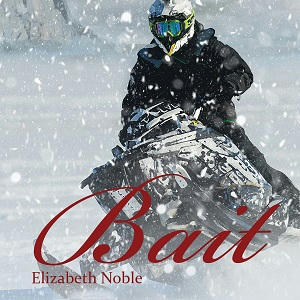 Excerpt
Reluctantly Linden pushed away from Tyler and murmured, "That's Randy's e-mail."
Tyler chuckled, and Linden felt his body vibrate beneath him. It was erotic, and Linden had to use every ounce of control not to rip both their clothes off and give whoever might be watching a real show.
"Saved by the bell," Tyler snickered. "You should check that, then we can pick up where we left off."
Linden flopped to the side and sat beside Tyler, pressed against him. He scooped up his phone and grumbled, "I'm going to get you for this, Randy."
That earned him deep, rich laughter from Tyler. "Me too. So, should you really be kissing your suspects?"
Linden swiped the phone's screen and accessed his e-mail. He looked sideways at Tyler and smiled slyly. "It's not standard procedure, and if you turn out to be guilty, I'll make you regret it." As he read the e-mail, he sat straighter and scooted away so there were a few inches of space between them.
"What does it say?" Tyler sat up and turned to face Linden. "Linden?"
"He found Dimas." All Linden could think was how much he hoped he didn't have to say the words.
Tyler's expression sobered immediately. He stared into Linden's eyes, and Linden bit down on his lower lip for a second.
"He's not alive, is he?" Tyler asked softly.
Linden shook his head. "I'm really sorry, Tyler."
Tyler stood up and paced away. "I need…. I…." His voice trailed off, and he stepped out of the pit and went to his apartment.

About Elizabeth
Elizabeth Noble lives by the adage "I can't not write". She can't remember a time when she didn't make up stories and eventually she learned how to write them down. A part of every day is spent living in worlds she created that are filled with intrigue and espionage.  Using a real love of scifi and urban fantasy highlighted by twisty plots she crafts stories taking place in a slightly altered version of our world.
When she's not chronicling the adventures of her many characters Elizabeth is a veterinary nurse living in her native Cleveland, Ohio. She shares her little brick house with an adorable canine princess and her tabby cat side-kick. Elizabeth is a fan of baseball, basketball (go Cavs and Indians!) and gardening. She can often be found working in her 'outside office' listening to classic rock and plotting her next novel waiting for it to be dark enough to gaze at the stars.
Elizabeth received several amateur writing awards. Since being published two of her novels have received honorable mentions in the Rainbow Awards. Her novel Jewel Cave was a runner up in the 2015 Rainbow awards in the Gay Mystery/Thriller category.
Where to find the author:
Facebook | Facebook Author Page | Twitter | Pinterest | Website | The Vampire Guard website | Circles Website | Newsletter Sign-up

Giveaway!
Win one ebook off Elizabeth Noble's back list (2016 releases and bundles excluded).
(Just leave a comment on this post)
(Ends 20th December 2016)