Hi guys! We have Sean Micahel popping in today with their upcoming release Bases Loaded, we have a brilliant guest post where Sean shares some words about baseball and we have a great excerpt, so check out the post and enjoy! <3 ~Pixie~
Bases Loaded
by
Sean Michael
Can they survive the off-season and keep from striking out?
Baseball player Brett must get rehabilitation for his shoulder if he wants another season in the Major League. He and his partner, Benj, take off to the boonies to stay with physical therapist Ralph, a tough-talking, routine-setting guy, and Jean, Ralph's Cajun lover, who cooks as well as he loves.
Brett and Ralph butt heads from the beginning. Ralph wants Brett to be more in touch with his feelings; Brett wants Ralph to give him his therapy and leave him alone. Benj and Jean get along far better, with Jean showing Benj around the kitchen and reassuring him when things with Brett get strained.
Before Ralph can even begin to work on Brett's shoulder, though, Brett faces an even more difficult physical challenge, one that does more than threaten his career. He and Benj have to work through some tough issues, making decisions that will affect the rest of their lives together. Their gradual friendship with Ralph and Jean helps them through the bad times, but even that might not be enough to pull them through.
Second Edition
First Edition published by Torquere Press, June 2009.
Sean Michael!
Thank you to MM Good Book Reviews for hosting me today.
Most of the sports I have written stories around, I am an avid follower of, during the Olympics – be it summer or winter Olympics, it is during those two and a half weeks in the summer and the winter every four years when I read up on the rules, when I watch avidly, when I am inspired to write stories about characters who participate at a high level in sports.
Baseball is the exception. When I was growing up, my best friend's father was a stockbroker and one of the perks was the firm had season's tickets in the third row behind the home side dugout. One day, he took his daughter and her best friend – me. I had seen a bit of baseball on TV, but never watched for very long, finding it boring. Well, let me tell you that three rows from the field behind the home team dugout is a long way from watching it on TV.
It was fun, it was exciting, and I was hooked! Most of the time I was in the bleachers – the dollar seats at the time. Still exciting! I still love singing Take Me Out To The Ballgame during a seventh inning stretch.
So, when I began to write Bases Loaded, I actually had the rules of the game down already, and it was very nostalgic for me to work with a sport that I'd followed avidly as a teenager.
I hope you enjoy reading Bases Loaded as much as I enjoyed writing it!
Sean Michael
smut fixes everything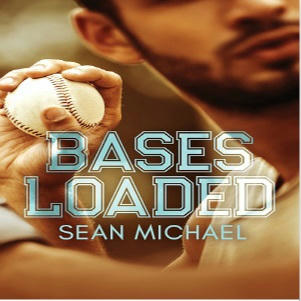 Excerpt!
BENJ WIPED down the kitchen counters one more time and then filled the watering can. He carefully checked each plant and added a bit more water to most of them.
It probably wasn't necessary—Jennifer was coming by once a week to give them some loving—but it kept him busy while they waited for the limousine. It also gave him an excuse to come into the den where Brett was flipping channels, swirling amber liquid in a glass. Benj stopped a moment to stand and watch.
His lover was a beautiful man.
They'd been young when they'd first met, Brett the up-and-coming ballplayer, a good-looking hotshot, all stud. Benj had fallen hard.
The years had been kind to Brett, the man in his prime now.
The shoulder injury that had halted Brett's meteoric rise to the top, however, had not been so kind.
Lines in Brett's face were becoming more pronounced, his trim mustache no longer neat, cared for. Two operations had left Brett almost skinny and his shoulder still not good enough to continue playing, hitting, doing what he did so well and loved so much.
Benj put down his watering can and went over to stand behind Brett's chair, slide his hands down to stroke over Brett's shoulders. He combed his fingers through blond hair long enough to curl around Brett's neck for the first time in all the years they'd known each other.
"The limo should be here for us soon, love."
"I'm surprised the club sent one. Usually the down-and-outers only rate a cab." God, that bitterness never went away these days. Never.
Benj squeezed Brett's shoulders, carefully working his fingertips over scars and tissue he knew were still sore, despite everyone's best efforts. "They want you back, love. You know that. Mr. Chives himself set up this retreat for you." He didn't need to mention it was their last hope.
"Yeah. The whole off-season in the fucking boonies. You going to be able to stand it?"
To get his Brett, his kind, generous, stud of a man back, he'd spend more than just the off-season in the boonies. Hell, he just wanted Brett to be happy again.
"I'll manage, love. Who knows, maybe I'll learn to love nature."
That got him a soft chuckle, almost a real laugh. Almost. "I'd like to see that."
Benj smiled and rubbed his cheek against the top of Brett's head. "Yeah? Maybe you should buy me one of those flute thingies and a pair of hooves, and I'll dance about like Pan."
Oh. Oh, that was a real laugh, deep and hard and long. Oh God. Yes. He didn't know whether to laugh or cry, and he let a chuckle out and then another, and it felt so good to laugh with Brett.
"Love," he murmured, kissing the top of Brett's head.
"Yeah. Yeah, Benj. I love you, huh? Still."
"I know, Brett." He did. It was the reason he was still here. Why he wouldn't give up on his lover, even when Brett told him he should.
"I've done some research into this place we're going to," he said softly. "I really think they can help us."
The tension started creeping back into Brett's shoulders. "It's my last chance. If I can't play, it's over."
Benj massaged, working at the tension, trying to fight it. "Your ball career is over if you can't play, love. Not your life. Besides, if the club didn't believe the retreat could help you, they wouldn't have asked you to go."
"I hope you're right, baby." Brett finished his drink, poured the last couple of fingers left in the bottle. "I hope you're right."
Benj tilted Brett's head back and took a soft kiss, ignoring the burn of the alcohol as his tongue dipped in for a taste of his lover. "I am." The alternative sucked too badly for him not to be.
Brett touched him but kissed him back with little heat, a lack of passion that broke his heart. These days, all Brett did was rage or despair.
The buzzer sounded while they were kissing, and Benj slid his tongue across Brett's lips one last time. "Come on, love. Help me take our bags down."
"You sure you want to do this? You sure you want to spend the winter away from everything? Away from family?"
"I'm sure I want to spend the winter finding you again—finding us."
The buzzer sounded again, longer this time.
"Come on, before they think we've changed our minds."
"Okay. Go get the door. I'll grab the bags and shit." Brett stood, finished his drink. "Let's get this circus on the road."
"'Kay, love." Benj smiled and nodded, loving the flashes of the old Brett he'd get now and then, those flashes keeping his hope alive.
He went to the door and pressed on the intercom button. "We'll be down in a minute."
"I can help with your bags if you have any, sir."
"Oh, no thanks. We've got them."
Brett came rolling the cart with the duffels and the odds and ends. "You got everything you need?"
Benj fluttered a moment, mind flying through the packing job he'd done. Twice. His heart pounded. "I think so?" He resisted the urge to open the bags and double-check. God, he hated the lead-up to going somewhere. He'd managed to avoid a lot of the last-minute stress by focusing on Brett.
"Hey. Baby." Those bright green eyes met his, suddenly sure, warm, strong. "Whatever we forget, I'll get you."
Oh. Oh, there was his man. He melted against Brett, holding his gaze. "Okay, love."
"Downstairs. Let's go." Brett looked around, shaking his head a little. "Let's get out of here."
Benj nodded and locked the door behind him, hand sliding into Brett's as they headed for the elevator.
God, he hoped this worked.

About Sean!
Best-selling author Sean Michael is a maple leaf–loving Canadian who spends hours hiding out in used book stores. With far more ideas than time, Sean keeps several documents open at all times. From romance to fantasy, paranormal and sci-fi, Sean is limited only by the need for sleep—and the periodic Beaver Tail.
Sean fantasizes about one day retiring on a secluded island populated entirely by horseshoe crabs after inventing a brain-to-computer dictation system. Until then, Sean will continue to write the old-fashioned way.
Where to find the author:
Website | Facebook | Facebook Author Page | Twitter | Blog | Instagram