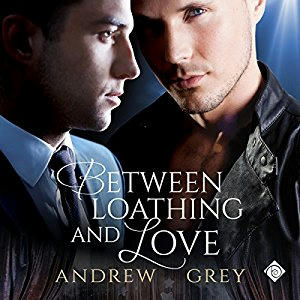 Title: Between Loathing and Love
Author: Andrew Grey
Narrator: Tristan James
Genre: Contemporary, Arts
Length: 5 hrs, 58 mins
Publisher: Dreamspinner Press LLC (19 Sept 2016)
Heat Level: Moderate
Heart Rating: ♥♥♥♥ 4 Hearts
Blurb: Theatrical agent Payton Gowan meets with former classmate – and prospective client – Beckett Huntington, with every intention of brushing him off. Beckett not only made high school a living hell for Payton, but he was also responsible for dashing Payton's dreams of becoming a Broadway star.
Aspiring actor Beckett Huntington arrives in New York City on a wing and a prayer, struggling to land his first gig. He knows scoring Payton Gowan as an agent would be a great way to get his foot in the door, but with their history, getting the chance is going to be a tough sell.
Against Payton's better judgment, he agrees to give Beckett a chance, only to discover – to his amazement – that Beckett actually does have talent.
Payton signs Beckett but can't trust him – until Payton's best friend, Val, is attacked. When Beckett is there for him, Payton begins to see another side to his former bully. Amidst attempts by a jealous agent to sabotage Beckett's career and tear apart their blossoming love, Payton and Beckett must learn to let go of the past if they have any chance at playing out a future together.
Product Link: Audible US | Audible UK
Reviewer: Prime
Review: I love enemies in high school to lovers as adults' type of book – I love that sometimes there was a reason for being "enemies" or like in the case of Between Loathing and Love, the two MCs were enemies through a misunderstanding and teenaged lack of communication. For me Andrew Grey is an automatic read/audio. I know that automatically I will have something that I will enjoy, though rating will be between 3 and 5.
Between Loathing and Love features Payton Gowan, a theatrical agent in New York after he quickly realized as a younger man that he was not good enough to make it as an actor. One day while at the gym with his best friend, Payton bumps into the man that made high school hell for him, Beckett Huntington. Then, because this is a book and this is what usually happens, Payton meets Beckett again, this time as a potential client at the agency where he works.
The story itself is simple. The guys need to get over their past. Payton needs to be able to juggle his career, his job at the agency, with the new budding relationship he has with Beckett. Throw in an awesome best friend, a voice of reason from another experienced agent and another agent who is jealous of Payton's success and you have a recipe for an enjoyable book.
I have to also give a special shout out to the narration by Tristan James. Tristan James is a new narrator to me (I'm pretty sure he is anyway), but it was wonderful to hear his voice. He nailed Payton and Beckett, as well as doing a great job on the minor characters, especially Val. He deals really well with the emotion from Val after he is attacked and Payton steps in, along with Beckett.