Hi peeps, we have Daniel Mitton popping in today with his new release Beyond the Tunnel, we have a great excerpt and a brilliant giveaway, so check out the post and enter that giveaway! <3 ~Pixie~
Beyond The Tunnel
by
Daniel Mitton
What would you do if you rode into a mountain tunnel in North Carolina and then rode out into a different world? Adam Stephens is about to find out…
Adam Stephens is a man with a mission. It has been three years since they chopped that malignant brain tumor out of his head, and he is off on a solo motorcycle camping trip through the Appalachian Mountains.
When he rides into the Pine Mountain Tunnel in North Carolina and rides out into another realm—a realm that comes complete with a big sexy grizzly bear shifter, mages, and an evil sorcerer—he isn't sure he isn't lying in the tunnel after crashing his bike. Can such a world exist? Or is he dreaming? If he is dreaming…it sure is realistic.
Along the way, there will be some major hurdles to surpass including no indoor plumbing…and no coffee. A man needs some basic luxuries, correct?
Excerpt!
"Fine, if it'll get you off my damned back, I'll take the cell phone. And you already know I'm taking my Kindle so I can read in those serene mountain campgrounds that I picked out along the way." Adam roared, as he stomped down the hallway to get the phone from his bedroom.
"Oh, you mean those campgrounds in the bear infested forests, which you picked out without even seeing them?" George yelled down the hallway sarcastically. He had made it clear to Adam—repeatedly—that camping in a tent in the mountains, alone, was the dumbest idea he had ever heard of. "Oh, and don't forget, you're riding right by where they filmed Deliverance. Someone might just tell you that you have a pretty mouth."
"I could get so lucky," Adam said quietly as he walked back into the kitchen. "And as to the campgrounds, I've already got my sites picked out and pre-paid, so it will be an easy trip. Relax, I've already got my bike packed. I've double checked everything, and if there's anything I forgot, it isn't like there isn't a Walmart store every twenty miles along the way. I can stop and buy extra supplies. I'm not going to be riding through the wilderness.
"For your part, Georgie…don't forget to come over and feed my cat. Otherwise, poor Cooper will be dead before I get back. And this time don't forget the cat box! When I went away for those few days last year, you didn't scoop and it was practically liquefied when I got back. That was disgusting dude, disgusting."
Twenty minutes later—George having been mollified—Adam climbed on his motorcycle to begin his epic journey from South Florida to the Quebec line in New Hampshire. He had his tent, his sleeping bag, and enough food for a few days. Now if didn't rain, the trip would be fantastic.
Not quite three days into his trip, and Adam was riding through the mountains of North Carolina already, which was quite a feat on a motorcycle—if he did say so himself, especially on these back roads. In a car, he might have done the trip in one day, but on his bike, it was far more strenuous on his body. Better to ride safely than quickly, and besides the views were fantastic. The Blue Ridge Parkway was proving to be as beautiful as he'd heard, and at least, so far, he hadn't seen any bears.
Camping the first night in Florida had almost been a washout, after riding through thunderstorms nearly the entire length of the state and having to set his tent up in the middle of a downpour. Then last night in that creepy deserted campground in Northern Georgia, with all its bear warning signs, was so cold. How it was possible to be in the thirties when it had been ninety when he left his house in Cape Coral was beyond his comprehension. He could only wonder what the coming night's campsite would bring. He hoped they would at least have hot showers at this one. His shower that morning in Georgia, with only ice-cold water and a thirty-eight-fucking-degree breeze blowing in through a louvered stall wall, had almost killed him. His balls had retracted so far that he didn't think they'd crawled back out of his body since. At least it had warmed up fast and was now somewhere pleasantly in the seventies with bright sunshine.
Sighting an exit sign ahead, Adam pulled off the Parkway and stopped at the combination rest area and information center. He needed to pee, and it would probably be smart to grab a physical Blue Ridge Parkway map. His map app on his smartphone kept trying to direct him off the Parkway to a much faster Interstate Highway option.
After using the rest room, Adam walked into the information center, picked up one of the free maps from the display by the door, and approached the cute bearded guy behind the counter. "Does this map show all the tunnels and campgrounds? I'm heading for Linville Falls tonight, and I'd like to keep track of where I am during the day."
"It does, but man, I'm glad it's you, not me. That's a long way to go on this type of road in one day on a motorcycle. Good luck with that."
Adam smiled and thanked him. Walking back outside, he took one last look around, decided he probably didn't need to walk up the trail to the scenic overlook, and instead walked back to his bike. He put his helmet back on, climbed on the bike and headed back to the highway.
He had no idea that he wouldn't be making the campground that day.
God, I love these. Adam's spirit was flying as he roared into yet another of the stone tunnels along the route. This one, the Pine Mountain Tunnel, was supposedly the longest on the Parkway and it was even better than the previous ones. As he rode into the pitch-black darkness, his light glinted off the reflective lane markers along the center line. Just imagine how much stone is over my head right now…I wish this would go on for miles.
Adam pushed his acceleration up and zoomed through the darkness toward the light that he could now see at the other end. Within seconds he flew out…into a torrential rainstorm. What the fuck, it was just sunny!
Adam's bike slammed into a huge mud puddle, splashing water up and all over him, effectively drenching him before the heavy rain even had time to get him wet. He slammed on his brakes and tried to come to a rapid stop. Instead, his large, heavy motorcycle slid sideways in the loose mud and the next thing he knew he was going down. His bike hit the ground on its right side and then stalled, leaving Adam lying on the ground with it. He groaned. Damn, that's going to hurt later.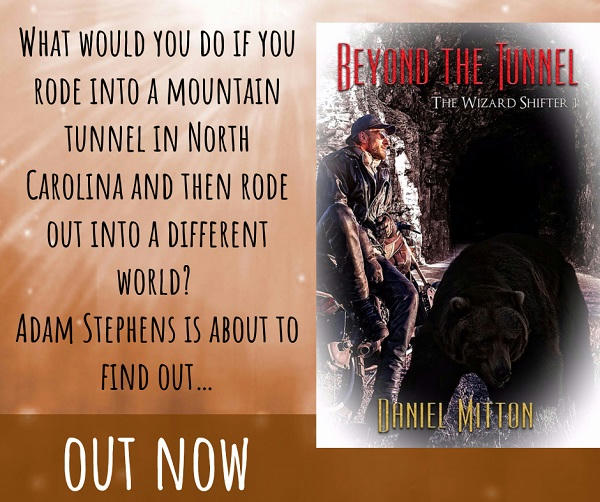 About Daniel!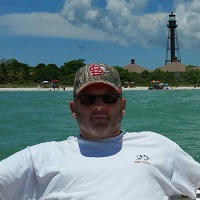 Daniel Mitton is not a statistic. When the doctors broke the news to him that he would be dead by the end of 2013 from brain cancer, he scoffed at them. He has proven them incorrect, and continues to prove them more incorrect every day.
He is now pursuing his lifelong dream of telling other people his stories in writing. His overactive imagination used to get him in trouble. It will be interesting to see what happens this time.
My Name Was Karl is his first self-published work, but he already has two other books in a queue somewhere at a publisher.
Daniel was born and raised in northern New Hampshire, but now lives in sunny Southwest Florida with his husband of nearly twenty-eight years. He totally doesn't get why some people complain it is too hot in Florida!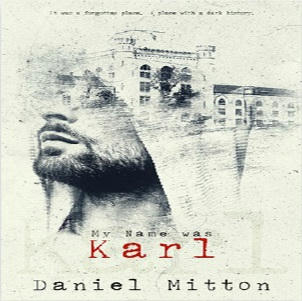 Giveaway!
Win an Ebook of My Name Was Karl!