Hi peeps, we have Annabelle Jacobs stopping by with the tour to her new release Bitten by The Alpha, we have a great excerpt, a fantastic giveaway for a $10 Amazon CG or a backlist title of Annabelle's , so check out the post and click that giveaway link! ❤ ~Pixie~
Bitten by The Alpha
by
Annabelle Jacobs
Gareth's heart is set on Cam, but Cam's heart broke a long time ago.
As alpha of the Regent's Park Pack, Cam's focus is always centred on its members—his personal life pushed aside after the death of his wife. Now that his pack has merged with the Primrose Hill shifters, he can't afford any distractions.
Gareth's been in love with his alpha for years, but his position as beta complicates matters. Added to the fact Cam still mourns his late wife, Gareth knows his feelings will never be reciprocated, so he buries them deep.
With the two packs already struggling to unite under one alpha, they get a surprise addition—one who causes more tension within the ranks. Under such strain, long-kept secrets are forced into the open. Gareth and Cam must deal with the aftermath, while also keeping the pack's best interests at heart.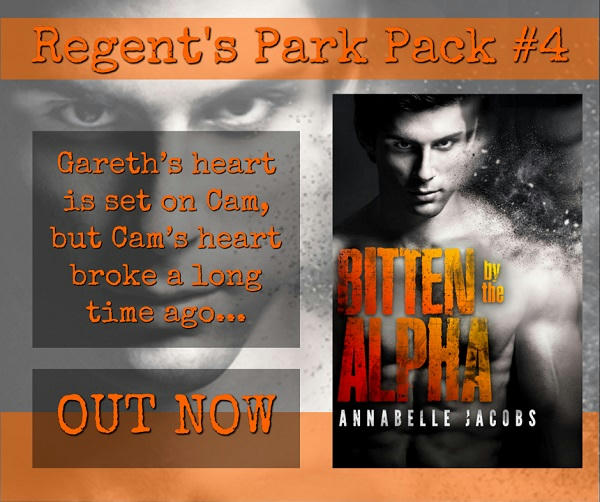 Excerpt!
Cam stood at his window overlooking the street below. To the left lay the start of Regent's Park, and he yearned to be down there. To shift and run, feel the damp grass under his paws. He could put it down to recent events; the past few weeks had been trying, but that wasn't the only reason. The October sun warmed his face through the glass and Cam smiled, the feeling bittersweet.
He'd met his wife in early October, fifteen years ago, and Cam remembered it with a clarity that he both treasured and hated.
Autumn was her favourite time of year, all those colours captivating her as the leaves changed from a lush green to a mix of orange, yellow, and brown. Even though he missed her every single day, the sight of the trees turning always made him smile. Now it was Cam's favourite time of year too.
His phone rang, startling him, and the number on the screen made his heart stop for a beat. The alpha council were the last people he wanted to hear from. "Cameron Harley," he answered, brows drawn together. What could they possibly want?
A dozen scenarios filled his head—none of them good—but Cam pushed them aside. Speculating wouldn't help.
"Good morning, Alpha Harley." Alpha Karin Wallace's smooth commanding voice had him standing a little straighter. "I imagine you're curious as to why I'm calling?" Relaxing a little, Cam smiled, wryly. "That's one word for it."
Laughter sounded in his ear. "I'll get straight to the point then. Alpha Tregarrak of the Penwith Pack has a request which I am duty bound to relay to you."
The Penwith pack territory was down near Penzance, Cornwall, where the council had sent Felix Martyn. Cam bristled, not liking where this was headed. "Oh?"
"Since the Penwith pack took in a member of your pack, Alpha Tregarrak is requesting that you return the favour."
"Felix wasn't a member of my pack. He was a rogue shifter who we took prisoner." Alpha Wallace sighed, and Cam got the feeling she'd expected him to say that but was still disappointed in him.
"I'm aware he wasn't strictly a member of your pack, but you did take him in and asked for leniency on his behalf, so in this instance, I'm inclined to say Alpha Tregarrak has a point."
Fuck.
Cam had known deep down that particular decision would come back to haunt him. Probably some troublemaker that Tregarrak wanted shot of, and that was all Cam needed at the moment. He had plenty of his own to deal with. The transition from two packs to one wasn't all smooth sailing—not that he'd expected it to be easy—and he had enough to sort out without adding to it. "He wants me to take a member of his pack in return for Felix?"
"Yes." She paused, and Cam waited, knowing she wasn't done. "This would be a courtesy between alphas; I can't order you to do it."
Cam rolled his eyes. Not directly maybe, but he doubted a refusal would go down well.
Fine. If they were a troublemaker he'd stick them in Alec's unit. They'd soon behave. "Of course. Please tell Alpha Tregarrak I'd be only too happy to return the favour."
Alpha Wallace laughed again, like she knew exactly what he was thinking. "I thought you'd say that. A good decision, Alpha Harley."
"Can I ask who he wants us to take?" Might as well get a name.
"His daughter, Rachel."
Bitten series!
Book #1 – Bitten By Mistake 
Book #2 – Bitten By Design
Book #3 – Bitten By Desire 

About Annabelle!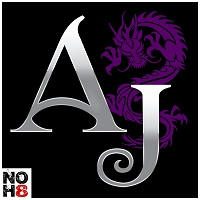 Annabelle Jacobs lives in the South West of England with three rowdy children, and two cats.
An avid reader of fantasy herself for many years, Annabelle now spends her days writing her own stories. They're usually either fantasy or paranormal fiction, because she loves building worlds filled with magical creatures, and creating stories full of action and adventure. Her characters may have a tough time of it—fighting enemies and adversity—but they always find love in the end.
Where to find the author:
Twitter | Website  | Facebook | Facebook Author page | Email – ajacobsfiction@gmail.com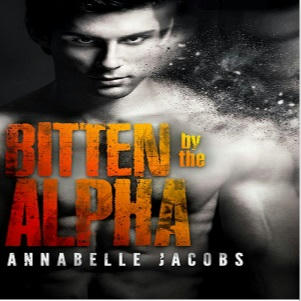 Giveaway!
Win a $10 Amazon Giftcard!
Win a Backlist Ebook from Annabelle Jacobs!