Hi guys! We have Ari & McKay popping in today with the tour for their new re-release Blood Bathory: Absence of the Sun, we have a brilliant guest post from Ari where she shares an exclusive excerpt, and a fantastic giveaway where you could win a copy of Blood Bathory: Like The Night, so check out the post and enter the giveaway! ❤ ~Pixie~
Blood Bathory: Absence of the Sun
(The Guardians of Gaia 02)
by
Ari McKay
Tyger tyger, burning bright…
As theriomorphs in the service of Gaia, Tyr Gustavson and his lover Aaron fought against the vampires aiding the Third Reich during WWII. But even the fierceness of Tyr's tiger form couldn't save Aaron from being torn apart when a mission went horribly wrong. Lost in his pain, Tyr remained feral until he was unwillingly recalled to Gaia's service seventy years later.
In the forests of the night…
When fighter pilot Adam Carson's plane was shot down, he thought the worst that could happen was being sent to a Nazi prison camp. Little did he know there were other monsters in the shadows, and one of them wanted to claim him. But refusing Elizabeth Bathory had a price. Adam was turned against his will and trapped in a coffin as punishment for his resistance.
What immortal hand or eye…
While hunting ghouls, Tyr and his colleagues discover Adam's prison. Believing he could be an asset, Marielle Du Lac frees him. Adam joins the team and is drawn to Tyr, despite Tyr's hatred of vampires. When Tyr rejects Adam out of fear, Adam accepts a suicidal mission to find Thrace, the original nosferatu. If their desperate plan works, the theriomorphs could destroy not only Elizabeth, but the sire of all vampires as well. But if it fails, they could unleash a force leading to the destruction of them all… and perhaps of Gaia herself.
Ari McKay & Exclusive Excerpt!
Hello, everyone! Ari of Ari McKay here again! Thanks to the lovely people at MM Good Book Reviews for giving us a chance to talk to you about our latest release, Blood Bathory: Absence of the Sun. Even though this is the second book in the Guardians of Gaia series, don't worry – you won't be lost! There are new dangers, a new location, and a new pair of characters who have to overcome obstacles to find their way to one another.
Rather than talk more about the story, I'd like to give you an excerpt, which will hopefully whet your appetite! Thanks for reading!
***
Now that they were alone together and the moment had arrived, Tyr had no idea how he wanted to proceed, and he snorted quietly at the realization that they were both practically virginal when it came to this particular activity. Not that this had anything to do with sex. It was for practical purposes only.
"We should be comfortable, I suppose," he said at last. "It depends on where you want to bite me, too."
Adam looked around and gestured to a sofa in front of a massive stone fireplace. "Does that work?"
Tyr nodded, relieved Adam had chosen somewhere more safe and neutral than the bed itself, and he went to take a seat. He was still wearing his club outfit, and he reached up to unfasten the leather collar and get it out of the way in case Adam preferred his neck.
After a moment's hesitation, Adam sat down next to him and drew in a deep breath. "I guess I should bite your neck again, so I don't scar you up all over. Evan already had things to say to me."
Tyr raised one eyebrow, surprised by that information. "Oh, he did? What kind of things?"
"Mostly he just wanted to know if I was all right." Adam gave a lopsided smile. "I think he was worried something had gone horribly wrong, but I told him what happened."
"He probably thought I would stake you in retaliation," Tyr replied sourly. Not that he could blame either Evan or Will for being suspicious of him, but he'd hoped some of that was beginning to fade by now.
"If I'd done it without your consent, I would have deserved it." Adam brushed his fingers over the bite mark. "I don't like that it hurts you. Are you still okay with this?"
Tyr suppressed a shiver at the caress of Adam's fingers across his sensitive skin and found himself tilting his head slightly. "I'm fine," he said huskily. "It doesn't hurt for long."
"All right." Adam turned to face Tyr and rested his hands on Tyr's shoulders, gazing at him somberly. "Ready?"
Tyr met his gaze and held it steadily. "I'm ready."
Adam slowly urged Tyr forward as he bent his head and leaned down. Tyr caught a flash of fangs before Adam moved closer, then he felt the sharp prick as they pierced his skin. The pain faded quickly, and Tyr tilted his chin, offering better access as Adam began to drink.
The suction was gentle, and he could feel Adam's breath against his skin. Adam's arms slid around his shoulders, pulling Tyr in closer, and a sound almost like a moan rose in Adam's throat. Heat detonated in Tyr's belly, but he refused to acknowledge it. If Adam had moaned, it had to be because of his ribs, nothing more. But somehow, even knowing that this was purely an act of necessity didn't keep Tyr from closing his eyes and sliding his fingers into Adam's hair, cradling the back of Adam's head as he fed.
He felt Adam shiver, and warm breath brushed against Tyr's throat as Adam held still for several moments, before he slowly lifted his head.
"Thank you." Adam's voice was a husky murmur. "That's enough."
Somehow, Tyr managed to keep himself from blurting out, "Are you sure?" drawing back instead. That he didn't find the act repugnant didn't mean anything except that he'd accepted Adam's nature completely and held nothing against him despite his unfortunate origin.
"I hope it helps."
Adam nodded his head and smiled at Tyr almost dreamily. "Oh, yeah. 'S good. Feel much better."
Antonio had mentioned that shapeshifter blood had an intoxicating effect on vampires, but Tyr had thought perhaps he was exaggerating. From the look on Adam's face and the slurring of his words, Tyr realized that Antonio had been speaking quite literally. In a way, it was amusing, especially since Adam tended to be rather intense under normal circumstances. Or perhaps it seemed that way to Tyr because Adam was the only one who poked and prodded and forced him to face difficult emotional tangles that he didn't want to face.
"So I see," he said dryly. "I suppose it's bedtime for you, then. Your ribs should be healed by the time you wake up tonight."
"Mmm… yeah. Bed." Adam got to his feet and swayed slightly. "Oh. Whoa. Feels like I had a bit too much."
Tyr stood up quickly and slid his arm around Adam's waist to steady him. "At least it won't give you a hangover."
"How great is that?" Adam put his arm around Tyr's shoulders and pulled him close in a hug. "Perfect, actually. You're perfect, my red-haired tiger."
Startled, Tyr stumbled against Adam and had to hold on tighter to keep them both upright. The compliment surprised him as well, especially since his behavior since he'd returned to human form had been far from perfect.
"I'm not perfect," he said gruffly as he steered Adam toward the bed. "Not even close."
"Perfect to me," Adam insisted, as they wobbled their way forward. "No one else counts."
"Oh?" Tyr raised one eyebrow at Adam, wondering if he was reading too much possessiveness into the words. "How did you get to be so much more important than the rest of the team?"
Adam snorted. "Because they don't know you. I know you. You're a good man, Tyr. Tyr the tiger. I like it when you growl."
The Guardians of Gaia series!
Blood Bathory: Like The Night
About Ari!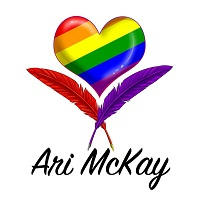 Ari McKay is the professional pseudonym for Arionrhod and McKay, who have been writing together for over a decade. Their collaborations encompass a wide variety of romance genres, including contemporary, fantasy, science fiction, gothic, and action/adventure. Their work includes the Blood Bathory series of paranormal novels, the Herc's Mercs series, as well as two historical Westerns: Heart of Stone and Finding Forgiveness. When not writing, they can often be found scheming over costume designs or binge watching TV shows together.
Arionrhod is a systems engineer by day who is eagerly looking forward to (hopefully) becoming a full time writer in the not-too-distant future. Now that she is an empty-nester, she has turned her attentions to finding the perfect piece of land to build a fortress in preparation for the zombie apocalypse, and baking (and eating) far too many cakes.
McKay is an English teacher who has been writing for one reason or another most of her life. She also enjoys knitting, reading, cooking, and playing video games. She has been known to knit in public. Given she has the survival skills of a gnat, she's relying on Arionrhod to help her survive the zombie apocalypse.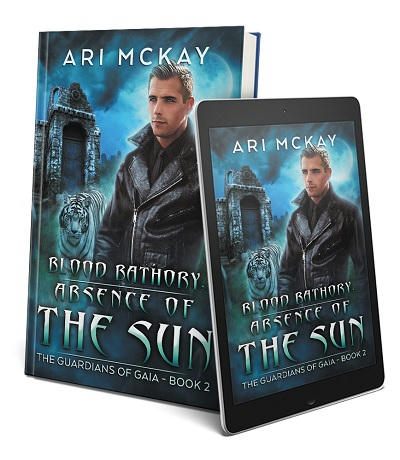 Giveaway!
Win an Ebook of Blood Bathory: Like The Night!

Check out the other blogs on the tour!