Hi guys! We have Ari & McKay popping in today with the tour for their new re-release Blood Bathory: Be Not Proud, we have a short intro from Ari & McKay with an exclusive excerpt, and a fantastic giveaway where you could win a copy of Blood Bathory: Like The Night, so check out the post and enter the giveaway! ❤ ~Pixie~
Be Not Proud
by
Ari McKay
Death, be not proud…
The conclusion of the war between Elizabeth Bathory and the Guardians of Gaia draws closer, but the theriomorphs and their allies are caught between vampires loyal to Elizabeth Bathory's daughter, Anna, and humans controlled by Elizabeth and her sire, Thrace. With the forces of evil now pressing on them from two sides, the theriomorphs need help, and they need it fast!
And soonest our best men with thee do go…
It has been five hundred years since Antonio de Barajas, one of the oldest surviving theriomorphs, lost his mate at the hands of his worst enemy. But Gaia never revealed the whole truth about Raphael's fate, and Antonio is shocked when Raphael arrives to train Evan St. John and Adam Carson as true Dark Guardians. Yet the man who returns after so long is not the same man Antonio once loved. The hard and lonely life as Gaia's hunter has changed Raphael almost as much as his lost memories of Antonio and the love they once shared.
Thou art slave to fate, chance, kings, and desperate men…
Antonio must work with the stranger who wears his lover's face, and while Raphael is welcomed by most of the team, one member sees his return as a threat to his own place in Antonio's life. But Thrace has allied himself with terrorists who possess a weapon of mass destruction. Now the theriomorphs and Dark Guardians must work together in a race against time to discover Thrace's plan. Even as Antonio and Raphael are irresistibly drawn to one another, Antonio risks losing far more than his heart this time. If he and his team fail in their mission, millions will die, for Thrace will stop at nothing to destroy Gaia once and for all.
Exclusive Excerpt!
Hello, everyone! I'm the McKay half of Ari McKay, and I'm pleased to have the opportunity to share some behind the scenes details about our new release, Blood Bathory: Be Not Proud.
Be Not Proud is the third and final book in the Blood Bathory trilogy. It's a second edition, but the original edition wasn't available long, so we hope our readers who missed it the first time will be pleased that it's available again!
I'd like to share an exclusive excerpt from the book. Enjoy!
~~~
Mist rolled from around the charred oak, thick and close to the ground. It moved slowly against the light wind, coalescing in a dense mass at Antonio's hooves. Antonio let out a snort of surprise, but he held still, his heart pounding in his massive chest. He'd seen this before, but not in centuries, and he knew this was why Gaia had summoned him here: to meet a Dark Guardian. He was excited and intrigued by the development since it validated his feeling that the time of the Guardians was returning. Perhaps Gaia had created a new Guardian and sent them to train Evan and Adam since Antonio wasn't having much success by himself.
Slowly, the swirl of mist elongated and took a human shape, growing more and more solid until Antonio saw the Dark Guardian clearly at last. Not a new one, but an all too familiar old one.
Raphael.
Antonio thought his eyes must be deceiving him or that in his yearning for the past, he was projecting the image of his long-lost lover onto the form before him. Raphael looked much the same, his auburn hair tied back in a loose topknot and his pale eyes keen and sharp as he studied Antonio, but there was a hardness about him that Antonio didn't remember. He wore what appeared to be a black, unadorned cassock, but it had been modified to allow greater mobility, and he wore Kevlar pants underneath.
"I pray you pardon me," he said, bowing slightly. "'Twas not my intention to startle you with an unfamiliar form."
Even Raphael's voice was the same, deep and melodious. How many times had Antonio shivered with delight simply hearing his name on Raphael's lips? He was barely aware of shifting back into his human form. Unable to tear his gaze away from the beloved features of the man whom he'd loved and lost, Antonio stepped slowly closer and raised a trembling hand. He needed to touch Raphael to assure himself that this was no dream, to make certain his mind hadn't conjured up the man he'd been longing for.
"Raphael…" Antonio breathed the name like a prayer, which it was, in a way—a prayer that the man before him was truly there. Then his fingers brushed the skin of Raphael's cheek, cool to the touch but solid and real, and his throat grew tight with emotion. He could find no words, so he stepped closer to Raphael, sliding his hand around to the back of Raphael's neck, his eyes drifting closed as he leaned in and claimed Raphael's lips with his own.
Raphael went still for such a long moment that Antonio began to wonder what was wrong, but at long last, Raphael wound his arms around Antonio's waist and parted his lips, a soft, hungry growl escaping him. The sound sent a shiver of need down Antonio's spine. He answered with a moan and eagerly deepened the kiss. Raphael's taste, Raphael's scent… It was all so right, the past five hundred years falling away. Antonio pressed against his beloved, twining his tongue with Raphael's, losing himself in the haven of Raphael's arms.
Lifting one hand to bury his fingers in Antonio's hair, Raphael took control of the kiss, claiming and exploring Antonio's mouth as if it was unfamiliar territory. Desire rose swiftly, as it had the first time they'd ever kissed. Antonio's knees went weak, and he clung to Raphael to keep himself upright, feeling true happiness for the first time in centuries.
He wasn't certain who pulled back first, but Antonio smiled as the kiss ended, opening his eyes and gazing at Raphael with joy and wonder. "You're really here," he murmured. "I've missed you so, my angel. My Raphael."
Raphael released Antonio and stepped back, regarding him with a puzzled frown. "How now? What man are you who greets me thus?"
The Guardians of Gaia series!
Blood Bathory: Like The Night (book 01)
Blood Bathory: Absence of the Sun (Book 02)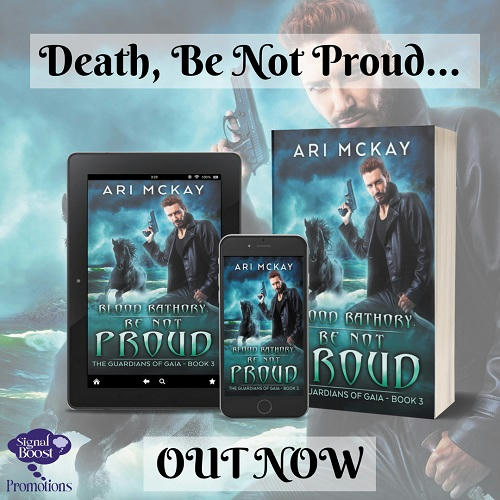 About Ari!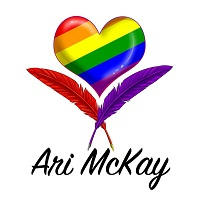 Ari McKay is the professional pseudonym for Arionrhod and McKay, who have been writing together for over a decade. Their collaborations encompass a wide variety of romance genres, including contemporary, fantasy, science fiction, gothic, and action/adventure. Their work includes the Blood Bathory series of paranormal novels, the Herc's Mercs series, as well as two historical Westerns: Heart of Stone and Finding Forgiveness. When not writing, they can often be found scheming over costume designs or binge watching TV shows together.
Arionrhod is a systems engineer by day who is eagerly looking forward to (hopefully) becoming a full time writer in the not-too-distant future. Now that she is an empty-nester, she has turned her attentions to finding the perfect piece of land to build a fortress in preparation for the zombie apocalypse, and baking (and eating) far too many cakes.
McKay is an English teacher who has been writing for one reason or another most of her life. She also enjoys knitting, reading, cooking, and playing video games. She has been known to knit in public. Given she has the survival skills of a gnat, she's relying on Arionrhod to help her survive the zombie apocalypse.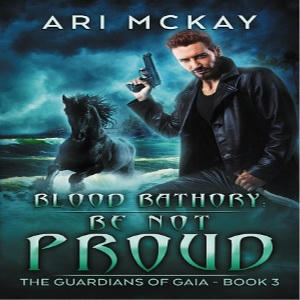 Giveaway!
Win an Ebook of Blood Bathory: Like The Night!

Check out the other blogs on the tour!