Hi guys! We have Ari & McKay popping in today with their new re-release Blood Bathory: Like The Night, we have a great excerpt and a fantastic giveaway so check out the post and enter the giveaway! ❤ ~Pixie~
Blood Bathory: Like The Night
(The Guardians of Gaia 01)
by
Ari McKay
You can run…
After losing his younger sister to cancer, fashion photographer Evan St. John tries to outrun his pain, leaving New York for the excitement of Paris. His talent and striking good looks bring him to the attention of Elizabeth Nadasdy, the elegant and powerful owner of House of Nadasdy. Evan is thrilled at the opportunity to work for such a prestigious designer, but he soon discovers Elizabeth wants more than his talent. Beneath the beautiful mask she presents to the world lurks the evil of a vampire whose lust for beauty is surpassed only by her thirst for blood.
Evan's life is shattered when Elizabeth turns him into one of her "children." Unable to bear what he has become, he flees to New York to find his best friend, police officer Will Trask. The one person who might be able to help him.
But you can't hide…
Together, Evan and Will find themselves drawn deeper into a strange world they never knew existed. Standing against the vampires are the theriomorphs, shapeshifters who serve as the guardians of Gaia, the embodiment of all life on earth. Though sworn to eradicate every vampire, Marielle Du Lac, the leader of the theriomorphs, offers them a bargain. If they help bring down Elizabeth, her people will try to find a way to restore Evan to life.
Caught up in an ancient war between two powerful supernatural forces, Evan and Will must choose sides, because if they are to have any chance of a future together, they must destroy Elizabeth Nadasdy before she destroys them.
Excerpt!
Will had always been protective of those he cared about, and Evan was no exception, especially since Evan's attractive face, slender build and "out and proud" attitude had occasionally made him a target on campus. It had been that way since their freshman year, and it was no different now. It was ridiculous, perhaps, and no doubt part of that White Knight thing Evan had always teased him about, but Will couldn't help it; it was just the way he was.
"You might as well 'fess up now, because I'm going to get the story out of you one way or another. I'm not going to let anyone hurt you if I can do anything about it. We stick together, right?" Will's tone grew serious. "I mean it, Evan. You know you can count on me. You're my best friend." It was still true, even though they hadn't been face-to-face in years. No one had ever taken Evan's place in his life; no one ever could.
"Even if I tell you I've been working for a vampire?" Evan asked softly. "I don't mean that figuratively, either. I mean literally. She's a monster. She's killed her own models. She turns people into monsters like her."
For a long moment, Will couldn't do anything but stare at his friend, wondering if this was a joke and he was somehow missing the punch line. Evan's blue eyes were haunted but guileless; the man was a lousy liar, at least when it came to Will, and there was too much pain in Evan's gaze for it to be some elaborate trick. Whatever was really going on, Evan, at least, believed what he was saying, and that was the most horrifying part of it. Whatever had happened to Evan in the last few months had damaged him in a way that Will was afraid he wasn't going to be able to fix.
It was painful to face the fact that his best friend had apparently suffered some sort of mental breakdown, and Will cursed himself for not having tried harder to get in contact when Evan's communications had grown infrequent. Obviously Evan had been going through something terrible, and Will knew that he had to do whatever he could to get Evan the help he needed. Which meant making sure that Evan remained here for now, until Will could figure out how to get him to a doctor.
"Let me make sure I understand what you're saying," he replied, keeping his voice quiet and reassuring. "Elizabeth Nadasdy, the famous fashion designer, is a vampire who kills people. That makes sense, I suppose. Or at least it explains why the models all look as though they weigh five pounds." His attempt at humor sounded hollow, but it was the best he could do at the moment. "And she's after you?"
Evan leaned back away from Will. "You don't believe me. You think I'm crazy."
Will hated to see that look on Evan's face, the question of sanity aside. "Evan, it's not that I don't want to believe you, all right? But you know how it sounds, don't you?" He knew his tone was pleading. "Vampires don't exist. I can tell you believe it, though, and that makes it hard, because I know you'd never lie to me. But how can I believe it? How can you believe it?" He reached out and touched Evan's arm in mute appeal. "How?"
Evan met Will's gaze, his expression steady and calm, no trace of madness lurking in his gaze. "I don't just believe it. I know it. I know it because I'm one, too."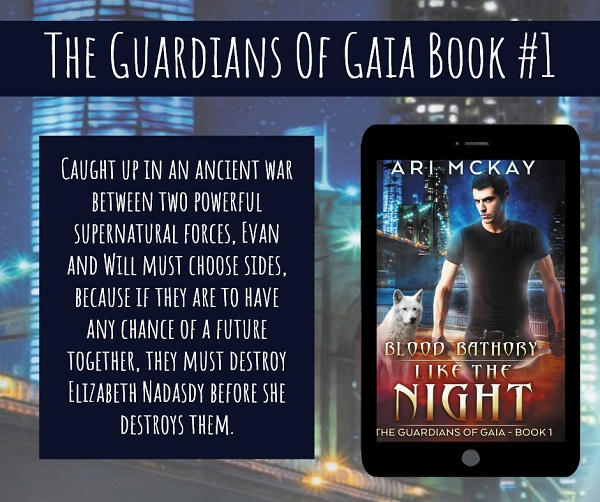 About Ari!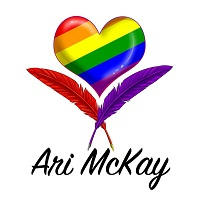 Ari McKay is the professional pseudonym for Arionrhod and McKay, who have been writing together for over a decade. Their collaborations encompass a wide variety of romance genres, including contemporary, fantasy, science fiction, gothic, and action/adventure. Their work includes the Blood Bathory series of paranormal novels, the Herc's Mercs series, as well as two historical Westerns: Heart of Stone and Finding Forgiveness. When not writing, they can often be found scheming over costume designs or binge watching TV shows together.
Arionrhod is a systems engineer by day who is eagerly looking forward to (hopefully) becoming a full time writer in the not-too-distant future. Now that she is an empty-nester, she has turned her attentions to finding the perfect piece of land to build a fortress in preparation for the zombie apocalypse, and baking (and eating) far too many cakes.
McKay is an English teacher who has been writing for one reason or another most of her life. She also enjoys knitting, reading, cooking, and playing video games. She has been known to knit in public. Given she has the survival skills of a gnat, she's relying on Arionrhod to help her survive the zombie apocalypse.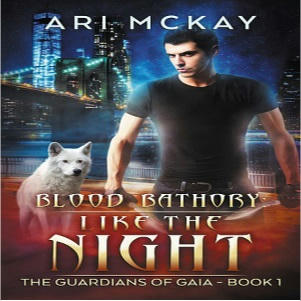 Giveaway!
Win 2 x Backlist Ebook From Ari McKay!